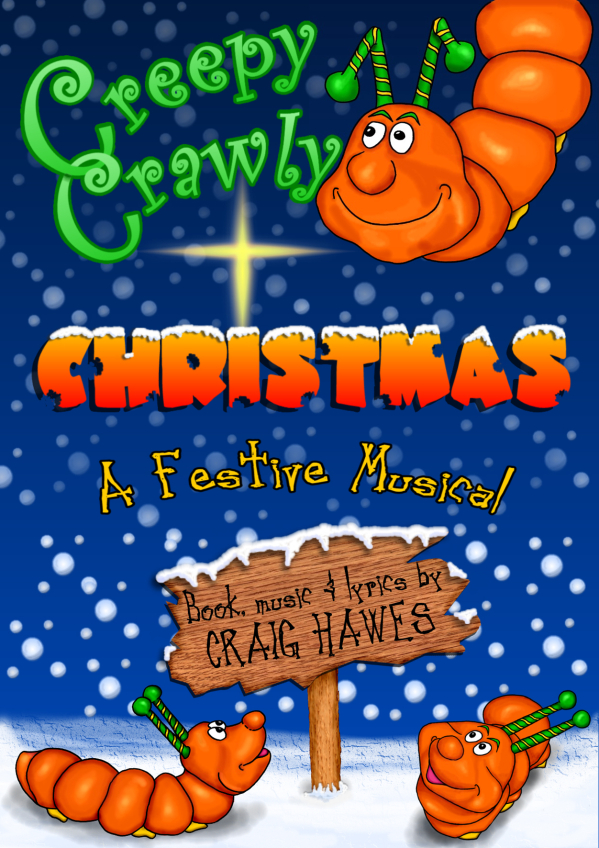 Click HERE to read the Script, look at the Score and listen to the Songs
Creepy Crawly Christmas (With Nativity)
by Craig Hawes

Pricing & Order Info.
"LOVED doing this show!"
Burnham Upper School
"AMAZING!"
Lyall Wade (Year 3 teacher)
Starring "Wilfred The Caterpillar" and "The Beatles" Yea! Yea! Yea!
36 speaking roles.
This can be reduced to...
28 speaking roles.
See "Casting" heading or "Production Notes" in Script Sample.
Unlimited chorus parts plus a Nativity Scene for the younger children.
Flexible to stage with simple scenery - adaptable.
CD of Backing Tracks available.
CD of Vocal Tracks available.
Both these CDs include Overture, ALL Songs, Special Effects, Play Ons and Play Offs in the order you need them enabling production and direction to take place without specialist musical expertise.
However - for those of you who prefer a live pianoforte accompaniment, we now have available a superb BRAND NEW Performance Score which encompasses Overture, ALL Play Ons and Play Offs, Songs, Link Music, Cues and Chord Symbols. (Grade 5 / 6 standard).
We also have available a BRAND NEW Rehearsal Score (Grade 2 / 3 standard)


Check them out on the "Script and Songs" heading.

Easily constructed and manageable props.
Age range - Key Stage 2 Production. (7-11 years) With optional added Key Stage One parts
Duration - 45 minutes.
From the writer of "Zoom!" and "The Magical Christmas Box" comes a brand new Christmas musical for Primary Schools. "Creepy Crawly Christmas" is a delightfully different look at the Nativity - through the eyes of a caterpillar! Wilfred is the slowest, silliest caterpillar in the school, and the butt of his classmates' jokes. So when a star falls from the sky and lands on him, he decides to prove himself by discovering what this mystery object is and return it to where it came from. Of course, this is no ordinary star and Wilfred's quest becomes more important than he ever imagined! Will he succeed? Will he earn his wings and become a butterfly? We follow his journey as he meets a host of crazy creatures and learns about the true meaning of Christmas. This colourful, magical tale is bursting with bugs, including dotty old ladybirds, an army of ants, a squadron of RAF dragonflies, a hairy scary spider and four rather familiar Liverpudlian beetles!
The festive fun is brought to life with 8 superb songs that will have everyone singing along and a humorous script which hides a twist at the end. Flexible casting allows parts for a small class or an entire school and beautifully arranged backing tracks are available on CD. A CD of vocal tracks is also available which can be used for rehearsals and performances.
A superb DVD of Creepy Crawly Christmas is now available.