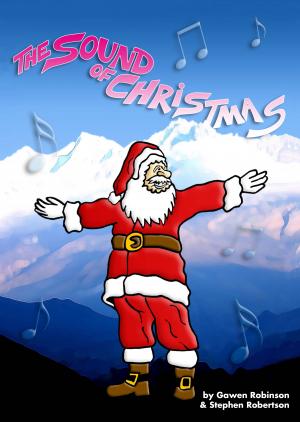 Click HERE to read the Script, look at the Score and listen to the Songs
The Sound Of Christmas (Without Nativity)
by Gawen Robinson & Stephen Robertson

Pricing & Order Info.
"The songs are brilliant."
Jenie, Hartlepool
The Tills Are Alive With The Sound Of Cash!
26 speaking roles plus several cameo parts; easily expanded.
Unlimited chorus parts - as many as you like!
Easy to stage with simple scenery - adaptable.
CD of Backing Tracks available.
CD of Vocal Tracks available.
Piano Score available.
Easily constructed and manageable props.
Age range - Key Stage 2 Production (7-11 years).
Duration - 40 Minutes.
This hilarious - Christmas cracker - is a contemporary re-telling of "The Sound of Music" and "A Christmas Carol" realised into a simple, forty minute festive production (what more could you want?).
The songs, brilliantly simple and superbly orchestrated, enhance a lively and humorous script designed for young children. This show is perfectly written for any primary school's Christmas production combining fun and humour with the true meaning of Christmas.
The Sound of Christmas will gladden any heart and prepare the way for a most rewarding family Christmas. All you have to do is sing along! With seven fabulous new songs and a lively, compassionate plot it's a musical that everyone can enjoy.