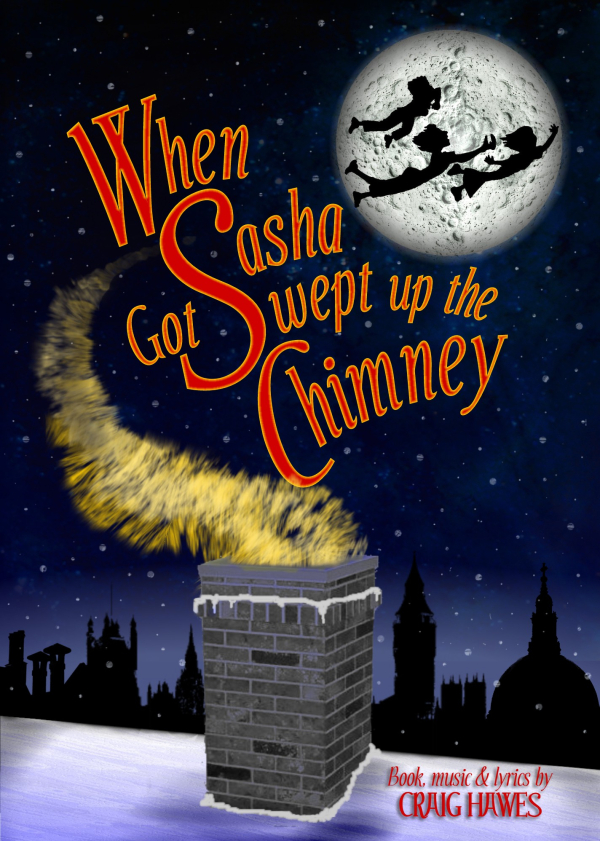 Click HERE to read the Script, look at the Score and listen to the Songs
When Sasha Got Swept Up The Chimney (Without Nativity)
by Craig Hawes

Pricing & Order Info.
Just listen to the show stopping "Believe In Christmas" by clicking the "Script & Songs" heading and trust us... This song really IS a show stopper.
"We recommend this."
Wheatley Lane Primary School
"Great."
Aggi (Cast member)
A Magical Sleigh Ride to the North Pole to save Christmas
37 speaking roles.
This can be reduced to...
24 speaking roles.
See "Casting" heading or "Production Notes" in Script Sample.
Unlimited chorus parts.
Easy to stage with simple scenery - adaptable.
CD of Backing Tracks + essential sound effects available.
CD of Vocal Tracks available.
Both these CDs include Overture, ALL Songs, Special Effects, Play Ons and Play Offs in the order you need them enabling production and direction to take place without specialist musical expertise.
However - for those of you who prefer a live pianoforte accompaniment, we now have available a superb BRAND NEW Performance Score which encompasses Overture, ALL Play Ons and Play Offs, Songs, Link Music, Cues and Chord Symbols. (Grade 5 / 6 standard).
We also have available a BRAND NEW Rehearsal Score (Grade 2 / 3 standard)


Check them out on the "Script and Songs" heading

Easily constructed and manageable props.
Age range - Key Stage 2 Production (7-11 years).
Duration - 1 hour 15 minutes.
From the writer of "ZOOM!" comes the most magical of Christmas musicals - "When Sasha Got Swept Up The Chimney". This festive show follows a young orphan, Sasha, as she and her friends are mysteriously swept up the orphanage chimney thanks to a sprinkle of magical stardust. But this is just the start of a thrilling adventure that will take them all the way to the North Pole, and change their lives forever! However, all is not well in the Frozen North and when Christmas is threatened by an evil Tooth Fairy, it's down to Sasha and her friends to save the day!
Sasha is a spectacular show that will take your audience on a magical sleigh ride and have them laughing, crying, singing, dancing and feeling fabulously festive! This wonderful Christmas story is brought to life through a sackful of unforgettable songs, a deliciously funny script and a tear-jerking ending that won't leave a dry eye in the house! With parts for between 20 and 40 children, unlimited chorus parts and the possibility of adult performers guest starring as Berty and Gerty Claus, this show will suit any size school or group.
A CD featuring dazzling, fully orchestrated backing tracks is available.
A CD of vocal tracks is also available which can be used for rehearsals and performances.