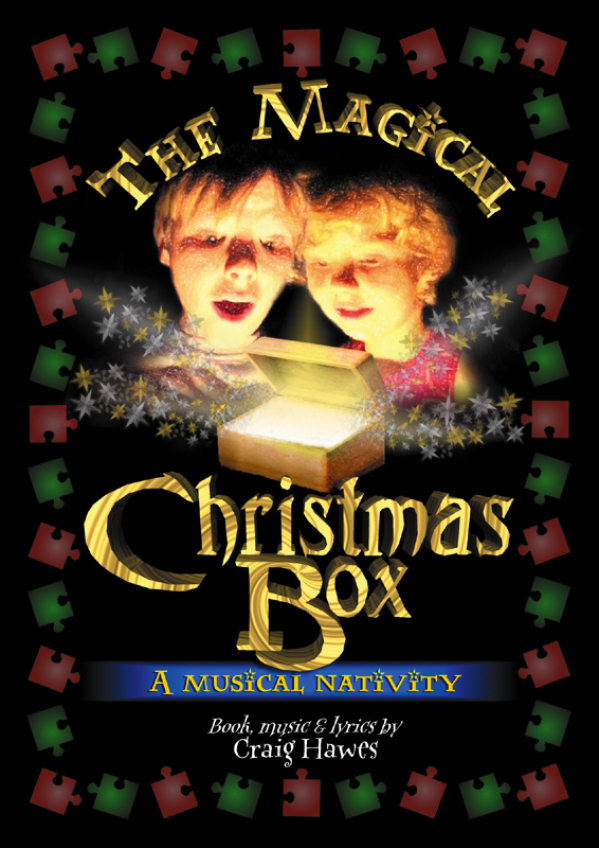 Click HERE to read the Script, look at the Score and listen to the Songs
The Magical Christmas Box (With Nativity)
by Craig Hawes

Pricing & Order Info.
"We loved performing it!"
Michelle Ladkins, Class teacher
"The songs were fantastic and stylish."
Justine Page, Class teacher
43 Speaking Roles + Chorus.
Unlimited chorus parts - as many as you like!
Easy to stage with simple scenery - adaptable.
CD of Backing Tracks available.
CD of Vocal Tracks available.
Both these CDs include Overture, ALL Songs, Special Effects, Play Ons and Play Offs in the order you need them enabling production and direction to take place without specialist musical expertise.
Performance Score (Grade 5 / 6 Standard) available.
VERY Easy Play Rehearsal Score (Grade 1 / 2 Standard) available.

Check them out on the "Script and Songs" heading

Easily constructed and manageable props.
Age Range - Key Stages 1 and 2 Combined; Years 1, 2 & 3 (Age 5 - 8 years).
Duration - 35 Minutes.
IDEAL for the SMALL PRIMARY SCHOOL
It's Christmas Eve ! Two small children ask their wise Grandfather what Christmas is all about. He gives them a magical box which, with the help of its Keepers, takes the children on an amazing adventure. Through the places they visit and the people they meet, they learn about the meaning of Christmas. On the way they collect jigsaw pieces which help to make up the Christmas picture. The final, central piece is found in Bethlehem, and the children return home knowing the true meaning of Christmas. Seven wonderful, catchy songs bring this exciting tale to life, and a superb backing track is available with AND without vocals on CD and cassette. A magical yet simple and flexible production with parts for between 30 and 138 children aged 5 to 11.