Oink! (Primary Production)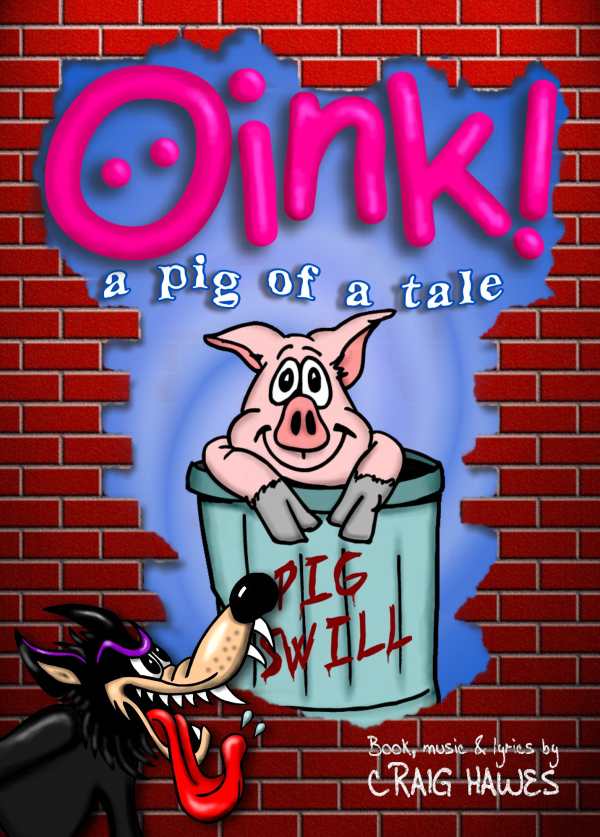 Click HERE to read the Script, look at the Score and listen to the Songs
Oink! (Primary Production)
by Craig Hawes

Pricing & Order Info.
Absolutely Ideal for the Small Primary School
"The best performance ever by the children, parents and other schools thought it was so funny and the acting was brilliant, especially Rene the french rooster (based on hello, hello). The children were really sad to see it end. We performed in the Opera House in Hastings and were given a standing ovation not just by the audience but by the opera house as the best script, songs and performance ever by a school. It was awesome and so easy to do, can't wait to do it again in a few years' time."
Mrs Geraldine Sumner, St. Joseph's School, Hastings, New Zealand
Ideal Year 6 Musical Production
A Pig of a Tale
40 speaking roles.
Easily reduced to 26 speaking roles. See "Production Notes" in Script Sample.
Unlimited chorus parts.
Easy to stage with simple scenery - adaptable.
CD of Backing Tracks plus essential sound effects. No pianist required!
CD of Vocal Tracks.
Both these CDs include Overture, ALL Songs, Special Effects, Play Ons and Play Offs in the order you need them enabling production and direction to take place without specialist musical expertise.
However - for those of you who prefer a live pianoforte accompaniment, we now have available a superb BRAND NEW Performance Score which encompasses Overture, ALL Play Ons and Play Offs, Songs, Link Music, Cues and Chord Symbols. (Grade 5 / 6 standard).
We also have available a BRAND NEW Rehearsal Score (Grade 4 standard).
Check them out on the "Script and Songs" heading.
Manageable props.
Age range - Key Stage 1 & 2 Production. (4-11 years)
Duration - One Hour.
OINK! is based upon the well known tale of The Three Little Pigs, but you can be sure you have never heard this version before! When little Frank Trotter and his big, greedy brothers Monty & Welly are caught stealing the harvest feast, they are banished from the farmyard and sent out into the big wide world. At the same moment, infamous carnivore BB Wolf is being released from prison, apparently cured of his granny-eating ways by a mad professor. Unfortunately, his vegetarian days are short lived and BB is soon on the prowl for a sausage sandwich! This hilarious take on the well known story is full of wonderful characters, superb songs and loads of laughs, making it a sure hit for performers and audience alike. With parts for between 26 and 50 children, plus unlimited chorus opportunities, this show will suit any size school or group. A CD featuring dazzling fully orchestrated backing tracks with AND without vocals is available for rehearsals and performances.