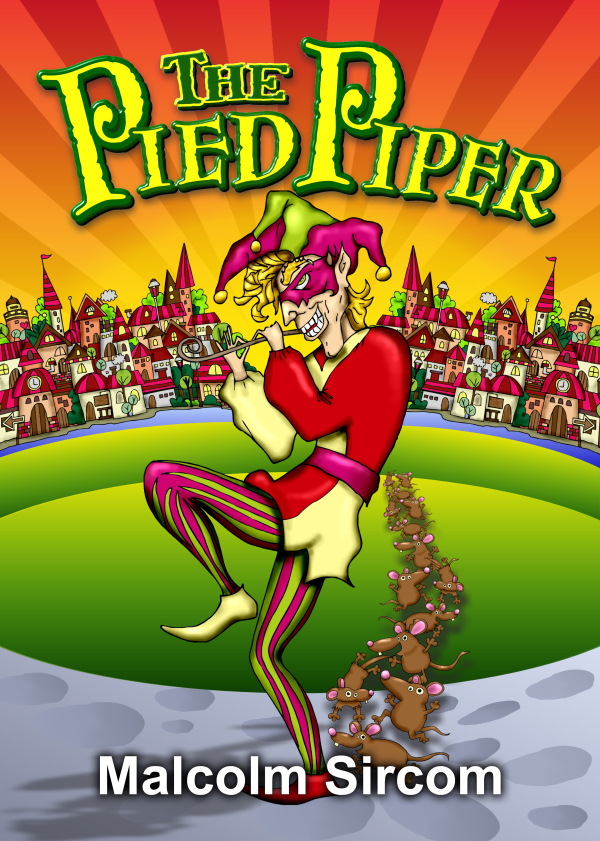 Click HERE to read the Script, look at the Score and listen to the Songs
The Pied Piper (Junior Production)
by Malcolm Sircom

Pricing & Order Info.
Now with alternative upbeat ending (The mayor gets his comeuppance!)
40 speaking roles with 3 or more lines.
61 roles (most optional) with 1 or 2 lines.
Full instructions are given for cast sizes of 92 or 61 or 40 +/- 6 either way.
Unlimited chorus parts.
Easy to stage with simple scenery - adaptable.
CD of Backing Tracks available.
CD of Vocal Tracks available.
All Sound Effects Included On Both CDs.
Piano Score available.
Easily constructed and manageable props.
Age range - Key Stage 2 Production (7-11 years).
Duration - 50 minutes.
This imaginative working of the well-loved story involves a large cast - children and adults from Hamelin, the Rat Pack and a gospel chorus of young rats. The principal parts - Pied Piper, Mayor, Old Rat etc. are not so large as to be over-taxing for junior actors, whilst there are plenty of cameo parts plus a choir. This challenging work is well within the scope of juniors.
Probably best known from Robert Browning's humorous poem, this show adds extra layers and facets with some delightfully modern touches - a hippy guerrilla rat pack, a rapping Pied Piper and a lively, tuneful score which includes ballad, rock and gospel styles. None of the poignancy however, has been lost, and the comedy emphasises the highly-charged emotional content. Another sure fire hit from the same stable as Ebenezer.