The Pied Piper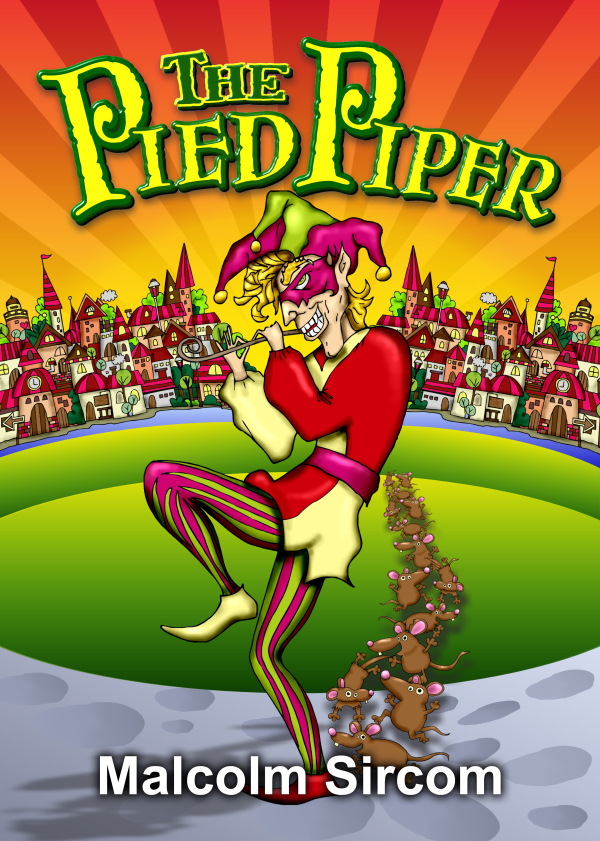 Click HERE to read the Script, look at the Score and listen to the Songs
The Pied Piper
by Malcolm Sircom

Pricing & Order Info.
Minimum Possible Cast Size
40
Now with alternative upbeat ending (The mayor gets his comeuppance!)
Flexible casting options to suit your needs.
Full instructions are given for example cast sizes of 92 or 61 or 40 actors (See "Casting" tab below).
Unlimited chorus parts.
Easy to stage with simple scenery - adaptable.
CD of Backing Tracks available.
CD of Vocal Tracks available.
All Sound Effects Included On Both CDs.
Piano Score available.
Easily constructed and manageable props.
Age range - Key Stage 2 Production (7-11 years).
Duration - 50 minutes.

NEW! Instant Scenery with our digital backdrops
A different backdrop for EVERY scene change

Supplied in both a PowerPoint presentation and as individual JPG files.

No more Scenery Painting!
This imaginative working of the well-loved story involves a large cast - children and adults from Hamelin, the Rat Pack and a gospel chorus of young rats. The principal parts - Pied Piper, Mayor, Old Rat etc. are not so large as to be over-taxing for junior actors, whilst there are plenty of cameo parts plus a choir. This challenging work is well within the scope of juniors.
Probably best known from Robert Browning's humorous poem, this show adds extra layers and facets with some delightfully modern touches - a hippy guerrilla rat pack, a rapping Pied Piper and a lively, tuneful score which includes ballad, rock and gospel styles. None of the poignancy however, has been lost, and the comedy emphasises the highly-charged emotional content. Another sure fire hit from the same stable as Ebenezer.