The Pied Piper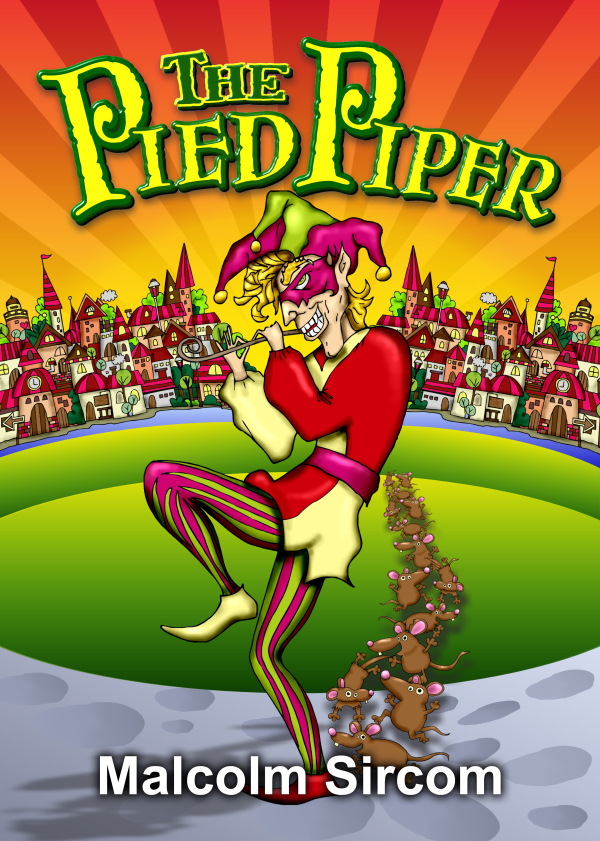 Click HERE to read the Script, look at the Score and listen to the Songs
The Pied Piper
by Malcolm Sircom

Pricing & Order Info.
Minimum Possible Cast Size
40
Now with alternative upbeat ending (The mayor gets his comeuppance!)
Flexible casting options to suit your needs.
Full instructions are given for example cast sizes of 92 or 61 or 40 actors (See "Casting" tab below).
Unlimited chorus parts.
Easy to stage with simple scenery - adaptable.
CD of Backing Tracks available.
CD of Vocal Tracks available.
All Sound Effects Included On Both CDs.
Piano Score available.
Easily constructed and manageable props.
Age range - Key Stage 2 Production (7-11 years).
Duration - 50 minutes.

NEW! Instant Scenery with our digital backdrops
A different backdrop for EVERY scene change

Supplied in both a PowerPoint presentation and as individual JPG files.

No more Scenery Painting!

The Pied Piper
"

I love the song 'market day' and the songs are really good

"
Cast Member, Berkshire
---

The Pied Piper
"

it was a hilarious performance

"
yeti, Oxhey First School Biddulph, Stoke-On-Trent
---

The Pied Piper
"

A lively, funny show with great child and audience appeal. I have no reservations about recommending this show to others. The children loved singing and performing the catchy numbers and 'Without our children' was very moving. A tesimony to it's success was to hear children who had been in the audience singing the songs.

"
St. Edward's Junior school Charlton Kings, Cheltenham, Glos
---

The Pied Piper
"

I loved acting in it at my school. I love the song "Rat Pack".

"
Chelsea - Cast Member
---