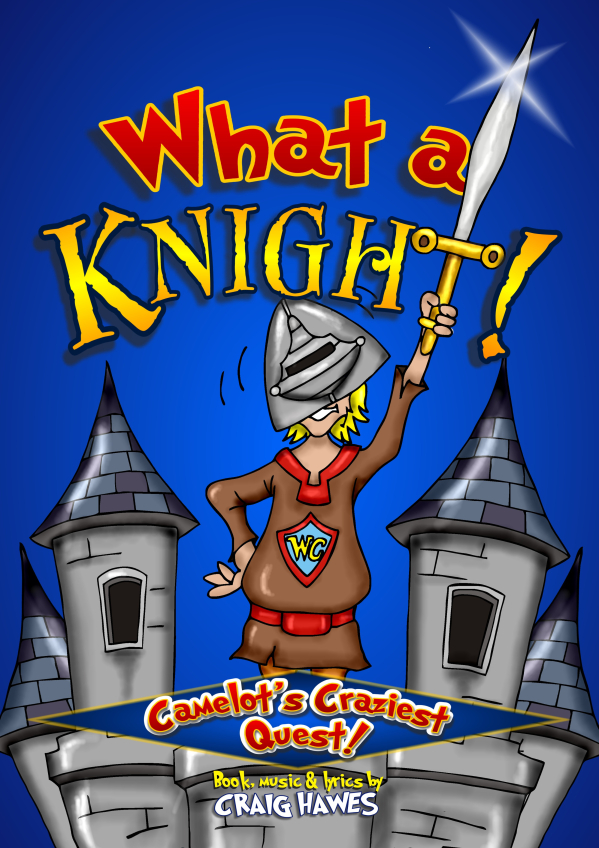 Click HERE to read the Script, look at the Score and listen to the Songs
What A Knight! (Junior Production)
by Craig Hawes

Pricing & Order Info.
"A joy to watch with a very clear and precise script."
Mary Rose, KS2 Teacher
Camelot's Craziest Quest!
Medieval Mayhem!!
44 speaking roles.
Easily reduced to 28 speaking roles. See "Production Notes" in Script Sample.
Unlimited chorus parts.
Easy to stage with simple scenery - adaptable.
A BRAND NEW product; a CD-ROM of all the What A Knight Songs called "Sing it!" is available. This CD-ROM teaches the songs to the children without any teacher input - children use it at school or at home - think of the time it will save you. Children LOVE learning this way and the product is foolproof. Just give it to the children and they'll do the rest. Click HERE to see the "Sing It!" video (well worth watching).
CD of Backing Tracks + essential sound effects available.
CD of Vocal Tracks available.
Both these CDs include Overture, ALL Songs, Special Effects, Play Ons and Play Offs in the order you need them enabling production and direction to take place without specialist musical expertise.
However - for those of you who prefer a live pianoforte accompaniment, we now have available a superb BRAND NEW Performance Score which encompasses Overture, ALL Play Ons and Play Offs, Songs, Link Music, Cues and Chord Symbols. (Grade 5 / 6 standard).
We also have available a BRAND NEW Easy Play Score (Grade 4 standard) & a VERY Simple Easy Play Score (Grade 1 standard)


Check them out on the "Script and Songs" heading.

Easily constructed and manageable props.
Age range - Key Stage 2 Production. (7-11 years)
Duration - One Hour.
A hilarious musical adventure!
A castle full of colourful characters join in the fun, including precocious princesses, a talking dragon - and not forgetting Merlin and his magic mirror! When young squire Watt Cobblers is expelled from Knight School, he reluctantly becomes Merlin's new apprentice. But trouble is never far away, and soon Camelot Castle collapses into chaos. Merlin has lost Excalibur, King Arthur's daughters have been kidnapped and his brave knights have turned into chickens. Watt and his new found friends Dusty Dragon and wayward Princess Alice set off on the biggest quest of their lives. But can our unlikely heroes rescue the princesses, save Excalibur and defeat the evil Black Knight? The answers are found in this magical production, where everyone is guaranteed to sing a lot, dance a lot and laugh a lot... at Camelot!
"What A Knight!" brings together a thrilling story, side-splitting script and a score full of contagiously catchy songs to give you a spectacular show that will be a sure hit with both cast and audience. With parts for between 26 and 60 children, plus unlimited chorus parts, this show will suit any size cast.
A CD featuring sparkling, fully orchestrated backing tracks is available.
A CD of vocal tracks is also available which can be used for rehearsals and performances.