The Rocky Monster Show (Youth Theatre)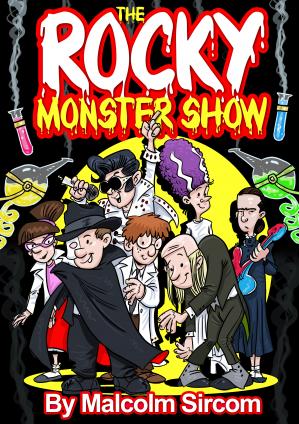 Click HERE to read the Script, look at the Score and listen to the Songs
The Rocky Monster Show (Youth Theatre)
by Malcolm Sircom

Pricing & Order Info.
"Excellent fun!"
Biggar Junior Theatre Workshop - Lanarkshire
"This Musical was the Best!"
Branston Community College - Leicester
A Great Rock 'n' Roll Musical!
20 speaking roles; easily reduced or expanded.
Unlimited chorus parts.
Easy to stage with simple scenery - adaptable.
Backing Track CD available.
Vocal Track CD available.
Piano Score available.
Easily constructed and manageable props.
Age range - Key Stages 3/4 and 16 + Production (11-18 years).
Duration - Two Hours.
Bizarre, anarchic and very funny, this Rock 'n' Roll musical is a riotous mix of the Addams Family, Young Frankenstein and Phantom of the Opera, with Rebecca and The Rocky Horror Show thrown in for good measure!
Baron Frankenstein's descendant, and ex-pop star turned professor of Genetics, creates DNA moulds of people in his computer. How these moulds come to life as the ultimate Rock Group, headed by a clone of Elvis himself, is the highlight of the hilarious plot.
More traditional monsters also add spice to the explosive mixture. Staff, cast and audience will love the Rock 'n' Roll score, much of which is an affectionate send-up of the 60's. With some 20 principal parts including many splendid female roles, there is also plenty of chorus opportunity for maximum pupil participation. Schools with a good Rock Band will want them to get in on the act.
Band parts are available.
The CD of backing tracks is strongly recommended for rehearsal and / or performance.
From the writer of the hit shows "Ebenezer" and "The Dracula Rock Show".