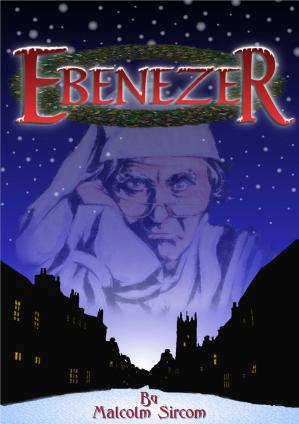 Click HERE to read the Script, look at the Score and listen to the Songs
Ebenezer (Youth Theatre Musical)
by Malcolm Sircom

Pricing & Order Info.
"Excellent... parents rated it as outstanding."
Oakhill School - Stoke on Trent - Staffordshire
"DO IT!"
Woods Foundation School, Nottingham
A Superb Musical Adaptation Of The Classic 'A Christmas Carol'
38 speaking roles plus cameos.
Unlimited chorus parts.
Easy to stage. Easy to costume.
Backing Track CD.
Piano Score available.
No fuss props.
Age range - Key Stages 3/4 and 16 + Production (11-18 years).
Duration - Two Hours.
A Musical Play originally written for school students aged 11 to 18, based on Dickens' "A Christmas Carol". It is however ideal for Youth Groups and Amateur Groups to perform.
The catchy score has many popular highlights and a wealth of musical styles including Rock 'n' Roll, Blues, Rap, Ballads, Carols and Choral.
During its premiere run in December 1992 at Derby Playhouse it attracted full houses and magnificent reviews from local to national press. Godfrey Smith of the Sunday Times praised the show highly saying it was "the most heart-warming night of the year for me."
A CD of backing tracks is available and also Band Parts.