The Magical Christmas Box (Nativity)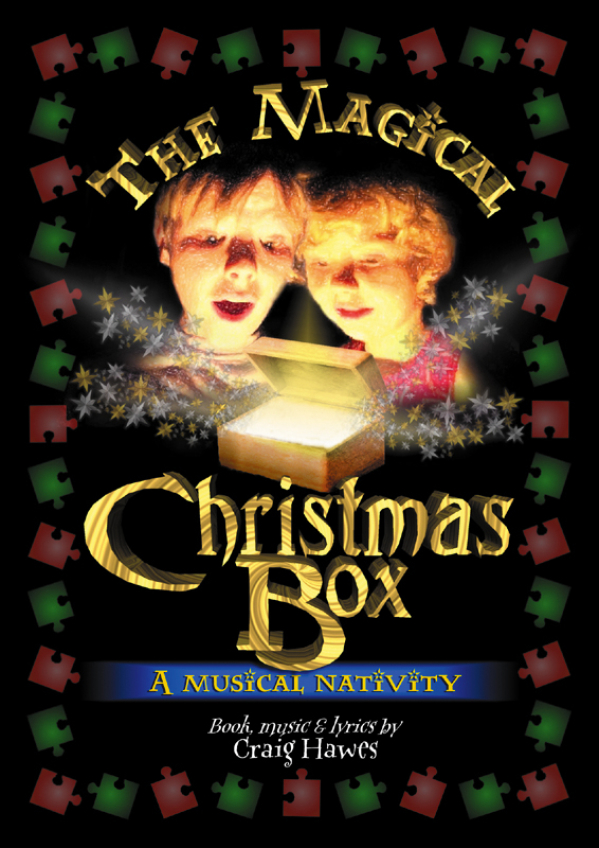 Why choose this Musical?
43 Speaking Roles
Easily reduced to 31 speaking roles. See "Casting" tab below.
Flexibility
Flexible Cast size to suit YOUR group numbers, from 31 actors upwards. See "Casting" tab below.
Unlimited chorus parts
As many as you like!
Easy to stage
With simple scenery - adaptable.
CD of Backing Tracks available
CD of Vocal Tracks available
Performance Score available
Grade 5 / 6 Standard
VERY Easy Play Rehearsal Score available
Grade 1 / 2 Standard
Easily constructed and manageable props
Age Range: Key Stages 1 and 2 Combined
Years 1, 2 & 3 (Age 5 - 8 years)
Duration: 35 Minutes
The musical begins with 'Tell Me Why' which explores the meaning of Christmas and is the perfect song to start with as Jake and Jenny become inquisitive over what Christmas is all about. Their grandfather hands them a box to answer their questions, and two Keepers appear who take them on a magical journey to explore the true significance of Christmas. 'Little Box' follows.
Their first destination is a German forest, and the Christmas trees explain what they represent. 'Im A Little Christmas Tree' is a lively song that follows. The Christmas presents then hand the two children a jigsaw piece which they place on the board with the keepers. 'Little Box' is sung as the children are desperate to understand the answers that it holds.
The following scene will fill the stage with colour and energy as the Christmas foods comes to life and explains their importance, and why there is so much of them on Christmas Day! 'Christmas Food' is sung, but before the turkeys and Christmas puddings take their place at the table, the crackers hand Jenny and Jake their second jigsaw piece which they place on the board. 'Little Box' follows.
From inside, to the cold winter weather outside, Jenny, Jake and the Keepers come across snowmen who explain their significance. 'Hes A Fat Man' is a jolly alternative to 'Walking in the Air' as the snowmen come to life and the children are given another piece to their jigsaw. 'Little Box' is sung.
Travelling further North than they thought, the Keepers and children arrive at the North Pole where the Elves explain why children receive presents. The following information may even be news to the parents as the Elves throw in some trivia, explaining that Santa has several names, depending on which country hes in! 'Santas Helping Elves' is sung before the fourth piece of the jigsaw is revealed and 'Little Box' is sung again.
The final piece of the jigsaw reveals itself at the stable as the children are transported to not only a different place, but back in time to Bethlehem where the traditional nativity story is performed - a shortened version of course! 'Under A Star' is a more traditional Christmas song that brings an end to the nativity scene.
Satisfied that they know the meaning of Christmas, the Keepers disappear and the musical ends with a reprise of 'Tell Me Why.'