The Seven Little Penguins (Infant Show)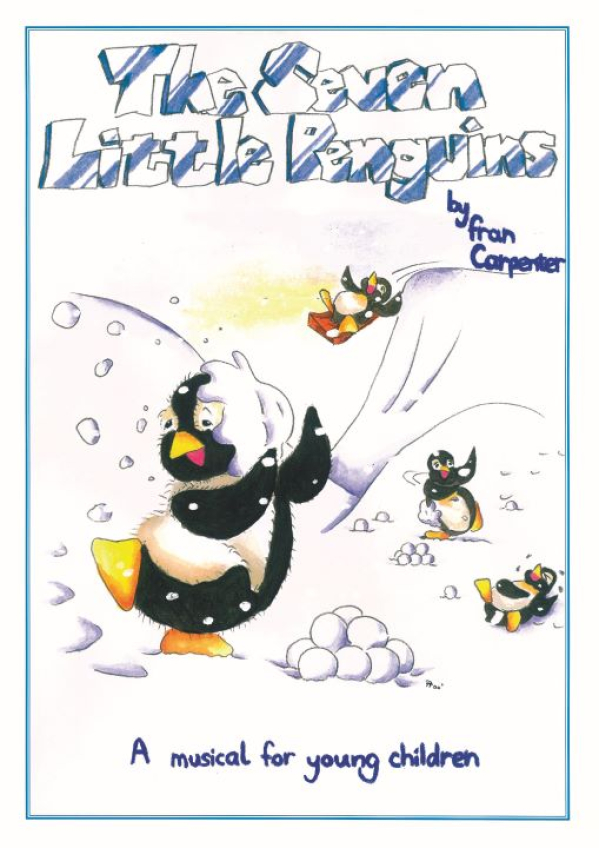 Click HERE to read the Script, look at the Score and listen to the Songs
The Seven Little Penguins (Infant Show)
by Fran Carpenter

Pricing & Order Info.
"A sensational production... the children had huge fun and sang the songs long after!"
Year 1 Teacher - Northwood
Another Key Stage One musical production
16 speaking parts plus many cameo parts; easily reduced or expanded.
Unlimited chorus parts - as many as you like!
Easy to stage with simple scenery - adaptable.
CD of Backing Tracks available.
CD of Vocal Tracks available.
Piano Score available.
Easily constructed and manageable props.
Age range: Key Stage 1 Production (4-7 years).
Duration: 45 Minutes.
Solo Parts
Character
(Number of Lines)
Details
The Penguins:
(7)
Goggles, young penguin, wears goggles and colourful clothes, main character, needs to be a strong singer Welly, wears new wellies
Flip-Flop, wears flip-flops & sunglasses
Waddle, waddles a lot, but is a sensible penguin!
Icy, wears a cardigan and hot water bottle, always cold
Kipper, loves fish, wears a silly hat with a fish on top!
Diver, wears flippers & snorkel!
The Robbers:
(3)
Snitch the snow fox, the boss, white, big furry ears & bushy tail
Nick & Nock the polar bears, a bit silly, white, small furry ears, padded tummy
PC Blubber:
A walrus, speaks in limericks, policemans helmet and uniform, with cardboard tube tusks fitted to the side of the helmet, or tusks painted on face. A padded tummy!
Icicles
(10 to 16+)
5 speaking icicles only, glittery silver/white T-shirts/leotards/leggings, with tall, glittery/silver pointed hats!
Group Parts
Character
(Number of Lines)
Details
The Whale
(up to 10)
Like a Chinese Dragon style costume, a large piece of black material covering all children decorated with eyes, teeth, fin, white killer whale markings. Children wear black leggings.
The Fish
(10 to 16+)
Coloured leotards/T-shirts & leggings, possibly silver/coloured scales/fins/tails - different shapes/sizes
The Band
(up to 12)
Black and white, bow ties, or dressed as arctic animals or sea creatures! Play tuned & untuned percussion.
The Choir
(any number)
Dressed similarly to the orchestra. Sing all chorus parts. Could perform actions to songs.