The Seven Little Penguins (Infant Show)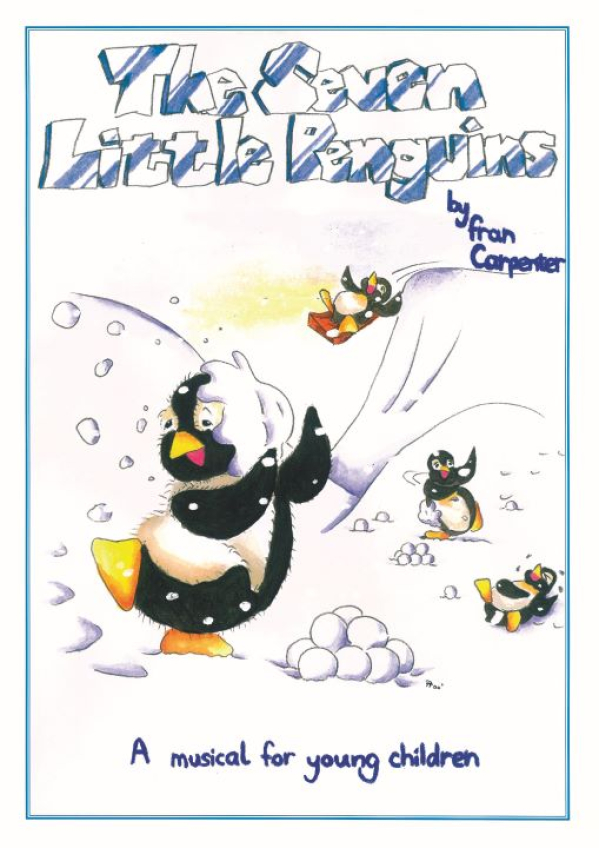 Click HERE to read the Script, look at the Score and listen to the Songs
The Seven Little Penguins (Infant Show)
by
Fran Carpenter
Pricing & Order Info.
"A sensational production... the children had huge fun and sang the songs long after!"
Year 1 Teacher - Northwood
Another Key Stage One musical production
16 speaking parts plus many cameo parts; easily reduced or expanded.
Unlimited chorus parts - as many as you like!
Easy to stage with simple scenery - adaptable.
CD of Backing Tracks available.
CD of Vocal Tracks available.
Piano Score available.
Easily constructed and manageable props.
Age range: Key Stage 1 Production (4-7 years).
Duration: 45 Minutes.
Share this product with friends or colleagues...
The penguins introduce themselves in 'Seven Little Penguins Are We!' with musical interludes in between for a short, charming dance routine. Goggles, the smallest penguin, is not allowed to go fishing with the others and in 'Oh Goggles, Don't You Cry!' the remaining penguins try to stop his tears with no end of treats; ice cream eventually does the trick!
Keen to amuse himself whilst the others are out, Goggles sings 'Funny Little Song' to himself as he busies himself tidying the igloo. Unfortunately, his fun and games are interrupted. Goggles hides from three robbers as they enter the igloo and during 'Grab This, Grab That!' Nick, Nock and Snitch empty the igloo of all its luxuries. Worried about letting the others down, Goggles leaves a note for his friends, puts on a brave face and during a shaky rendition of 'Funny Little Song' leaves the igloo to follow the robbers.
Upon finding Goggle's note, the six penguins worry about what their small friend has got himself into. However, all is not lost as PC Blubber makes an appearance and during 'PC Blubber' spirits remain high as everyone is convinced the great walrus detective will save the day!
No sooner than Goggles leaves the comforts of his home, he finds himself in a spooky cave surrounded by icicles; 'Song of the Icicles' follows. As Goggles makes his way further into the cave in search of the robbers, he sings 'Funny Little Song' once again to calm his nerves. Upon seeing the robbers, Goggles hides behind an icy boulder but he underestimates their sense of smell, as they sniff out the smell of penguin! Luckily, the icicles surround the criminals forming a circle of icy 'prison bars' and PC Blubber and the other penguins enter just in time to see the heroic icicles in action. Everyone celebrates a triumphant ending in a reprise of 'Seven Little Penguins Are We!'