Creepy Crawly Christmas (Nativity)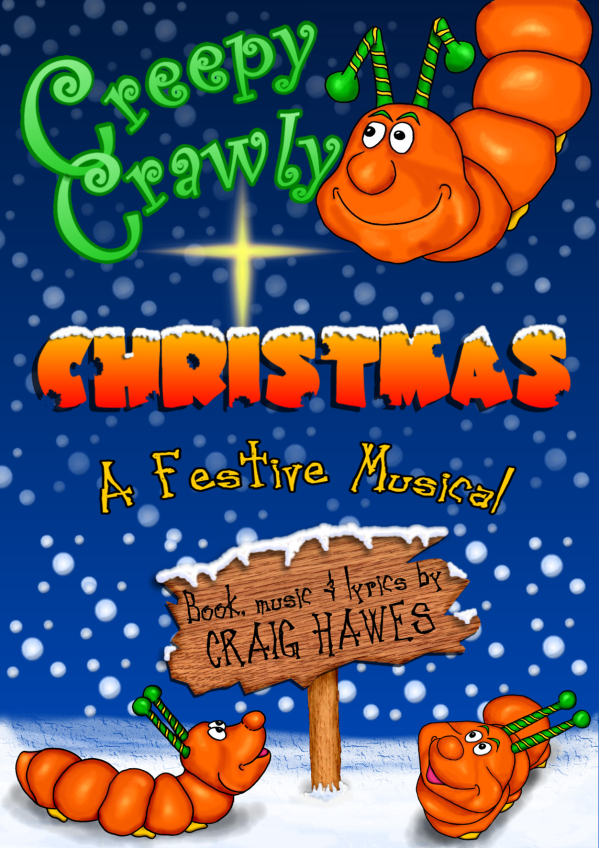 Why choose this Musical?
36 speaking roles
This can be reduced to 22 speaking roles. See "Casting" tab below.
Flexibility
Flexible Cast size to suit YOUR group numbers, from 28 actors upwards. See "Casting" tab below.
Unlimited chorus parts
Plus a Nativity Scene for the younger children.
Easy to stage
Flexible staging with simple scenery - adaptable.
CDs of Backing Tracks & Vocal Tracks available
Both these CDs include Overture, ALL Songs, Special Effects, Play Ons and Play Offs in the order you need them enabling production and direction to take place without specialist musical expertise.
Performance Score available
Great for those who prefer a live pianoforte accompaniment. The Performance Score encompasses Overture, ALL Play Ons and Play Offs, Songs, Link Music, Cues and Chord Symbols. Grade 5 / 6 standard - See "Scripts & Songs" below.
Rehearsal Score available
Grade 2 / 3 standard. See
"Scripts and Songs"
below.
Easily constructed and manageable props
Age range - Key Stage 2 Production (7-11 years)
With optional added Key Stage One parts
This imaginative Christmas play follows Wilfred the caterpillar on a journey as he attempts to earn his wings to become a butterfly.
An upbeat song opens the show
'Its Christmas Again'
and this is followed by a classroom setting where Madame Butterfly is taking a register; the names are witty with ?Anne Tenor being a prime example. Unfortunately, Wilfred was not blessed with a clever name, nor the intelligence to go with it and the other caterpillars do not hesitate to remind him of it, but despite this, they all join in to sing
'Wilfred Our Mate.'
Unfortunately, Wilfred feels he will never earn his wings and decides to run away, free from the teasing and mocking. But Wilfred has no idea what he has let himself in for, when a star suddenly falls from the sky and he makes the decision to prove himself worthy and return it. Soldier Ants march onto stage and offer their opinions on the ?Unidentified Falling Object in the song
'What Is It?'
Unable to help, the ants march Wilfred to the ladybirds who, although able put a name to the UFO, are not able to identify which part of the sky it came from. With barely a moment to rest, Wilfred is sent crawling to the crickets.
In a slightly different twist to the traditional nativity story, it was the crickets that saw the star appear in the sky and hence tell Wilfred to follow the stars that will lead him to a manger. 'Starlight' follows as Wilfred gazes up to the sky for guidance.
Unfortunately, Wilfred reaches a large obstacle soon after, but in an entertaining interaction between the caterpillar and Italian-fleas they are able to jump over the fallen tree. However, Wilfred is barely able to catch a breath as Soloman the Spider presents the young caterpillar with a tangled mess! Luckily, Wilfreds journey does not end here as he is relieved to find Solomans taste buds prefer flies. 'Webtastic' follows with some extremely clever lyrics.
Allowed to leave by Soloman, Wilfred then finds himself under the wings of Queen Bee who is preparing for a party with her royal subjects. As Wilfred hastily drinks a jar of nectar, there are surprise musical guests - the Beetles! Although not one of their signature tunes, 'Creepy Crawly Christmas Time' is sung.
Suddenly, everything becomes quiet and Wilfred finds himself alone again, but luckily is joined by the dragonflies who have been sent to rescue him. After introducing themselves during 'The Dragonfly Brigade' Wilfred, with a helping hand from a dragonfly, manages to place the star back in the sky. Madame Butterfly appears beside Wilfred and explains to him the importance of what he has done. 'King of Creation' follows, and in case you were in any doubt, Wilfred succeeded in earning his wings. 'Creepy Crawly Christmas Time (reprise)' is the perfect, lively song to end on.