Rock Around Christmas (Nativity)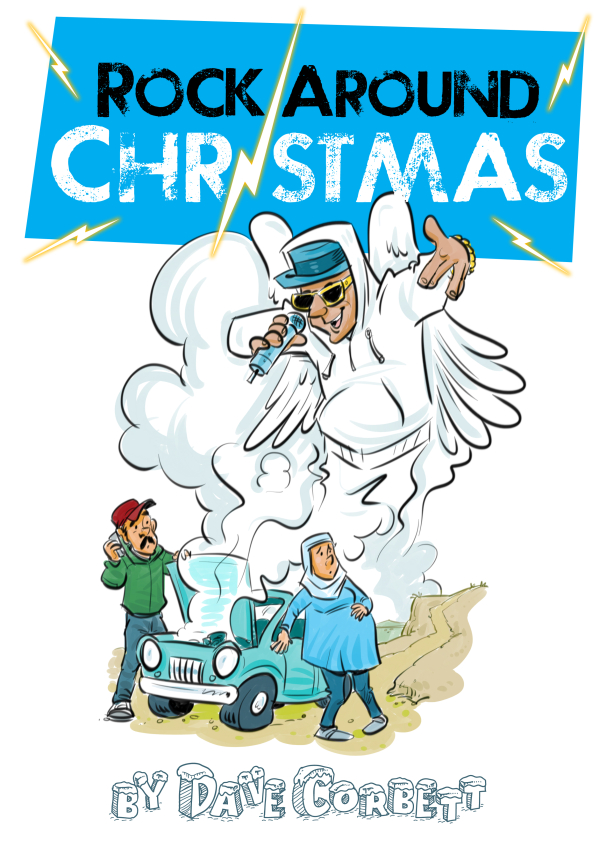 Why choose this Musical?
Flexibility
Flexible Cast size to suit YOUR group numbers, from 29 actors upwards. See "Casting" tab below.
Any number of Chorus parts
Great alternative Nativity
Extensive production notes included in script
Piano score available
CDs of Backing Tracks and Vocal Tracks available
Terrific humour that parents, pupils and teachers will love
Easily constructed and manageable props
Catchy, memorable, toe tapping songs
Age range - Key Stage 2 - (7-11 years)
Scene One: Gabriel
When Mary receives an 'Angelagram' from the rapping Archangel Gabriel telling her that she has been chosen to bear the Son of God, she is a little bit puzzled to say the least! Cue a visit from another angel who speeds time along to the start of the census and a very pregnant Mary.
Scene Two: Broken Down
Joseph's old Skoda breaks down on the road to Bethlehem and without a mobile phone to call for help, the pair are stranded. After several passers-by fail to be of any assistance, along comes a friendly Zoo Keeper who offers to help Joseph sort out the car while Mary rests in the park.
Scene Three: Wise Up!
The 'wise' Stargazers are in the middle of packing for their journey following a star that will lead them to baby Jesus. But how many pairs of underwear will they need? Will the clapped out Transit van manage to get them there? Will the presents bought from Argos be suitable for a baby? And why exactly are they following the star in the first place? It soon becomes apparent that maybe these Stargazers are not quite so wise!
Scene Four: Herod's Tactics Room
Herod has his sights set on becoming the next King so when news reaches him about the special baby he calls on his incompetent Ministers, bumbling Royal Action Team and an Inspector Clouseau type Chief to track the baby down. Herod grows more and more frustrated with the stupidity of his minions and bursts into an Elvis style number strutting around the stage making it clear he is indeed a 'Wannabe' king.
Scene Five: The Park
As Mary sits in the park tired and fed up Joseph returns from the garage with a mobile phone lent to him by the owner. After phoning their hotel and discovering that it's double booked, it becomes clear that their troubles are far from over. When Mary informs Joseph that the baby may be on its way he phones tourist information but alas, there are no vacancies in Bethlehem. Enter the friendly Zoo Keeper who takes pity on the downtrodden couple and offers them a place to stay in an office next to his stable.
Scene Six: Shepherds And That
Upon a hillside a group of Shepherds sit huddled together surrounded by their bored but comical Sheep. Gabriel and a group of Angels appear and interrupt the Shepherds who are washing their socks at night! He delivers the joyous news (in rap style of course!) that the baby king has been born and both mother and child are safe and well. The Shepherds perform 'The Shepherd Shuffle' in celebration of such wonderful event.
Scene Seven: Home Again
Mary, Joseph and baby Jesus are finally back home! The family gather together to raise their glasses to toast the little fella and discuss the visitors they have had. Gabriel and his group of Angels again appear and he raps his final piece of dialogue to the audience reminding us that Christmas wouldn't be Christmas if it was not for the little baby king!