Who? (Nativity)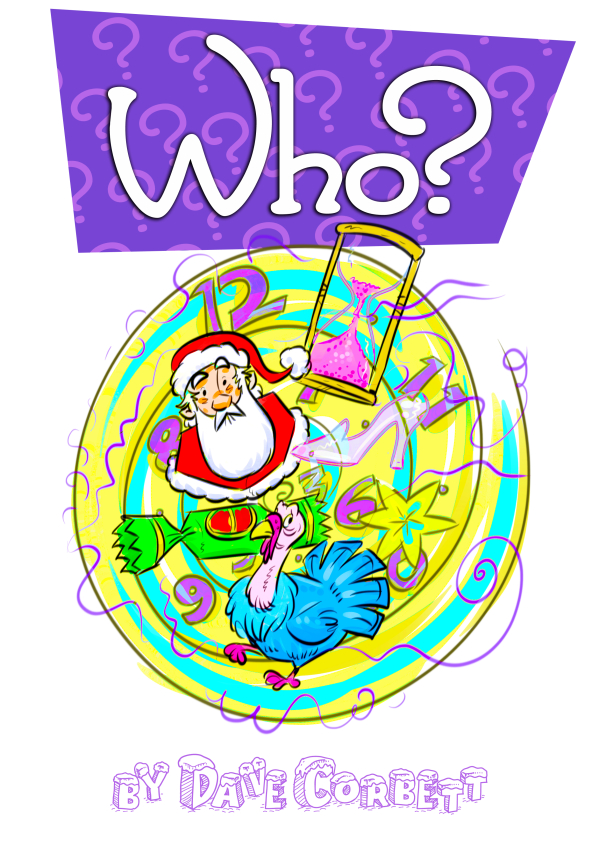 Why choose this Musical?
23 Speaking Roles
Flexible Cast size to suit YOUR group numbers, from 23 actors upwards. See "Casting" tab below.
Any number of chorus parts
CDs of Backing Tracks and Vocal Tracks available
Performance/Rehearsal piano score available
Extensive production notes included in script
Ideal for a whole small school or drama group
Time travel story line that's appealing to pupils
Uplifting, inspiring songs
Easily constructed and manageable props
Age range - Key Stage 2 (age 7-11)
Prologue
Three Narrators introduce us to two time travellers, Doctor When and Doctor What. They have been travelling through time and space trying to discover the true meaning of Christmas and find themselves on planet Earth to see if they can find the answer.
Scene One: The Christmas Store
Christmas time in a department store is always busy and Mrs Selway, the shop assistant, is dealing with the rush. A mother and her two whingey children are claiming that Santa has pinched a lollipop but we soon discover it's stuck to his beard! Enter the Doctors who decide to ask 'the funny old chap with the white beard' if he knows anything about Christmas. After a confusing conversation the department store Santa becomes frustrated and the Doctors leave.
Scene Two: The Cracker Factory
Ever wondered who chooses the jokes in crackers? They get auditioned and measured with a laughometer! Three contestants line up in front of the Doctors and deliver a series of awful jokes before the worst is chosen. After all, who ever heard of a funny joke in a cracker?
Scene Three: Pantomime
Cinderella is on at the Alhambra and the Doctors decide to attend. As they enter and sit down to watch the show a ballroom scene comes to life and the ugly sisters bustle on stage. The story of Cinderella unfolds as it is acted out in Track 4.
Scene Four: Down At The Farm
Mrs Fry shows the time travelling duo around her farm. A flock of gobbling turkeys enters and panic sets in when the Doctors discuss their fate with Mrs Fry. Only one way to calm terrified Turkeys.......Turkeys delight! After a sweet treat the bumbling birds perform 'The Turkey Trot'.
Scene Five: Going Backwards
Disappointed and frustrated by not finding the answer they have been searching for, When and What decide to take drastic action and set their spaceship to the year nought. After problems with a troublesome flat battery, the spaceship is 're-thwarfed' and they set off through time and space.
Scene Six: The Road To Bethlehem
The Doctors emerge from their ship to discover that they are in the middle of a desert. After a failed attempt to take a camel train they set off on foot in search of their answer which they soon find in a stable in Bethlehem. They learn of the birth of a baby, God's special gift to mankind and the true meaning of Christmas.