Alice The Musical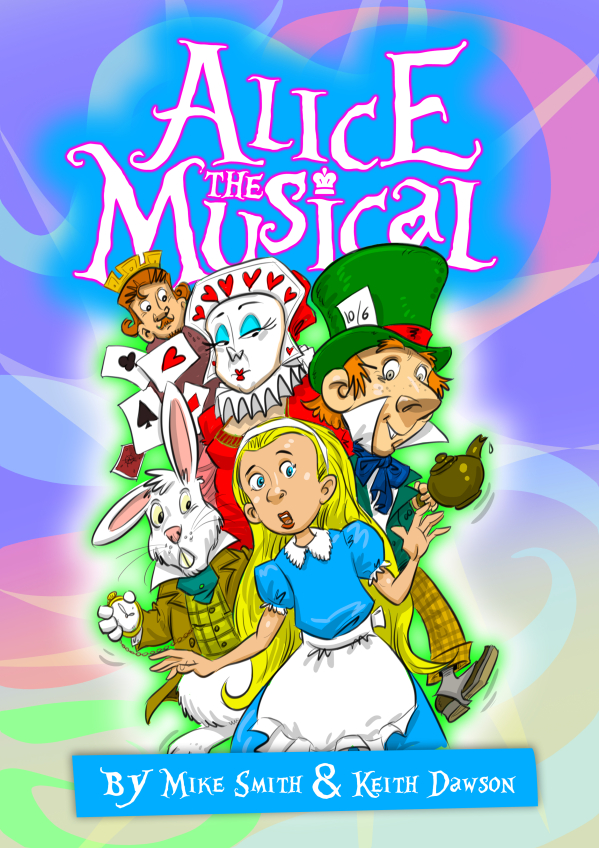 Why choose this Musical?
20 Speaking Roles Separate CDs of Backing and Vocal Tracks available
Rehearsal Scores available
Grade 5/6 standard and Grade 2/3 standard, see "Script & Songs" below.
NEW for 2019

Sing It! Mk. 4 version, now with...
"Volume Control" feature
"Minimise Window" feature
"Lyrics Off" feature
"Vocals Off" feature
"Line by Line" practising feature
"Phrase by Phrase" practising feature
A BRAND NEW product; a CD-ROM or download of all the songs called "Sing it!" is available. This CD-ROM or download can teach the songs to the children without any teacher input. Children can use it at school or at home - think of the time it will save you! Most schools use it in class on an interactive white board or in the school hall on the overhead projector to allow full cast practice. Children LOVE learning this way and the product is foolproof.
Read the "Sing it!" reviews 'The "Sing it!" products were fantastic.' The Downs School, Bristol. 'Absolutely amazing material.' Mary O'Neill-Delano, Canada. ' "Sing it!" is fantastic for us less musically inclined teachers.' The Coppice Primary, Worcestershire. 'I really appreciate the "Sing it!" component as we often use this in rehearsals.' Newborough East Primary, Victoria, Australia. 'Can I also say that your "Sing it!" CD was brilliant.' Key Stage 2 teacher, Singapore.
Editable Word Doc Script available
Age range: Key Stage 2 Production (7-11 years)
Duration: 55 to 65 minutes
NEW! Instant Scenery with our digital backdrops
A different backdrop for EVERY scene change
Supplied in both a PowerPoint presentation and as individual JPG files.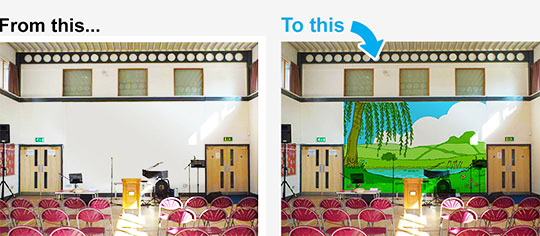 No more Scenery Painting!
Scene One: The Meadow
It's a warm, summer's day and Alice falls asleep by the riverside but is soon awoken by a White Rabbit, clearly in a state of panic. She chases after the strange creature but tumbles down a hole where she discovers a table with a key and bottle upon it. After failing to open several normal sized doors with the key, Alice unlocks a tiny door but how on earth will she fit through? Curious, Alice drinks the potion contained in the bottle and begins to shrink.
Scene Two: Wonderland
Alice is now in Wonderland and finds herself in the presence of some very odd creatures who seem to speak utter nonsense! They are soon joined by a sobbing Mock Turtle who tells his sad tale to an empathetic Alice. A series of impossible questions follow before the Mock Turtle tells of his lessons at sea school.
Scene Three: The Duchess's Kitchen
Alice yet again comes across a very flustered rambling Rabbit who talks no more sense than the creatures she has just left! Fed up with the crazy place she finds herself in, Alice asks to be taken home but, the Rabbit leads her to the kitchen of the dreaded Duchess and her crazy companions.
Scene Four: The Mad Hatter's Tea Party
As she continues on her journey through Wonderland, Alice stumbles upon The Mad Hatter and his tea party guests. The flamboyant Hatter revels in asking Alice senseless riddles with no answers to the amusement of his guests. Enter the Duchess with an invitation to play croquet with the Queen. Alice is excited at the prospect of meeting royalty but as the Queen herself enters, it becomes clear that she is a feared ruler with a passion for beheading!
Scene Five: The Trial
The Queen's tarts have gone missing and Alice finds herself accused of theft. The Queen orders her to be executed but the White Rabbit insists on a trial. The Queen agrees before the Knave reminds her of her unique game of croquet. The game commences and there can only be one winner! As Alice stands in the prisoner's box, the trial begins. Several witnesses are called to give evidence to the jury but unfortunately for Alice, they are the crazy characters she has encountered and the trial becomes a farce. As the verdict of guilty is passed Alice shouts out her final defiant sentence and the cast falls to the floor like a pack of cards. Alice, at last, finds herself away from the madness of the crazy creatures. But how does she find her way home?