Let The Games Begin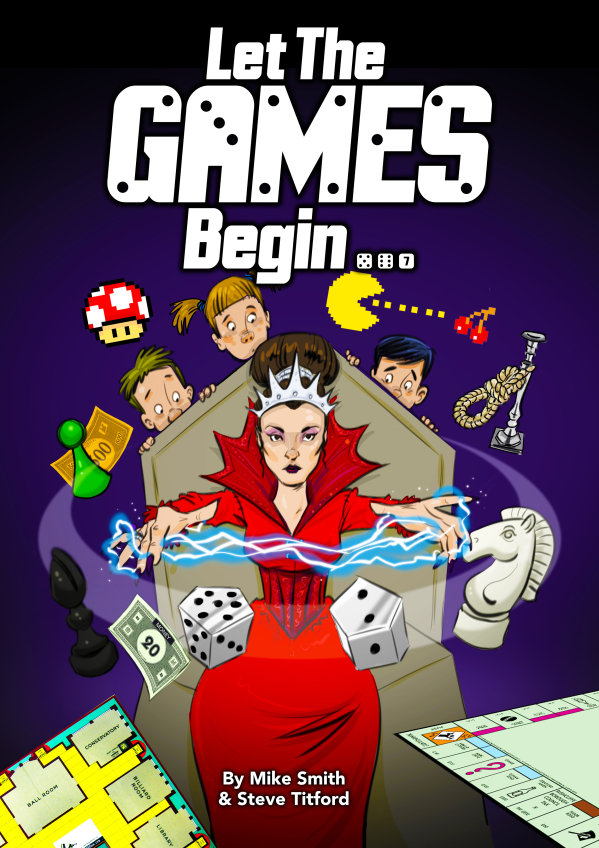 Why choose this Musical?
29 speaking roles
Easily reduced to 25 speaking roles. Flexible Cast size to suit YOUR group numbers, from 25 actors upwards. See "Casting" tab below for full instructions.
Any number of chorus parts
Editable Word Doc Script available. Make your own changes
Click "Script Sample" on the "Script & Songs" tab below to see some of the original script.
CD of Backing Tracks plus essential sound effects available
No pianist required! This CD includes ALL Backing Tracks, Incidental Music and Special Effects in the order you need them enabling production and direction to take place without specialist musical expertise.
CD of Vocal Tracks available for learning the songs
NEW for 2019

Sing It! Mk. 4 version, now with...
"Volume Control" feature
"Minimise Window" feature
"Lyrics Off" feature
"Vocals Off" feature
"Line by Line" practising feature
"Phrase by Phrase" practising feature
A BRAND NEW product; a CD-ROM or download of all the songs called "Sing it!" is available. This CD-ROM or download can teach the songs to the children without any teacher input. Children can use it at school or at home - think of the time it will save you! Most schools use it in class on an interactive white board or in the school hall on the overhead projector to allow full cast practice. Children LOVE learning this way and the product is foolproof.
Read the "Sing it!" reviews 'The "Sing it!" products were fantastic.' The Downs School, Bristol. 'Absolutely amazing material.' Mary O'Neill-Delano, Canada. ' "Sing it!" is fantastic for us less musically inclined teachers.' The Coppice Primary, Worcestershire. 'I really appreciate the "Sing it!" component as we often use this in rehearsals.' Newborough East Primary, Victoria, Australia. 'Can I also say that your "Sing it!" CD was brilliant.' Key Stage 2 teacher, Singapore.
Full Performance score available
Grade 7 standard, click "Performance Score" on the "Script & Songs" tab below.
Duration: 50-60 minutes
Extensive Production Notes
Check out the "Production Notes" sample on the "Scripts and Songs" tab.
Easily Constructed and Manageable Props
Click "Production Notes" on the "Script & Songs" tab below for full listing.
Very easy to costume
Click "Production Notes" on the "Script & Songs" tab below for ideas.
Easy to Stage
Visually appealing
Exciting, Memorable and Catchy Songs
Have a listen by clicking the "Script & Songs" tab below to see what we mean!
Age range: Key Stage 2 Production (7-11 years)
NEW! Instant Scenery with our digital backdrops
A different backdrop for EVERY scene change
Supplied in both a PowerPoint presentation and as individual JPG files.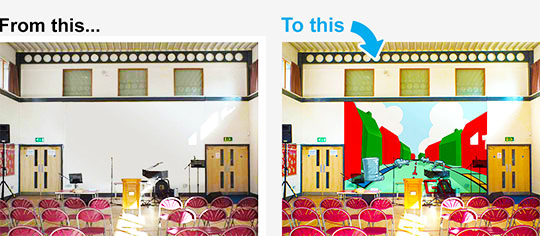 No more Scenery Painting!
Scene One
The opening scene starts with the computer game inspired track 'Video Game Generations'. Cue a dance routine involving some famous game characters including Mario and Donkey Kong!
Scene Two
Vicky, Marney and Robin are staying at their Grandfather's house in the country. Rather than spending quality time as a family, the three youngsters are engrossed in their phones. While Vicky is on social media 'socialising' with her friends, the boys are being overly loud and competitive playing a video game against each other.
As the boys get increasingly louder, Grandad steps in to calm them down and tries to explain to the children that there is a world beyond their beloved technology.
He tells them a story of a meeting when he was in the Far East, with a wise old mystic who gave him a very special gift... a pair of magical seven sided dice.
As Grandad reveals the strange-shaped dice he warns the children that the dice must not be touched. Mischievous Marney does not take heed of his warning and before Grandad can stop him, he grabs the dice and rolls them!
As lights flash, thunder claps and strange, eerie noises can be heard, the children are magically transported to the Land Of Lady Fortune.
Scene Three
The terrified trio are lost and confused. As they begin to look around and question where they are, the sound of distant drumming can be heard.
Will Luck enters, leading a marching procession of Lady Fortune's Servants followed by the Great Lady Fortune herself.
She welcomes the children to her Land of Games where they can play their favourite games for real!
She explains that the mysterious dice are 'the dice of fortune, fame and fear', whereupon the seven sides of the dice come to life to perform their dance.
As Lady Fortune and her Entourage exits, Will warns the children that Lady Fortune plays 'for keeps' and unless they win each of their chosen games, they will be trapped in Game Land forever!
Vicky is first to play her game of choice, Monopoly.
Scene Four
Vicky rolls the dice, and with a crash and a bang, finds herself and the boys transported to the bustling streets of London.
Lady Fortune hands Vicky a wad of Monopoly money before the energetic and vibrant song 'Monopoly' begins.
During the song, a pushy Estate Agent encourages Vicky to spend her new found fortune on various properties.
Vicky, excited by playing a game for real, gets carried away and before long, has run out of money and is heavily in debt!
She has an opportunity to continue the game by picking one of two cards. One reads 'Chance' and the other 'Go to Jail'.
With no other option, Vicky reluctantly chooses her card.
The Estate Agent holds the card above his head and reveals Vicky's unfortunate fate... GO TO JAIL!
As the Police Sergeant escorts Vicky offstage, the boys find themselves being harassed by some very nosey reporters looking for their next 'scoop'.
After being bombarded by a barrage of questions, the boys are happy to see Will Luck who is sure he knows who can help them.
Scene Five
Meanwhile, Vicky sobs in her jail cell, feeling downtrodden and lost.
Thankfully, her fellow prisoners are on hand to comfort her. They have also lost their games to the fearsome Lady Fortune.
They tell her there are certain qualities that are needed to defeat Fortune. With Robin's intelligence and Marney's bravery, maybe they stand a chance.
After learning that winning isn't always important, it's what you learn from playing the game that's important, Vicky starts to sing the inspiring ballad 'Getting Back In The Game'.
Scene Six
Four proud Stationmasters are surrounded by the hustle and bustle of scurrying commuters in an old-fashioned London railway station.
Mr Fenchurch Street, Mr Marylebone, Mr King's Cross and Mr Liverpool Street hold a humorous, enthusiastic conversation about British trains before they burst into song with 'Engineers and Stationmasters'.
As the commuters slowly disperse, Will and the boys enter and explain to the Stationmasters what has become of Vicky. Will also explains that Lady Fortune had rigged the cards so that both read 'Go to Jail'... Vicky never had a chance of winning!
The four friendly Stationmasters agree to help the brothers and soon get them on a train en route to Cluedo Manor for Marney's game.
Scene Seven
Armed with the magic dice, Marney and Robin enter Cluedo Manor to discover all the usual suspects frozen in time around an evidence table with various tagged items. A body covered by a white sheet is lying on the floor.
With a roll of the dice, the Cluedo characters spring to life and begin accusing each other of Mrs White's (the cook's) demise.
As yet more accusations are made during the song 'Whodunit?', Marney listens intently and begins to think outside the box as Will Luck had suggested to him previously.
It soon becomes apparent to the daring detective that Mrs White's death was, in fact, an accident!
After proving the suspects' innocence and winning the game, Marney wins Vicky's freedom and she can now join her brothers for the final game.
Scene Eight
It's the final game, and what other game would clever Robin choose other than the game of Kings and Queens?
The sun rises over a chess board landscape where two crumbling castles are wakening.
As they discuss the forthcoming battle, it soon becomes apparent that the game always plays out the same way - Lady Fortune always wins!
The game begins and the chess pieces take their places. Lady Fortune sneers and scoffs at Robin, doubting his abilities.
Robin has other ideas though and, thinking outside the box as Marney did, comes up with a cunning plan.
Robin rolls the dice and the battle begins.
Over the eerie music, the chess pieces directed by Robin and Fortune slowly start moving towards their opposition, looking menacingly at each other.
As the music speeds up, a chaotic fight ensues between the pawns.
Eventually the White Queen reveals herself to be Vicky, and, as the music climaxes, she throws the seven-sided dice at the feet of the opposing army.
The dark skies become bright blue skies, the black chess pieces keel over, and the white pieces cheer their victory.
Lady Fortune is distraught at her unexpected first defeat and the Police Sergeant escorts the mortified menace off to jail.
The children and Will Luck are elated by their victory and escape from the clutches of Lady Fortune.
Will Luck however, has one more surprise for the champions as he escorts Grandad on to the stage to reunite them once more.
Will hands the dice back to Grandad and suggests he keeps them locked away, looking knowingly at Marney.
Grandad then has one final message for his grandchildren - video games are great but they are not real. Life is so much better!
Inside your heads are the greatest computers ever! So use them in the game of life!
With that powerful message, the uplifting finale 'Song Of The Dice' (reprise) ends the show.