Oink! (Primary Production)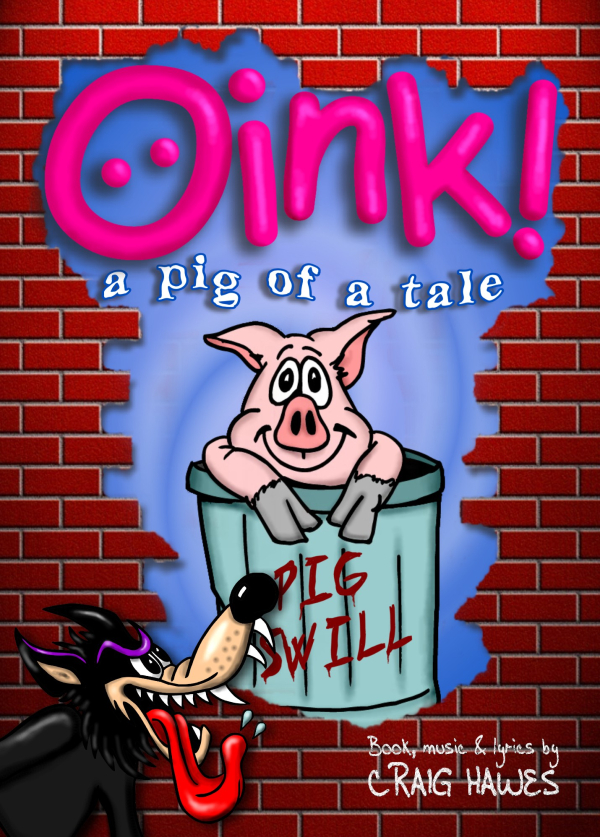 Why choose this Musical?
Editable Word Doc Script available
40 speaking roles
Flexible Cast size to suit YOUR group numbers, from 26 actors upwards. See "Casting" tab below.
Any number of chorus parts
CDs of Vocal and Backing Tracks plus essential sound effects available
Both these CDs include Overture, ALL Songs, Special Effects, Play Ons and Play Offs in the order you need them enabling production and direction to take place without specialist musical expertise.
Full Production Score
For those of you who prefer a live pianoforte accompaniment, we now have available a superb NEW Performance Score which encompasses Overture, ALL Play Ons and Play Offs, Songs, Link Music, Cues and Chord Symbols. (Grade 5 / 6 standard).
We also have available a NEW Rehearsal Score (Grade 4 standard).
Check them out on the "Script and Songs" heading.
Easy to stage with simple scenery - adaptable
Manageable props
See "Script & Songs" below for full listing.
Age range: Key Stage 1 and 2 Production (4-11 years)
Duration: 60 minutes

Oink! (Primary Production)
"

Very entertaining story with opportunities for a large cast. Performed with a cast of Year 4 who enjoyed catchy songs and great humour.

"
ginny macpherson, Collaroy Plateau Public School, Sydney
---

Oink! (Primary Production)
"

I think this play is absolutely amazing and it's soo fun! We have just got our parts and already we're enjoying rehearsing our roles. I was lucky to get BB Wolf, one of the main parts! ?

"
Sazza ?, St. Mary's, Lea Town, Lea
---

Oink! (Primary Production)
"

Oink! is yet another amazing musical by Craig Hawes. He cleverly wove the story of the Three Little Pigs into a full act musical. Again, the script was hilarious. There is plenty of room to involve the entire elementary group in this musical. My students were singing the songs long past the performance date of our musical. I highly recommend this musical.

"
M. O'Neill, Nelson School, Miramichi NB Canada
---

Oink! (Primary Production)
"

The best performance ever by the children, parents and other schools thought it was so funny and the acting was brilliant, especially Rene the french rooster (based on hello, hello). The children were really sad to see it end. We performed in the Opera House in Hastings and was given a standing ovation not just by the audience but by the opera house as the best scipt, songs and performance ever by a school. It was awesome and so easy to do, can't wait to do it again in a few years time.

"
Mrs Geraldine Sumner, St. Joseph's School, Hastings, New Zealand.
---

Oink! (Primary Production)
"

i am in year 6 and our teacher has picked Oink for our end of year play! The first day we read though it I couldn't stop smiling! I did an audition and now I am Welly one of the Trotter brothers. I am looking forward to our proformance SO much; it will be one of the best days of my life!

"
Lucy Antell
---

Oink! (Primary Production)
"

One of the most enjoyable pieces I have ever directed! Kept us laughing right up until the dress rehearsal - RARE!

"
Clare-Louise Edwards, ACTIVATE Performing Arts
---

Oink! (Primary Production)
"

Performed this with 90 KS2 children ... superb and lots of fun!

"
Leslie Lacey, St James CE Primary School, Chorley
---

Oink! (Primary Production)
"

Best play ever for young people. Funny and great for a big crowd - you will laugh your heads off!

"
Esse , Member of Cast
---

Oink! (Primary Production)
"

I am currently in this musical and I think it is a very funny musical! The songs are fun to sing and cool! I totally recommend OINK!!!

"
Emma, Cast Member.
---