Oink! (Primary Production)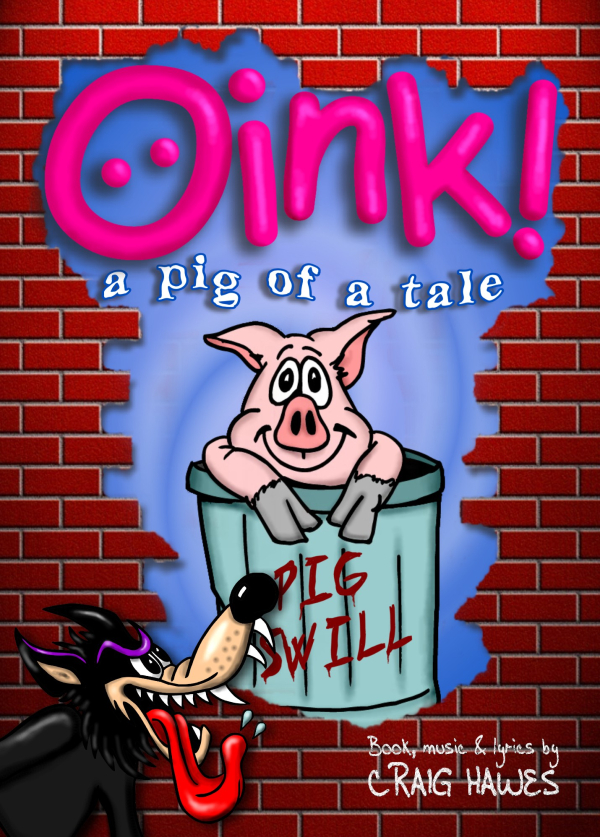 Why choose this Musical?
Editable Word Doc Script available
40 speaking roles
Flexible Cast size to suit YOUR group numbers, from 26 actors upwards. See "Casting" tab below.
Any number of chorus parts
CDs of Vocal and Backing Tracks plus essential sound effects available
Both these CDs include Overture, ALL Songs, Special Effects, Play Ons and Play Offs in the order you need them enabling production and direction to take place without specialist musical expertise.
Full Production Score
For those of you who prefer a live pianoforte accompaniment, we now have available a superb NEW Performance Score which encompasses Overture, ALL Play Ons and Play Offs, Songs, Link Music, Cues and Chord Symbols. (Grade 5 / 6 standard).
We also have available a NEW Rehearsal Score (Grade 4 standard).
Check them out on the "Script and Songs" heading.
Easy to stage with simple scenery - adaptable
Manageable props
See "Script & Songs" below for full listing.
Age range: Key Stage 1 and 2 Production (4-11 years)
Duration: 60 minutes
"Oink" is a musical that allows all the children to have fun with songs, dances, but most importantly putting together their animal costumes!
The play opens in the Farmyard and Percy the Pigeon and the chorus begin the fun by singing "Cock-A-Doodle-Doo". After this lively opening, the audience are introduced to the farmyard creatures, and there's something for everyone. If an agoraphobic donkey doesn't tickle your fancy then there's a browbeaten rabbit with his hot cross bunny of a wife and pigs that run wild! As everyone meets and greets one another, talk turns to the approaching harvest festival and "Pig Swill" is a song dedicated to the farmyard speciality; it may sound disgusting, but even Shep the Sheepdog is tempted.
Things don't calm down on stage just yet as the following scene sees the animals leaving the cocktail bar, with Roger the Rabbit a little the worse for wear! As the night begins to quieten down, the three piglet brothers, Frank, Welly and Monty are left alone. Frank has his head firmly on his shoulders and attempts to persuade his brothers to go home, but only receives grunts and snorts in return; The song "Nobody" follows and Frank reflects on how alone he feels at the farmyard. Never ones to listen to reason, Welly and Monty not only ignore their brother's wise words to head home, but their attention turns to the harvest feast which is out in preparation for the festival and you can surely guess what the two hungry piglets decide to do...steal it! But they don't get very far as Shep the Sheepdog catches them in the act and banishes them, along with Frank, from the farmyard.
The following scene is more light hearted as the Big Bad Wolf, safe in prison, experiences new scientific technology while the Professor attempts to turn him into a vegetarian. Although Officer McKenzie is doubtful of its successes, the Wolf appears to pass the test and is released back into the countryside, much to the delight of Melton and Mowbray - two rats who were his former sidekicks. However, they fail to hide their surprise when the BB Wolf announces he wants to open a vegetarian restaurant!
During 'Home Sweet Home' the three pigs build their homes and reflect on their time in the countryside. Unfortunately, they are not aware that during the wolf's treatment in prison, the Professor failed to immunise the wolf against pigs, so they are not as safe as they believe.
As Wolf prepares for the opening of his new restaurant, Mowbray the rat fleetingly mentions pigs and unfortunately for Frank, Welly and Monty, BB Wolf becomes fixated on the idea of catching some for a hog roast, although he still insists that he's a changed wolf in the song "I'm Not As Bad As They Paint Me". After discovering that the harvest festival is about to begin, and this is where the ingredients for the hog roast will be, BB Wolf and his two sidekicks make haste.
The song "Come To The Funfair" opens the festivities, but unfortunately Welly and Monty are taken in by the Wolf's eating competition, during which he lures the two piglets into his care. Luckily, Frank, who is nearby, has his wits about him and recognises the Wolf's face from a "Wanted" poster. Conjuring up a plan of action he successfully captures Melton and Mowbray with the help of others, but the Wolf still gets away! To make matters worse, the Wolf doesn't get very far before he hears the whereabouts of the piglets' new homes and decides to pay them a surprise visit! The traditional fairy tale story follows as BB Wolf attempts to blow the three houses down, but be warned, there is a contemporary twist! Like all good musicals, there is a happy ending, as Frank's brick house survives the wolf's tactics and BB Wolf is caught successfully, in a pile of Pig Swill! Reprises of "Pig Swill" and "Cock-A-Doodle-Doo" end this animated musical.