Pirates Of The Curry Bean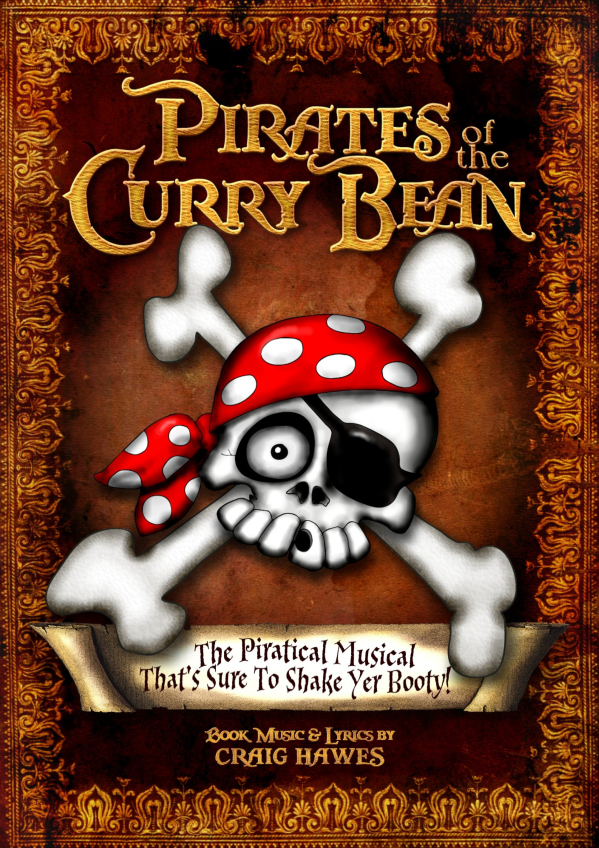 Why choose this Musical?
38 Speaking Roles
Can be reduced to 24 speaking roles, see "Casting" tab below for full instructions.
Unlimited chorus parts
Easy to stage and costume
NEW for 2019

Sing It! Mk. 4 version, now with...
"Volume Control" feature
"Minimise Window" feature
"Lyrics Off" feature
"Vocals Off" feature
"Line by Line" practising feature
"Phrase by Phrase" practising feature
A BRAND NEW product; a CD-ROM or download of all the songs called "Sing it!" is available. This CD-ROM or download can teach the songs to the children without any teacher input. Children can use it at school or at home - think of the time it will save you! Most schools use it in class on an interactive white board or in the school hall on the overhead projector to allow full cast practice. Children LOVE learning this way and the product is foolproof.
Read the "Sing it!" reviews 'The "Sing it!" products were fantastic.' The Downs School, Bristol. 'Absolutely amazing material.' Mary O'Neill-Delano, Canada. ' "Sing it!" is fantastic for us less musically inclined teachers.' The Coppice Primary, Worcestershire. 'I really appreciate the "Sing it!" component as we often use this in rehearsals.' Newborough East Primary, Victoria, Australia. 'Can I also say that your "Sing it!" CD was brilliant.' Key Stage 2 teacher, Singapore.
CD of Backing Tracks & CD of Vocal Tracks available
No pianist required! Both these CDs include Overture, ALL Songs, Special Effects, Play Ons and Play Offs in the order you need them enabling production and direction to take place without specialist musical expertise.
Dance it! Available
Another BRAND NEW product is the "Dance it!" Choreography DVD. Watch each song performed by a group of age-appropriate children in two different versions - a full speed 'Performance' version and a slowed down 'Step By Step' version with helpful narration to guide you through the dance. Introduced by Craig Hawes, the DVD is also packed with lots of handy hints for teaching dances. Absolutely no previous experience or expertise is needed.
Read the latest "Dance it!" reviews
'The "Dance it!" DVD was great.' St Hugh's Catholic Primary, Lincolnshire.
'For the first time we used the "Dance it!" DVD and found it wonderful.' Rising Starz Performing Arts, New Zealand.
'"Dance it!" videos were very useful.' Sacred Heart Catholic Primary, Hertfordshire.
'Loved having the Choreography (Dance it!) video this year. That really helped our choreographer get the kids started and when she was sick, we could still rehearse their dance moves.' The American School, Marrakesh.
'Loved the "Dance it!" that came with "Porridge" and would love similar for other productions. Makes my life so much easier.' Aria School, New Zealand.

Full Performance Score available
Encompasses Overture, ALL Play Ons and Play Offs, Songs, Link Music, Cues and Chord Symbols. (Grade 5 / 6 standard). Click "Performance Score" in the "Script & Songs" tab below.
Easy Play Rehearsal Score available
Grade 2 / 3 Standard, click "Easy Play Score" in the "Script & Songs" tab below.
Easily manageable props
Age range: Key Stage 2 Production (7-11 years)
NEW! Instant Scenery with our digital backdrops
A different backdrop for EVERY scene change
Supplied in both a PowerPoint presentation and as individual JPG files.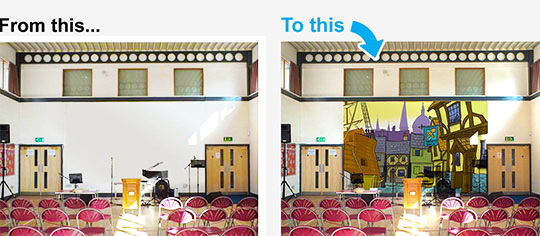 No more Scenery Painting!
Prefer "Live" music? "Band Parts" Now Available
Why not let your children play along with the pianist or backing tracks.
They could even play along for some or all of the rehearsals/performances.
If your children have instrumental lessons, this is a wonderful opportunity for them to play in front of a live audience.
What an incentive to practise!
All the individual parts work well with piano, keyboard or backing tracks.
All tried - All tested - Everything Works!
This show is sold with the following parts:
Full Conductor's Score (All parts written at Concert Pitch)
C + 8ve Lead (Flute)
C Lead (Violin)
Bb Lead (Clarinet - Trumpet etc.)
Eb Lead ( Alto Saxophone)
Keyboard 1
Keyboard 2
Electric Guitar
Bass Guitar
Drum Set
To view, click "HERE" or click "Band Parts" in the "Scripts & Songs" tab below.
In the prologue, our narrator Deadeye Dinghy sets the scene with a tale of a mysterious pirate, Captain Swaggersword, who disappeared many years ago leaving his chest of treasure hidden in a far and distant land. The action immediately switches to the Squirty Squid dockside tavern in Old London Town, where the ensemble sing 'Pot Of Gold'. We soon meet the Periwinkle family - feisty landlady Pearl, her fun-loving twins Jack and Liza and their rat-catching cat, Fiddlesticks. It becomes clear that Pearl dislikes all things nautical, ever since her husband Stanley was lost at sea. Deadeye also enters the scene as the children's pirate uncle, whom Pearl disapproves of and quickly ushers out before he can cause any trouble. However, the meddling Deadeye leaves a treasure map on the table, telling the audience "Causing trouble? Why, I've only just started!"
Redbeard and his bumbling pirate crew of the ship "The Curry Bean" (named after their love of curry and beans) enter the tavern and overhear the Periwinkles talking about the map. After they leave, the family lock the map in the safe and Pearl tells the children of an island their father used to speak of (Lumbago, in the sea of Sciatica) as she sings 'Lumbago Lullaby'. As Pearl settles to sleep in the tavern, the pirates return in a comical midnight raid. Amazingly they succeed in blowing the safe, stealing the map and accidentally kidnapping a very cross Pearl.
Deadeye takes us to Old London Docks the next morning, where a worried Jack, Liza and Fiddlesticks are searching for the pirates that took their mum and their map. We meet the long suffering Captain Cod, the newly appointed (and completely incompetent) Admiral Horatio Hornhonker and their crazy crew of sailors. We also meet the hilarious oddjob men, Scuttle and Slack, whom Captain Cod manages to press gang into his crew. When Cod is attacked by a gang of rats, Jack and Liza offer him the services of Fiddlesticks in return for passage upon his ship. Cod calls his crew and passengers together ready to set sail on the good ship "The Crunchy Frog" and all sing 'Anchors Away!'
Aboard the Curry Bean, Redbeard is quite taken with Pearl and invites her to join his pirate crew, to which she agrees in exchange for safe return to her children in London. She and her children, though far apart, sing of their longing to see each other again in 'Underneath The Same Starry Sky'. Back onboard 'The Crunchy Frog', Hornhonker is sea sick, Cod is plagued by rats and Scuttle and Slack are causing mayhem. Cod licks his crew into shape and a fun mop dance follows. The next scene has the captains of both ships spotting each other through telescopes. After a comical sending and receiving of messages, the two ships meet and a dramatic slow motion battle follows. The pirates take over the Crunchy Frog, imprisoning Cod, Hornhonker and the reunited Periwinkle family. Redbeard invites everyone to join the pirate life and they sing 'Piratical Style'. Down in the hold, the prisoners are rescued by a well-meaning Scuttle and Slack, but in the attempt they accidentally pull out the plug from the bottom of the boat. With water pouring in, a sudden storm seals their fate as the ship is wrecked.
All wash ashore on the island of Lumbago, where each group in turn finds the treasure map but is chased by monkeys before they can search for the hidden loot. Finally, Scuttle and Slack dig up the chest before being chased by an enormous gorilla. The different groups eventually meet and are welcomed by the natives with the song 'Lumbago'. Chief Wonga appears and sentences the trespassers to death, but when Pearl attacks him with a wet fish he is brought to his senses. Wonga reveals that he is Pearl's missing husband, and the children learn that their father was once the legendary pirate Swaggersword. Scuttle and Slack enter with the chest and Jack and Liza help to unlock it. Redbeard attempts to steal the treasure but his crew turn against him, making the Periwinkles their new leaders. The new pirates agree to return Cod and crew back to England, and Redbeard is suitably punished in an unusual way. A reprise of 'Piratical Style' provides a joyful ending to the show.