Robin And The Sherwood Hoodies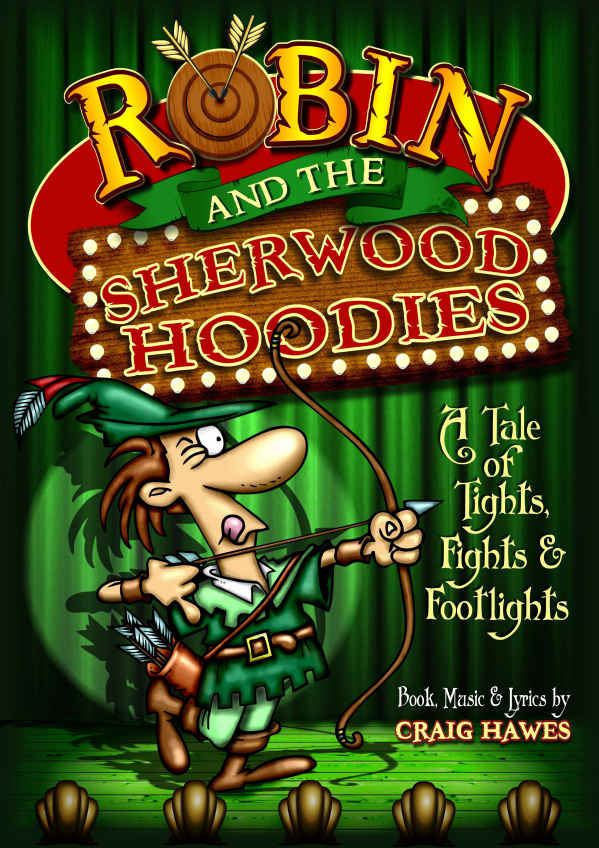 Why choose this Musical?
Links with "Myths & Legends" curriculum topics
Editable Word Doc Script available
43 speaking roles
Easily reduced to 22 speaking roles, see "Casting" tab below for full instructions.
Duration: 60 to 80 minutes
CD of Backing Tracks plus essential sound effects available
No pianist required! This CD includes ALL Backing Tracks, Incidental Music and Special Effects in the order you need them enabling production and direction to take place without specialist musical expertise.
CD of Vocal Tracks available for learning the songs
NEW for 2019

Sing It! Mk. 4 version, now with...
"Volume Control" feature
"Minimise Window" feature
"Lyrics Off" feature
"Vocals Off" feature
"Line by Line" practising feature
"Phrase by Phrase" practising feature
A BRAND NEW product; a CD-ROM or download of all the songs called "Sing it!" is available. This CD-ROM or download can teach the songs to the children without any teacher input. Children can use it at school or at home - think of the time it will save you! Most schools use it in class on an interactive white board or in the school hall on the overhead projector to allow full cast practice. Children LOVE learning this way and the product is foolproof.
Read the "Sing it!" reviews 'The "Sing it!" products were fantastic.' The Downs School, Bristol. 'Absolutely amazing material.' Mary O'Neill-Delano, Canada. ' "Sing it!" is fantastic for us less musically inclined teachers.' The Coppice Primary, Worcestershire. 'I really appreciate the "Sing it!" component as we often use this in rehearsals.' Newborough East Primary, Victoria, Australia. 'Can I also say that your "Sing it!" CD was brilliant.' Key Stage 2 teacher, Singapore.
Dance it! Available
Another BRAND NEW product is the "Dance it!" Choreography DVD. Watch each song performed by a group of age-appropriate children in two different versions - a full speed 'Performance' version and a slowed down 'Step By Step' version with helpful narration to guide you through the dance. Introduced by Craig Hawes, the DVD is also packed with lots of handy hints for teaching dances. Absolutely no previous experience or expertise is needed.
Read the latest "Dance it!" reviews
'The "Dance it!" DVD was great.' St Hugh's Catholic Primary, Lincolnshire.
'For the first time we used the "Dance it!" DVD and found it wonderful.' Rising Starz Performing Arts, New Zealand.
'"Dance it!" videos were very useful.' Sacred Heart Catholic Primary, Hertfordshire.
'Loved having the Choreography (Dance it!) video this year. That really helped our choreographer get the kids started and when she was sick, we could still rehearse their dance moves.' The American School, Marrakesh.
'Loved the "Dance it!" that came with "Porridge" and would love similar for other productions. Makes my life so much easier.' Aria School, New Zealand.

Full Performance Scores available
Grade 6 standard and Grade 4 standard, see "Script & Songs" below.
Full Production Notes
Check out the "Production Notes" in the "Script Sample" below for full details of "Robin and the Sherwood Hoodies".
No problem props
See "Script & Songs" below for full listing.
Any number of chorus parts
Very easy to costume
Detailed in "Script & Songs" below.
Simple staging
Detailed in "Script & Songs" below.
Age range - Key Stage 2 Production (7-11 years)
NEW! Instant Scenery with our digital backdrops
A different backdrop for EVERY scene change
Supplied in both a PowerPoint presentation and as individual JPG files.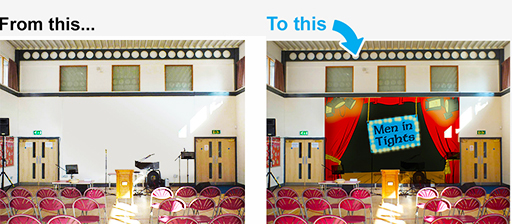 No more Scenery Painting!
The curtain rises on our poetic playwright and narrator Billy Wigglestick, who sets the scene, introduces Maid Marion and cues the energetic opening number, "Sherwood Forest". We meet the villagers of Sherwood, including Marion's over-protective guardian Nursie and her short-sighted nephew Will Scarlet. Through some humorous banter we discover the villagers' dislike for King John and the Sheriff of Nottingham, and Marion urges her neighbours to help her stand up to them. The Sheriff arrives, flanked by his gang of gormless guards, and proclaims that all taxes are doubled. Despite the villagers' complaints, Marion's insults and Nursie's "charm", the Sheriff cannot be dissuaded and demands his money by noon before sweeping off, followed by his men. Unable to pay, the villagers sadly prepare to move out. Nursie and Will discover an advert in the local newspaper for The Merry Men - a team of highly trained professionals - and Marion decides to send an urgent letter to hire them immediately. Nursie calls her troupe of young scouts (known as the Skunks) to help track down the heroes and deliver the letter, which they happily agree to do and all sing "Helping Hand".
The action moves to Robin's camp, where we discover the Merry Men in an energetic fight scene. However, it soon becomes apparent that they are actually rehearsing for their latest show, for they are not soldiers but a troupe of wandering entertainers! Robin, the over-acting actor, Big and Little John the comedy ventriloquist act, Friar Tuck the mysterious magician, Much Muscles the hairy strongman, Alan A Dale the eloquent musician and the ever shimmying Dancing Dave of Doncaster. We learn that their bookings have dried up, so they are delighted when the Skunk Scouts arrive with Marion's letter explaining that she has some visitors coming at noon and needs the help of the Merry Men to give them "a welcome they'll never forget". Excited at the prospect of performing in front of a live audience once again, they sing their show-stopping signature song "Men In Tights".
Our barmy bard Billy Wigglestick returns to introduce us to Nottingham Castle and the evil King John who is sat on his throne, petulant and depressed at his poor popularity rating in the press. In an effort to lighten his mood, the Sheriff summons the overly cheerful dungeon master Gavin and his strange assistant Genghis. They bring two prisoners, ridiculous robbers Grabbit and Bolt, and begin to torture them with ticklish feather dusters to amuse their sad sovereign. Their torture is short lived, however, as their comical flattery of King John persuades him to release them and make them the Sheriff's new henchmen. A reluctant Sheriff agrees and together they set off for Sherwood.
Back in Sherwood, the Merry Men receive an enthusiastic welcome from the excited villagers. They are further impressed with their so-called 'heroes' when Robin declares that The Merry Men will slay their visitors in the aisles and knock them dead. Will Scarlet displays his dubious archery skills and his comically rebounding arrow eventually hits its target of a rubber chicken, much to the delight of the Merry Men who invite him to join their troupe. When Marion takes a closer look at Robin's business card, however, she finally discovers the terrifying truth about her new friends - just as the Sheriff arrives with his guards and henchmen. Robin introduces himself to the Sheriff and when his Merry Men suddenly appear, the surprised guards scatter in terror, swiftly followed by Grabbit and Bolt. The Sheriff attempts to escape but is stopped by Robin as Will enters with another display of his short-sighted archery. As the Sheriff cowers behind the villagers, Will's wayward weapon accidentally finds a new target and a dazed Sheriff emerges with the arrow stuck right through his head. He exits screaming, to the delight of the villagers and the disappointment of Robin and his gang. When Marion reveals the truth behind her mistake, everyone is shocked - not least the Merry Men, who realise that they have inadvertently become outlaws. However, Marion concludes that fooling the Sheriff is the way to win, and persuades Robin and the Merry Men to take on a new acting role - to become 'The Sherwood Hoodies', fighting for freedom, robbing from the rich and giving to the poor, led by their heroic leader Robin Hood. Instantly flattered, Robin agrees and all sing the rousing anthem "He Will Be A Hero".
We return to Nottingham Castle where Gavin and Genghis inform King John of their new torture equipment, 'The Squisher', which rolls out prisoners until they are completely flat. When the terrified henchmen, guards and Sheriff return, King John is furious to learn of the gang of Hoodies who now protect the Sherwood villagers and he instructs the Sheriff to deal with these outlaws. The Sheriff tells Grabbit and Bolt to return to Sherwood as secret spies, capture Robin and "take him out".
Meanwhile in the forest, Marion is directing her performers in their new roles as 'Sherwood Hoodies', robbing from the rich. They are hopeless heroes, however, and each attempted robbery collapses comically into chaos. The Sheriff has a secret meeting with Grabbit and Bolt and lends them his kidnapping kit in order to capture Robin, warning them that the outlaw may be in disguise. They spy Marion muttering to herself and believe her to be Robin in a devious disguise. Despite their incompetence, they eventually manage to kidnap Marion and take her back to Nottingham Castle. When the Skunks discover Marion's fate by cleverly deciphering the tracks on the ground, Robin declares that they must work together to rescue Marion and all sing "If We All Work Together".
Back at Nottingham Castle, Grabbit and Bolt reveal their mistaken kidnap victim to King John and the Sheriff realises that, with Marion as bait, Robin will soon walk into his trap. As they leave to prepare, Robin and his rescue party arrive and split up to find Marion. After some comical creeping, however, our heroes are caught and dragged to the dungeon, where Gavin and Genghis are delighted to have new guests to torture in their Squisher. Robin and the Merry Men raise spirits with the uplifting song "Singing All Over The World" and, moved to tears, Grabbit, Bolt, Gavin and Genghis decide to release the prisoners. At that moment, the Sheriff enters to halt the escape - only to be knocked out by a quick-acting Will. The Sheriff stumbles into the Squisher and re-emerges as flat as a proverbial pancake. Relief is short-lived, however, as King John and his guards appear and threaten to execute Robin. Thankfully, before the axe can fall, Will enters for his final feat of anarchic archery and this time his arrow results in a painful surprise for King John - and quite a different surprise for everyone else! To seal King John's fate, King Richard makes a triumphant return to reclaim his throne, punishing the wrong-doers, honouring the Hoodies and awarding Robin with the accolade of his dreams - an Oswald statuette for Best Actor. A final poetic verse from Billy Wigglestick brings the story to a happy conclusion and a reprise of "Men In Tights" provides the show's spectacular finale!