Rock Bottom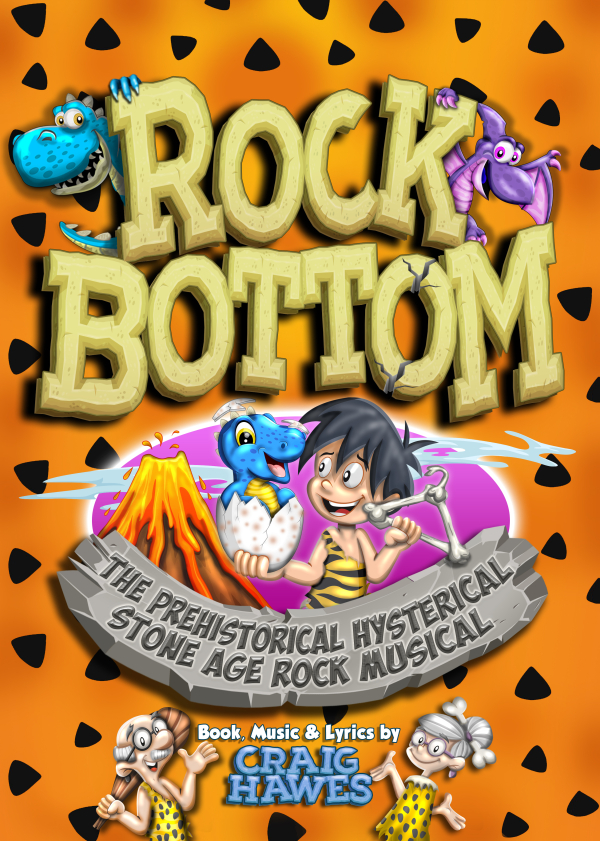 Why choose this Musical?
Editable Word Doc Script available
41 speaking roles
Easily reduced to 25 speaking roles
Any number of chorus parts
CDs of Backing Tracks plus essential sound effects available
No pianist required! These 2 CDs include ALL the Backing Tracks, Incidental Music and Special Effects (105 tracks on 2 CDs) in the order you need them enabling production and direction to take place without specialist musical expertise.
CDs of Vocal Tracks available for learning the songs
NEW for 2019

Sing It! Mk. 4 version, now with...
"Volume Control" feature
"Minimise Window" feature
"Lyrics Off" feature
"Vocals Off" feature
"Line by Line" practising feature
"Phrase by Phrase" practising feature
A BRAND NEW product; a CD-ROM or download of all the songs called "Sing it!" is available. This CD-ROM or download can teach the songs to the children without any teacher input. Children can use it at school or at home - think of the time it will save you! Most schools use it in class on an interactive white board or in the school hall on the overhead projector to allow full cast practice. Children LOVE learning this way and the product is foolproof.
Read the "Sing it!" reviews 'The "Sing it!" products were fantastic.' The Downs School, Bristol. 'Absolutely amazing material.' Mary O'Neill-Delano, Canada. ' "Sing it!" is fantastic for us less musically inclined teachers.' The Coppice Primary, Worcestershire. 'I really appreciate the "Sing it!" component as we often use this in rehearsals.' Newborough East Primary, Victoria, Australia. 'Can I also say that your "Sing it!" CD was brilliant.' Key Stage 2 teacher, Singapore.
Dance it! Available
Another BRAND NEW product is the "Dance it!" Choreography DVD. Watch each song performed by a group of age-appropriate children in two different versions - a full speed 'Performance' version and a slowed down 'Step By Step' version with helpful narration to guide you through the dance. Introduced by Craig Hawes, the DVD is also packed with lots of handy hints for teaching dances. Absolutely no previous experience or expertise is needed.
Read the latest "Dance it!" reviews
'The "Dance it!" DVD was great.' St Hugh's Catholic Primary, Lincolnshire.
'For the first time we used the "Dance it!" DVD and found it wonderful.' Rising Starz Performing Arts, New Zealand.
'"Dance it!" videos were very useful.' Sacred Heart Catholic Primary, Hertfordshire.
'Loved having the Choreography (Dance it!) video this year. That really helped our choreographer get the kids started and when she was sick, we could still rehearse their dance moves.' The American School, Marrakesh.
'Loved the "Dance it!" that came with "Porridge" and would love similar for other productions. Makes my life so much easier.' Aria School, New Zealand.

Full Performance Piano Score available
Grade 6/7 standard, see "Script & Songs" below.
"Easy Play Songs Only" Rehearsal Piano Score available
Grade 4/5 Standard, see "Script & Songs" below.
Full Production Notes
Check out the "Production Notes" in the "Script & Songs" tab below.
No problem props
See "FREE Resources" below to download "Props" ideas; for full list of "Props" see Script sample.
Very easy to costume
Click "FREE Resources" below then scroll down to "Gallery of Costume Ideas".
Simple staging
Click "Script & Songs" below then click "Production Notes".
Age range: Key Stage 2 Production (7-11 years)
Duration: 80 minutes
NEW! Instant Scenery with our digital backdrops
A different backdrop for EVERY scene change
Supplied in both a PowerPoint presentation and as individual JPG files.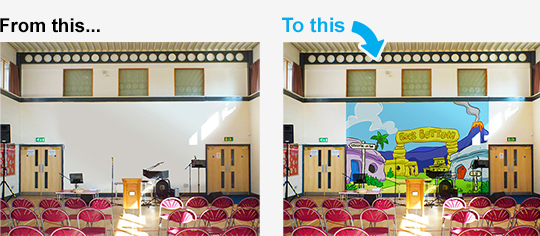 No more Scenery Painting!
Prologue
The curtain rises on an atmospheric, abstract scene as the three narrating Timekeepers, Crater, Crevice and Creek, introduce modern-day planet Earth, its population increasing with every tick of the clock. They pose the age-old question of human origins and proceed to take us on a journey back to the dawn of time as all sing the exciting and energetic opening number, "Back To The Beginning".
Scene 1
The song ends explosively as we crash land in the Stone Age town of Rock Bottom and meet Cliff and Coral Cobblestone, two elderly residents on Stoney Street, Rock Bottom. Their grandson and our hero, young would-be inventor Bobby Cobblestone (BC to his friends) enters and hatches yet another idea for yet another useless invention. As he hurries away to work on it, we meet his greedy twin siblings, Zig and Zag, who have yet to evolve and are known as Growlers. They have gathered enormous sausages and a giant egg for breakfast. Rocky Rockefeller, Chair of the Residents Association, enters with his group of Growlers and we learn that today is the Feast Of Krakatoe-or-two, when Caveys make offerings to the great volcano to stop her blowing her top. Rocky and his Growlers are on the hunt for food for the feast, but when Rocky commandeers the giant egg, Cliff and Coral are left stony-faced. We meet Morris Miner and his gang of Mini Miners en-route to the volcano, before BC returns excitedly with his new and rather ridiculous invention. Cliff and Coral are naturally unimpressed and remind BC of his past failures, but BC explains his dream to become an Egghead and work for the local celebrity Lady Lava. Through a split scene we discover that Lady Lava may not be the kind, considerate boss that BC imagines. However, BC is overcome with excitement to hear that Lady Lava will be coming to Rock Bottom that very day!
Scene 2
The Timekeepers are joined by the chorus in the swinging rock song "Rock Bottom Rocks - Part 1" where we learn more about the Feast Of Krakatoe-or-two. We meet the three Juans, a trio of silly stone salesmen who attempt to peddle their wacky wares to the local Caveys. They are quickly chased out of town as the Caveys sing "Rock Bottom Rocks - Part 2", then Rocky Rockefeller holds a disastrous dinosaur drill to prepare his townsfolk for possible attack. A big blue dinosaur appears right on cue, fortunately unseen by Rocky or the Caveys. When BC asks Rocky to be introduced to Lady Lava, Rocky bans him and the terrible twins from the feast and it is down to Cliff and Coral to stop BC being blue. They are joined by the chorus and all sing "Smile".
Lady Lava, accompanied by her sabre-tooth tiger Tiddles, makes a grand entrance at the feast, announced by her grovelling servant, Gravel. However, when the feast is finally revealed we discover most of the food has been gobbled by Zig and Zag, and only the giant egg remains. Lady Lava erupts in rage and storms off as a volcanic rumble sends the Caveys running scared, leaving just the giant egg alone on the stage. BC arrives to hear a small, mysterious voice coming from the egg, and decides to whisk it to Wild Willie, the local naturist and wildlife egg-spurt.
Scene 3
We meet Wild Willie and his yolk-cracking feathery friends, and soon the mystery egg hatches to reveal Rex, a baby dinosaur. BC and Willie explain to him that he is lost in time but promise to be his friends, and all sing the fun, uplifting song "Welcome To My Life".
Scene 4
The Timekeepers take us to Lady Lava's Crystal Crevice, deep in the depths of the volcano Krakatoe-or-two, where we find Gravel busily vacuuming with the trunk of Dyson the wooly mammoth. Lady Lava and Tiddles enter and we discover that the beautiful celebrity is actually a wrinkled old hag, kept young through the power of a magical rock called Cellulite. Her team of imprisoned Eggheads have harnessed its power within a Time-Turner that reverses time and rejuvenates their ageing boss, but they warn her that she is using it too much. It has caused a rift in time and strange objects from the past and future are arriving in Rock Bottom. The three Juans arrive seeking work and Lady Lava instructs them to find and collect these objects from the town. Morris Miner and his gang of Mini Miners enter and are directed to dig down deep into the volcano to extract more cellulite, and they are happy to oblige as all sing the faintly familiar mining song "Down Low".
Scene 5
Back on Stoney Street, Cliff assists Coral with the laundry as BC introduces them to his new friends, Willie and Rex. Inspired by the creased washing, BC hatches a new idea and comes up with his first ever useful invention. Gravel whisks BC away to become Lady Lava's new Egghead, and all celebrate his new-found success with the song "Rock Bottom Rocks - Part 3". The Caveys of Rock Bottom discover a multitude of mysterious futuristic objects and turn to Rocky Rockefeller for guidance. Meanwhile, the three Juans comically undertake their task to collect the objects, but their hunt comes to an abrupt end when they come face to ferocious face with the big blue dinosaur.
Scene 6
Back in the volcano Krakatoe-or-two, Gravel returns to Lady Lava's Crystal Crevice with BC following his success. But BC is baffled, boggled and bamboozled to learn that his favourite celebrity is actually an evil sorceress who only wants him for one thing - to invent a way to make her young forever. The Eggheads explain his task, but BC is out of ideas and ready to throw in the towel. Despondent, he sings the melancholy and moving "Welcome To My Life Reprise". The Eggheads return and persuade our hero to persevere, reminding him that failure is part of the process, and all sing "Start All Over Again". At the end of the song, BC finally hatches an idea to save the day.
Scene 7
We find ourselves in Lady Lava's Loathsome Laval Labyrinth, where the Caveys of Rock Bottom have broken in to escape the pursuing dinosaur and rumbling volcano. The Juans meet Lady Lava who informs them that BC and the Eggheads have escaped and instructs the terrible trio to dump the objects and flush out the intruders. They, along with a series of other characters, each in turn find themselves getting laughably lost in the Labyrinth and chased by the determined dinosaur.
Scene 8
All but BC eventually end up in Lady Lava's Crystal Crevice, where the evil celebrity has brewed a magical potion for her guests. Before BC can warn them, they all drink and fall under Lava's spell. Lady Lava then attempts to persuade BC to sip her potion and all sing "Spell On You". At the end of the song, BC reluctantly reveals his invention - a cocktail of liquid cellulite which Lava gulps greedily. The rejuvenating effects are instant but a little more potent than she expects, however, and she transforms into a newborn baby. BC gives Gravel custardy of little Lava, the spell breaks and all celebrate BC's success, including his newly evolved siblings, Zig and Zag. When Rex the baby dinosaur is finally reunited with his long lost mother, our tale reaches its happy ending and all sing "Back To The Beginning Reprise". Following the company bows, all sing "Rock Bottom Rocks Reprise" bringing the musical to a joyful conclusion.