Shakespeare Rocks!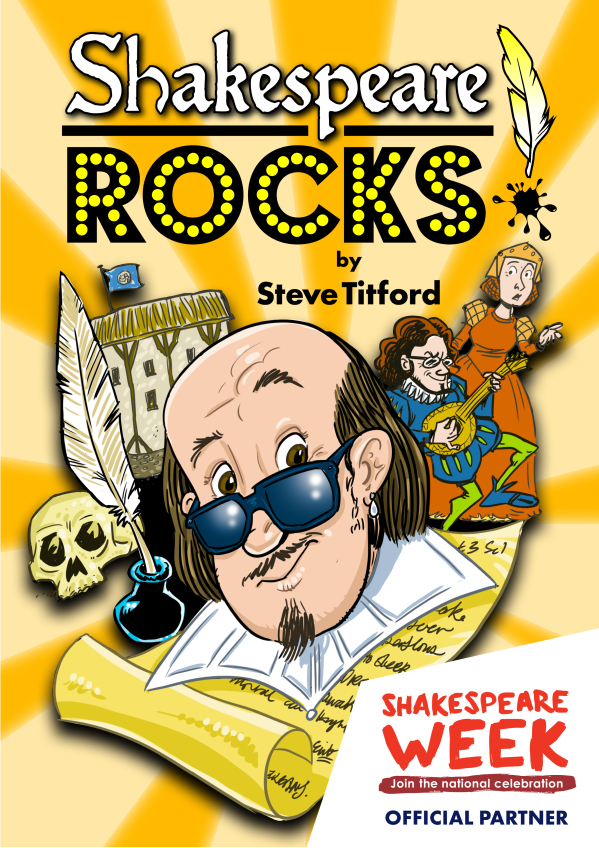 Why choose this Musical?
Makes Shakespeare "Cool" and "Current"
Editable Word Doc Script available. Make your own changes
57 speaking roles
Easily reduced to 27 speaking roles. Flexible Cast size to suit YOUR group numbers, from 30 actors upwards. See "Casting" tab below for full instructions.
Any number of chorus parts
CD of Backing Tracks plus essential sound effects available
No pianist required! This CD includes ALL Backing Tracks, Incidental Music and Special Effects in the order you need them enabling production and direction to take place without specialist musical expertise.
CD of Vocal Tracks available for learning the songs
Sing It! Mk. 3 version, now with NEW...
"Lyrics Off" feature
"Vocals Off" feature
"Line by Line" practising feature
A BRAND NEW product; a CD-ROM or download of all the songs called "Sing it!" is available. This CD-ROM or download can teach the songs to the children without any teacher input. Children can use it at school or at home - think of the time it will save you! Most schools use it in class on an interactive white board or in the school hall on the overhead projector to allow full cast practice. Children LOVE learning this way and the product is foolproof.
Read the "Sing it!" reviews 'The "Sing it!" products were fantastic.' The Downs School, Bristol. 'Absolutely amazing material.' Mary O'Neill-Delano, Canada. ' "Sing it!" is fantastic for us less musically inclined teachers.' The Coppice Primary, Worcestershire. 'I really appreciate the "Sing it!" component as we often use this in rehearsals.' Newborough East Primary, Victoria, Australia. 'Can I also say that your "Sing it!" CD was brilliant.' Key Stage 2 teacher, Singapore.
Full Performance score available
Grade 6 standard, click "Performance Score" in the "Script & Songs" tab below.
"Very Easy Play Songs Only" Rehearsal Score available
Grade 3 / 4 Standard, click "Easy Play Score" in the "Script & Songs" tab below.
Duration: 45 - 50 minutes
Full Production Notes
Check out the "Production Notes" in the "Script Sample" below for full details of "Shakespeare Rocks!".
No Problem Props
Click "Script Sample" in the "Script & Songs" tab below for full listing.
Very easy to costume
Click "Script Sample" in the "Script & Songs" tab below.
Simple staging
Detailed in "Script Sample" below.
Links to New National Curriculum... English/History
Age range: Key Stage 2 Production (7-11 years)
NEW! Instant Scenery with our digital backdrops
A different backdrop for EVERY scene change
Supplied in both a PowerPoint presentation and as individual JPG files.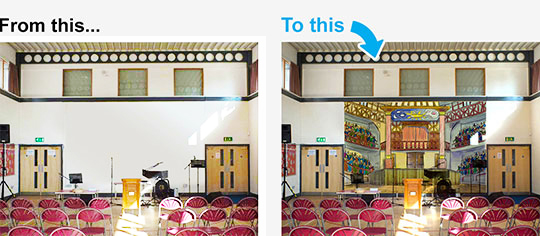 No more Scenery Painting!
Prologue
The show is introduced by Aubrey, the director of the Rough Shakespeare Company, and his assistant Al. They welcome the audience to their exclusive adaption of William Shakespeare's secret diary which they claim to have found. Aubrey begins to read the first extract from the diary as we move to Scene One.
Scene One: 1593 - Will's Study In Stratford
Will is furiously ranting to his family about a bad review he has recently received. He vows to rebuff his critics by becoming a writer so famous that school children will be forced to study his work for centuries to come!
Scene Two: 1595 - London
The song 'Will's Wonderful Words' is performed in the streets by a group of 'cool' Minstrels in sunglasses. Will is now, indeed, rather famous and is constantly chased throughout the song by a legion of fans until he reaches the safety of his study.
Scene Three: A Rehearsal Room
It's audition time in the rehearsal rooms for the female roles. Since no women were allowed to perform on stage at the time, this is quite a difficult process. Will entrusts the loud mouthed, arrogant star of the theatre company, Richard 'Burley' Burbage to take on the task. A farce ensues when a group of Men-Dressed-As-Women with beards and hairy chests try to quote some female lines. The scene gets more ridiculous as a group of Women-Disguised-As-Men-Dressed-As-Women try to infiltrate the audition. The song 'No Girls Allowed' is performed.
Scene Four: 1599 - The Globe Theatre
The finishing touches to the Globe theatre are underway in preparation for the grand opening performance of Henry the Fifth. The song 'Show In The Globe' Is performed before the grand entrance of Queen Elizabeth 1 followed by a group of pesky paparazzi painters hoping for a quick 'sketch'. After an exchange of words between Will and the builders about the extortionate cost, the audience settles down and the beer and apple sellers peddle their wares as the show starts.
Scene Five: 1613 - A Rehearsal Room In London
The cast of Macbeth are rehearsing a scene. Unfortunately, because they are so superstitious, they cannot mention Macbeth by name in case it brings them bad luck. They perform the song 'Don't Mention Mac' just before Macbeth's name is mentioned. Desperate to reverse the bad luck, the Superstitious Sorcerers claim that the only solution is to spin around three times, then say a naughty word. The cast agree to do this but, just before they get chance to say it, Bernie Bottom - the cannon operator - enters the scene with bad news. The Globe Theatre has burnt down!
Scene Six: The Smouldering Ruins Of The Globe Theatre
In the smoked filled remains of the Globe theatre, secret lovers Romeo and Juliet find each other amongst the scorched debris. A Lutenist and Recorder Player enter, trying to find their beloved instruments before stumbling across the besotted pair. The musical Minstrels are shocked to discover that Juliet is, in fact, a real woman and not a Man-Dressed-As-A-Woman. After a charred recorder and a burnt lute are reunited with their owners the song 'Romeos And Juliets' is performed. Will and Anne enter, touched by the love song that they overheard. Will agrees to keep Juliet's secret and even renames his play 'Roger & Janet' after the love struck duo. After a decision to rebuild the Globe, the song 'All The World's A Stage' is performed.
Scene Seven: Will's Bedroom
Will, who is now getting old and is not feeling very well, is attempting to make himself look younger. Anne insists Will rests and he retires to bed where he stumbles upon 'a new-fangled' pencil which inspires one of his most famous quotes. The song 'To Be Or Not To Be' is performed as the finale by the whole cast.