The Amazing Adventures of Superstan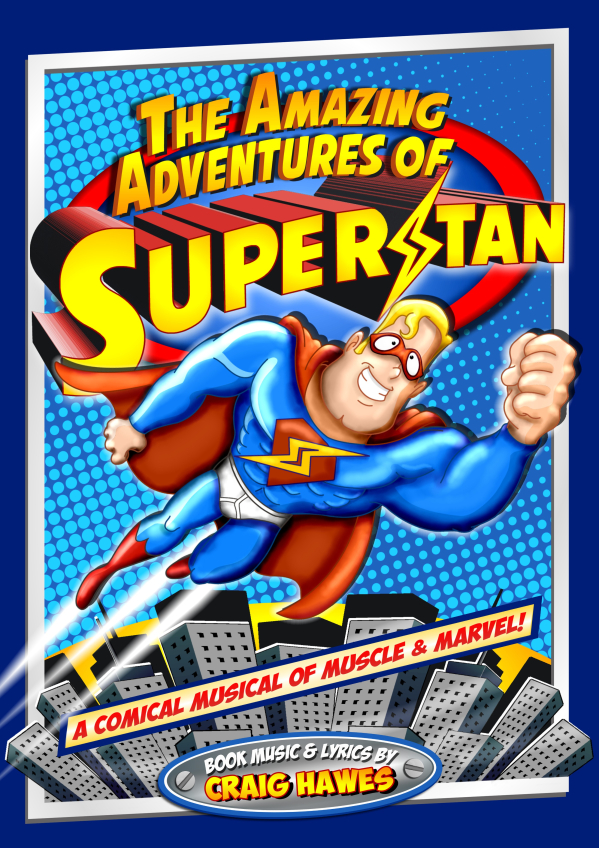 Why choose this Musical?
Editable Word Doc Script available
42 speaking roles
Easily reduced to 25 speaking roles, see "Casting" tab below for full instructions.
Any number of chorus parts
CD of Backing Tracks plus essential sound effects available
No pianist required! This CD includes ALL Backing Tracks, Incidental Music and Special Effects in the order you need them enabling production and direction to take place without specialist musical expertise.
CD of Vocal Tracks available for learning the songs
NEW for 2019

Sing It! Mk. 4 version, now with...
"Volume Control" feature
"Minimise Window" feature
"Lyrics Off" feature
"Vocals Off" feature
"Line by Line" practising feature
"Phrase by Phrase" practising feature
A BRAND NEW product; a CD-ROM or download of all the songs called "Sing it!" is available. This CD-ROM or download can teach the songs to the children without any teacher input. Children can use it at school or at home - think of the time it will save you! Most schools use it in class on an interactive white board or in the school hall on the overhead projector to allow full cast practice. Children LOVE learning this way and the product is foolproof.
Read the "Sing it!" reviews 'The "Sing it!" products were fantastic.' The Downs School, Bristol. 'Absolutely amazing material.' Mary O'Neill-Delano, Canada. ' "Sing it!" is fantastic for us less musically inclined teachers.' The Coppice Primary, Worcestershire. 'I really appreciate the "Sing it!" component as we often use this in rehearsals.' Newborough East Primary, Victoria, Australia. 'Can I also say that your "Sing it!" CD was brilliant.' Key Stage 2 teacher, Singapore.
Dance it! Available
Another BRAND NEW product is the "Dance it!" Choreography DVD. Watch each song performed by a group of age-appropriate children in two different versions - a full speed 'Performance' version and a slowed down 'Step By Step' version with helpful narration to guide you through the dance. Introduced by Craig Hawes, the DVD is also packed with lots of handy hints for teaching dances. Absolutely no previous experience or expertise is needed.
Read the latest "Dance it!" reviews
'The "Dance it!" DVD was great.' St Hugh's Catholic Primary, Lincolnshire.
'For the first time we used the "Dance it!" DVD and found it wonderful.' Rising Starz Performing Arts, New Zealand.
'"Dance it!" videos were very useful.' Sacred Heart Catholic Primary, Hertfordshire.
'Loved having the Choreography (Dance it!) video this year. That really helped our choreographer get the kids started and when she was sick, we could still rehearse their dance moves.' The American School, Marrakesh.
'Loved the "Dance it!" that came with "Porridge" and would love similar for other productions. Makes my life so much easier.' Aria School, New Zealand.

Full Performance Score available
Grade 6/7 standard, see "Script & Songs" below.
Full Production Notes
Check out the "Production Notes" in the "Script Sample" below for full details of "The Amazing Adventures of Superstan".
No problem props
See "Script & Songs" below for full listing.
Very easy to costume
Detailed in "Script & Songs" below.
Simple staging
Detailed in "Script & Songs" below.
Age range: Key Stage 2 Production (7-11 years)
Duration: 70 to 90 minutes
NEW! Instant Scenery with our digital backdrops
A different backdrop for EVERY scene change
Supplied in both a PowerPoint presentation and as individual JPG files.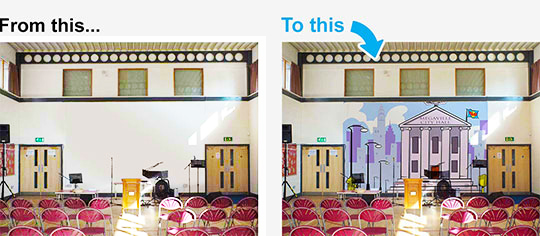 No more Scenery Painting!
Song Samples
Update Required
To play the media you will need to either update your browser to a recent version or update your
Flash plugin
.