Ye-Ha!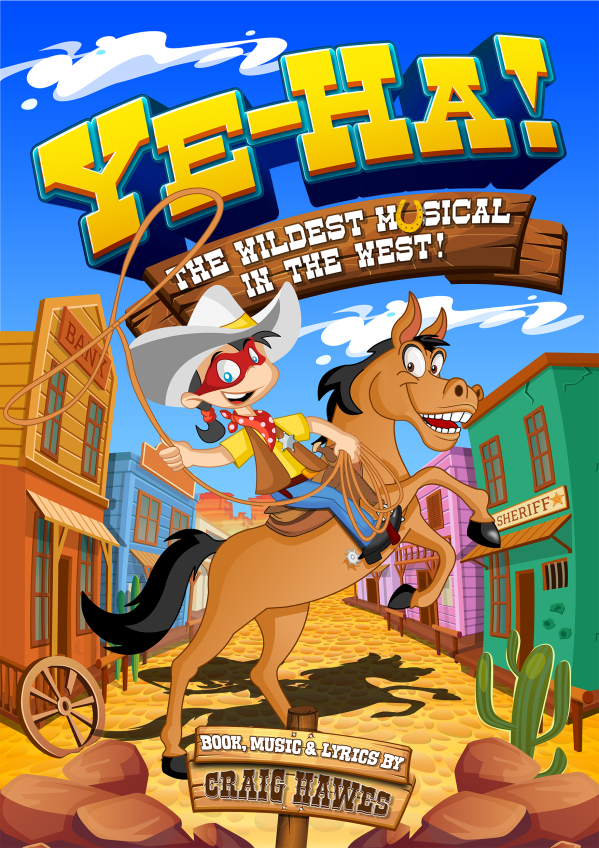 Why choose this Musical?
42 speaking roles
Flexible Cast size to suit YOUR group numbers, from 26 actors upwards. See "Casting" tab below.
Unlimited chorus parts
Easy to stage & Easy to costume
Sing It! Mk. 3 version, now with NEW...
"Lyrics Off" feature
"Vocals Off" feature
"Line by Line" practising feature
A BRAND NEW product; a CD-ROM or download of all the songs called "Sing it!" is available. This CD-ROM or download can teach the songs to the children without any teacher input. Children can use it at school or at home - think of the time it will save you! Most schools use it in class on an interactive white board or in the school hall on the overhead projector to allow full cast practice. Children LOVE learning this way and the product is foolproof.
Read the "Sing it!" reviews 'The "Sing it!" products were fantastic.' The Downs School, Bristol. 'Absolutely amazing material.' Mary O'Neill-Delano, Canada. ' "Sing it!" is fantastic for us less musically inclined teachers.' The Coppice Primary, Worcestershire. 'I really appreciate the "Sing it!" component as we often use this in rehearsals.' Newborough East Primary, Victoria, Australia. 'Can I also say that your "Sing it!" CD was brilliant.' Key Stage 2 teacher, Singapore.
No fuss props
CD of Backing Tracks plus essential sound effects
No pianist required!
CD of Vocal Tracks
Both these CDs include Overture, ALL Songs, Special Effects, Play Ons and Play Offs in the order you need them enabling production and direction to take place without specialist musical expertise. However for those of you who prefer a live pianoforte accompaniment, we now have available a superb BRAND NEW Performance Score which encompasses Overture, ALL Play Ons and Play Offs, Songs, Link Music, Cues and Chord Symbols. (Grade 5 / 6 standard). We also have available a BRAND NEW Rehearsal Score (Grade 2 / 3 standard).
Age range: Key Stage 2 Production (7-11 years)
Duration: 45 to 50 minutes
NEW! Instant Scenery with our digital backdrops
A different backdrop for EVERY scene change
Supplied in both a PowerPoint presentation and as individual JPG files.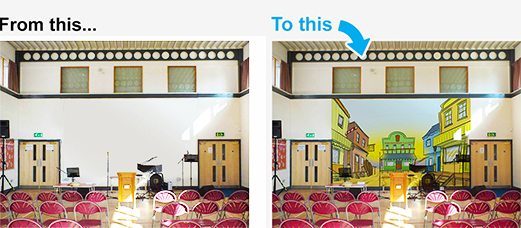 No more Scenery Painting!
"Ye-Ha!" is full of action, dance and witty one-liners right from the start with the opening song "Wild Wild West!" The townsfolk enter and the drama begins as Chip discusses the no-good gang that runs riot in Splodge City. Wilbur is elected as the new sheriff whose job it is to solve the crisis, but unfortunately, as soon as a sheriff is elected, his coffin measurements are taken in the Fordoor Saloon a few moments afterwards by Philius and Festus!
The mayor, Tex Truman enters and we discover his wish to marry Ma Hubbard, Wilbur's mother and owner of the Fordoor Saloon. Wilbur doubts his ability to be the new sheriff, but the saloon girls nonetheless convince him otherwise and this is followed by Wilbur's solo "Where Is The Hero In Me?"
Just like a scene out of the old-time musical "Oklahoma!" Spooner and Rooster enter with a plan to sell their 'remedies' to make a fortune in 'Spoldge City'. Unfortunately, Spooners tendency to mix up his words means that the audience is wary of his 'remedies' immediately! The heroine, Billie-Jo enters to music along with her horse Lightning and talks with the children on stage, asking for a blacksmith; this is an ideal opportunity for the chorus members to become involved. Wilbur and Billie-Jo meet, she is then introduced to the townsfolk and they all join together to sing "Little Ol' Town".
After much anticipation the McNut gang enter to music and introduce themselves. Drama soon follows as Wilbur attempts to settle this problem over a glass of milk (the naivety is quite sweet) and unsurprisingly is mocked. Yet the tables turn as a black-out follows and an unknown stranger succeeds in saving Wilbur with a surprising tactic..."Wild West Hero" follows. Following this lively number, two young boys reveal that there is gold hidden in Splodge City, - the mayor has known all along, - and in a sudden twist, the mayor reveals he is really the villain of the play, determined to get his hands on the gold. In a humorous scene between the two-stroke Indians and Tex, the mayor attempts to discover where the map leading him to the treasure is hidden.
Billie Jo then enters to music and sings "Be A Boy". Upon hearing the McNut gang, she hides and overhears their plan to lock Wilbur in jail. Following this, the Indians enter to music and Tex pays them for their help, but without him knowing, the money is passed down the line to Billie Jo (hiding her true identity with a lone-ranger mask.) Billie-Jo then frees Wilbur from jail anonymously, and shares the mayors dirty secret. Spooner and Rooster enter to music, attempting to sell the topical tonic for life which is marketed brilliantly in "Spooner's Spectacular". Luckily, as the McNut gang enters, Billie-Jo reveals that the topical tonic is really a laxative and Wilbur successfully tricks the gang into taking it which really gets things moving! Everyone celebrates both Wilbur's and Billie Jo's achievements and we discover that the map to the gold is tattooed somewhere unexpected on Wilbur... In a happy ending, the Indians reveal that the gold is really a bubbling oil well hidden in the backyard of the Fordoor Saloon and everyone celebrates in a typical Western song "The Stetson Stomp".