Pictures Of A Christmas World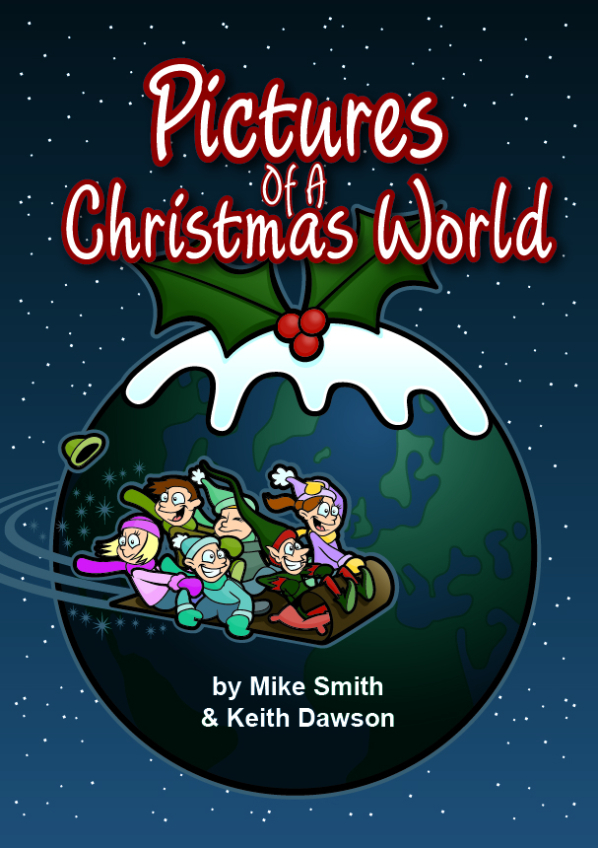 Why choose this Musical?
Flexibility
Flexible Cast size to suit YOUR group numbers, from 36 actors upwards. See "Casting" tab below.
Unlimited chorus parts - as many as you like!
Easy to stage with simple scenery - adaptable.
CDs of Backing and Vocal Tracks available
Piano Score (Grade 5 Standard) available.
Easily constructed and manageable props.
Age range: KS2 (7 - 11 years)
Duration: 50 Minutes
'Deck the Halls' opens the show with festivity and a group of children start to build a snowman. However, their attention is diverted to the appearance of Wisbich-one of Santa's elves, who appears to have been left behind whilst delivering presents. Eager to help, the children lend Wisbich their toboggan and with a sprinkle of magic star dust, Suzie, Katie, Sam, Jack, David and Wisbich head for a trip around the globe to try and catch up with Santa!
After a rough landing, the group find themselves in Poland just in time to hear the peasants sing 'Lullaby Jesus.' The children and Wisbich watch a peasant family carry out their Christmas traditions and discover that far more time has passed than they expected; it's already Christmas Eve! Afraid of running out of time, they jump back on the toboggan to head for France.
After a softer landing, the children and Wisbich arrive to see a French family prepare the yule log in the traditional way (perhaps this is better mimed as it involves wine and fire...) Despite being fascinated by what they see, the children barely have time to join in 'March of the Kings' before they realise Santa has already collected the letters, and so move on to the next destination-Germany. Here, Christkindl enters (she delivers the presents in Germany) and the German children rush to their presents under the tree and sing 'O Christmas Tree, O Christmas Tree.' Although amazed at all these different traditions that they knew nothing about, Wisbich is keen to continue and they move on with haste.
In the Caribbean, the group are surrounded by colours, garlands and costumes as the people prepare for their annual carnival. Keen that their guests should participate, the inhabitants join together to sing 'The Virgin Mary Had A Baby Boy.' In a close shave, Wisbich is almost unable to drag himself out of the costume competition but upon hearing that Santa has already been, nothing can prevent him and his troop from eagerly moving on as quickly as they can.
In Russia, the group are warmly invited by a family to join them in their festivities. This proves worthwhile not only as a source of food, but also as a source of information. 'Sleigh Ride' is incorporated during the meal. During a Christmas game, each child draws an object out of a dish. The grandma of the Russian children analyses the objects and puts them all together to make a prediction; someone who they are looking for comes from the North or South Pole and is going to do something important with time throughout the world. Remarkable! Struck by a new idea, Wisbich and his friends head this time for the South Pole towards Australia.
Here, the children are amazed at the glorious weather but have little time to soak up the sun before Wisbich discovers they still haven't caught up with Santa, and so they head for Canada. In a slightly different setting, the children arrive in a school hall where the pupils are putting on "Hiawatha". After the 'Huron Indian Carol' the children head for Mexico.
Here, the group witness an old Mexican tale of how the Poinsettia plant got its red leaves, and also enjoy 'The Search for the Lodging' in which a short version of the nativity is sung.
Since Mexico is Santa's last destination, the group head back to Britain having learned about Christmas around the world. Yet in a surprising twist, David wakes up discovering that it had all been a dream. But all is not lost as he joins with his friends and the rest of the cast to sing 'Deck The Halls' and he is relieved to find that he has not missed Christmas at home!