Go For Goal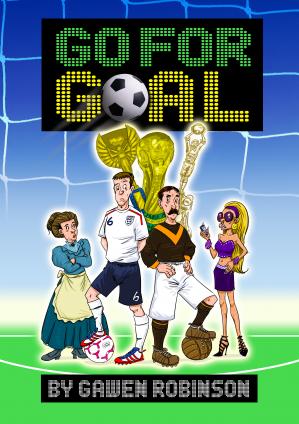 Why choose this Musical?
43 speaking roles
Easily reduced to 22 speaking roles, see "Casting" tab.
Engage your boys
With the football theme.
Engage your girls
With shades, style, WAGs and PAPs (see Script!).
Editable Word Doc Script available
Duration: 45 - 50 minutes
CD of Backing Tracks plus essential sound effects available
No pianist required! This CD includes ALL Backing Tracks, Incidental Music and Special Effects in the order you need them enabling production and direction to take place without specialist musical expertise.
CD of Vocal Tracks available for learning the songs
Sing It! Mk. 3 version, now with NEW...
"Lyrics Off" feature
"Vocals Off" feature
"Line by Line" practising feature
A BRAND NEW product; a CD-ROM or download of all the songs called "Sing it!" is available. This CD-ROM or download can teach the songs to the children without any teacher input. Children can use it at school or at home - think of the time it will save you! Most schools use it in class on an interactive white board or in the school hall on the overhead projector to allow full cast practice. Children LOVE learning this way and the product is foolproof.
Read the "Sing it!" reviews 'The "Sing it!" products were fantastic.' The Downs School, Bristol. 'Absolutely amazing material.' Mary O'Neill-Delano, Canada. ' "Sing it!" is fantastic for us less musically inclined teachers.' The Coppice Primary, Worcestershire. 'I really appreciate the "Sing it!" component as we often use this in rehearsals.' Newborough East Primary, Victoria, Australia. 'Can I also say that your "Sing it!" CD was brilliant.' Key Stage 2 teacher, Singapore.
Full Performance Piano Score available
Grade 5 / 6 standard, see "Script & Songs" below.
"Very Easy Play Songs Only" Rehearsal Piano Score available
Grade 2 / 3 Standard, see "Script & Songs" below.
Full Production Notes
Check out the "Production Notes" in the "Script Sample" below for full details of "Go For Goal".
No Problem Props
See "Script & Songs" below for full listing.
Any number of chorus parts
Very easy to costume
Detailed in "Script & Songs" below.
Simple staging
Detailed in "Script & Songs" below.
Age range: Key Stage 2 Production (7-11 years)
FREE assembly!
Click HERE for your FREE PowerPoint 2018 Football World Cup Assembly.
NEW! Instant Scenery with our digital backdrops
A different backdrop for EVERY scene change
Supplied in both a PowerPoint presentation and as individual JPG files.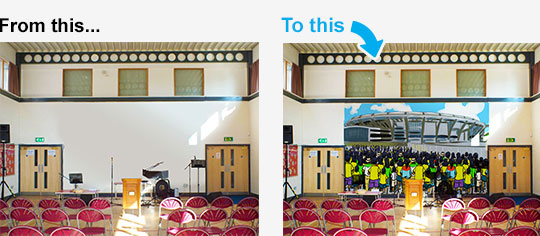 No more Scenery Painting!
Scene One:
The action begins in the present day, close to Rio de Janeiro's Maracana stadium. A young Brazilian lad called Oscar is showing off his ball skills to his family as they watch the crowd - including smartly dressed footballers and "WAGs" - arriving for the big game, while grandfather reminisces about football in the good old days. We now "flashback" to...
Scene Two:
The 1950 World Cup Final played between Brazil and Uruguay where Brazil, the red-hot favourites are beaten by the underdogs, mainly due to nobody in the team realising that just occasionally, defending is just as important as attacking. "The World at your Feet" makes its first appearance amidst utter Brazilian desolation.
Scene Three:
Back to the present day outside the Maracana stadium where Oscar and family meet Ratsy, Patsy and Papa, "Rapping" Paparazzi extraordinaire, who snap anything that moves, including Shannice, a lost WAG. Conversation turns to World Cup history and the very first "World Cup". We now "flashback" to...
Scene Four:
West Auckland F.C. 1909, where the club secretary, Mr Barron is talking on the phone. His football club has been chosen to represent England in the first ever "World Cup". There follows the players' - all miners - excruciatingly funny attempts to sell all their household possessions to raise the money to travel to Italy to play in and win (which they did) the "World Cup". We now move back to the present day, outside the Maracana stadium where...
Scene Five:
Oscar, friends and family are told how, two years later, West Auckland actually won the "World Cup" again and were allowed to keep the trophy which was unfortunately stolen. This leads conveniently to a London police station in 1966 where...
Scene Six:
Mr Corbett and his dog "Pickles" have just arrived to present the astonished policemen with the recently stolen World Cup "Jules Rimet" trophy, found by "Pickles" in a garden hedge. Back to the present day Maracana where...
Scene Seven:
Conversation turns to the fact that despite "Pickles'" heroics, the recovered cup travelled back to Brazil, only to be stolen yet again! We move to the ice cream stall outside the Maracana stadium where...
Scene Eight:
Dancers and drummers in colourful clothes gather to dance an impromptu "Samba" before the main event. Still outside the Maracana...
Scene Nine:
Oscar, friends and family meet an old man, the commentator from the 1950 World Cup final, who gives them tickets for the World Cup final. They all meet some more footballers, this time women preparing for the Women's World Cup. The "Rapping" Paparazzi return, and "Pele" joins them for a final photo call. The show ends with the entire cast singing the show - stopping... "The World at your Feet".