Go For Gold (Years 3 / 4)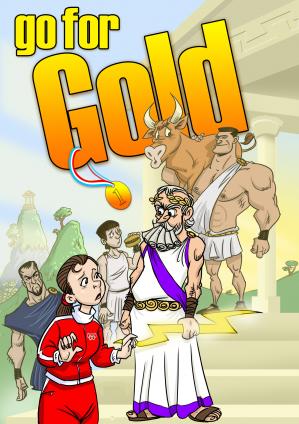 Click HERE to read the Script, look at the Score and listen to the Songs
Go For Gold (Years 3 / 4)
Pricing & Order Info.
"A fantastic reception from the parents and kids loved performing. So much positive feedback from parents. The characters and one liners went down a treat and there was a good balance of history and humour. Thanks - and we'll be coming back for more Musicline productions. Looking forward to it already!!"
Andy Taylor, Tanners Wood Primary School, Abbots Langley school
Minimum Possible Cast Size
32
Share this product with friends or colleagues...
Why choose this Musical?
42 speaking roles
Easily reduced to 32 speaking roles. See "Casting" heading below for full details.
Any number of chorus parts
Very easy to costume
Simple staging
CD of Backing Tracks plus essential sound effects available
No pianist required! This CD includes ALL Backing Tracks, Incidental Music and Special Effects in the order you need them enabling production and direction to take place without specialist musical expertise.
CD of Vocal Tracks available for learning the songs
We normally supply a full Performance score with our musicals but because Go For Gold uses a large number of special effects which are supplied on the Backing Tracks CD we recommend that you perform this musical using the CD rather than piano. We do however have available a BRAND NEW Songs Only Rehearsal Score (Grade 4 / 5 standard) and a Very Easy Play Songs Only Rehearsal Score (Grade 1 / 2 Standard).
No Problem Props
NEW for 2019

Sing It! Mk. 4 version, now with...
"Volume Control" feature
"Minimise Window" feature
"Lyrics Off" feature
"Vocals Off" feature
"Line by Line" practising feature
"Phrase by Phrase" practising feature
A BRAND NEW product; a CD-ROM or download of all the songs called "Sing it!" is available. This CD-ROM or download can teach the songs to the children without any teacher input. Children can use it at school or at home - think of the time it will save you! Most schools use it in class on an interactive white board or in the school hall on the overhead projector to allow full cast practice. Children LOVE learning this way and the product is foolproof.
Age range: Key Stage 2 Production - Lower Juniors (7-9 years)
Duration: 45 minutes
NEW! Instant Scenery with our digital backdrops
A different backdrop for EVERY scene change
Supplied in both a PowerPoint presentation and as individual JPG files.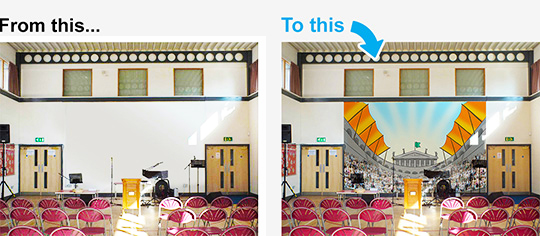 No more Scenery Painting!
A top athlete (Suzie Swift) is reported to be pulling out of the Olympic games due to lack of sponsorship. Her trainer (Phil O'Sophie) and her comical family are discussing the ins and outs of doing the games when Phil mentions how the games started in Ancient Greece and talks about some of the great heroes of those Olympics. There is a flashback to Ancient Greece (where the games began) with a truce from all fighting between states by the order of Zeus.
Zeus, (a "Cool Rapping" God) has a favourite athlete (Milo the wrestler) who is a six times champion at the games (he used to train by lifting a calf for 9 months until it gradually grew into a cow).
Zeus is worried by Hades' (God of the Underworld) attempts to train a rival athlete to face Milo. However, Hades' man is useless (he has mistakenly trained by eating beef burgers instead of lifting a cow) so Hades tries to get the games cancelled by starting a war.
The ploy fails in the end because there is too much love for the Olympics and everybody realises that the games can take the place of war.
Suzie is so inspired by this story that she decides to compete after all and the Gods all arrive at the end to join in her celebration party.
Go for Gold is dynamic, very funny and historically accurate - yes, the athletes really DID compete without clothes! This was due to a woman sneaking into one of the events and supposedly committing an unforgivable sin - she won! Her life was spared (unusual in those days), but from then on all athletes and trainers were only seen WITHOUT clothes in the stadium
This musical has gone down a storm in pre - publication performances - especially the songs - and is a brilliant way to enthuse your children about the greatest sporting event on earth.