Go For Gold (Years 3 / 4)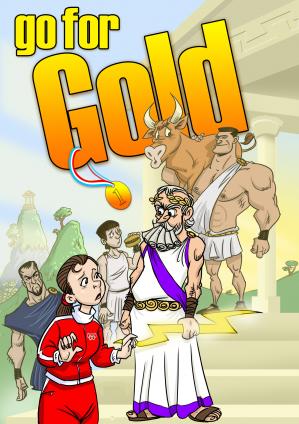 Click HERE to read the Script, look at the Score and listen to the Songs
Go For Gold (Years 3 / 4)
by Gawen Robinson

Pricing & Order Info.
"A fantastic reception from the parents and kids loved performing. So much positive feedback from parents. The characters and one liners went down a treat and there was a good balance of history and humour. Thanks - and we'll be coming back for more Musicline productions. Looking forward to it already!!"
Andy Taylor, Tanners Wood Primary School, Abbots Langley school
Minimum Possible Cast Size
32
Why choose this Musical?
42 speaking roles
Easily reduced to 32 speaking roles. See "Casting" heading below for full details.
Any number of chorus parts
Very easy to costume
Simple staging
CD of Backing Tracks plus essential sound effects available
No pianist required! This CD includes ALL Backing Tracks, Incidental Music and Special Effects in the order you need them enabling production and direction to take place without specialist musical expertise.
CD of Vocal Tracks available for learning the songs
We normally supply a full Performance score with our musicals but because Go For Gold uses a large number of special effects which are supplied on the Backing Tracks CD we recommend that you perform this musical using the CD rather than piano. We do however have available a BRAND NEW Songs Only Rehearsal Score (Grade 4 / 5 standard) and a Very Easy Play Songs Only Rehearsal Score (Grade 1 / 2 Standard).
No Problem Props
Sing It! Mk. 3 version, now with NEW...
"Lyrics Off" feature
"Vocals Off" feature
"Line by Line" practising feature
A BRAND NEW product; a CD-ROM or download of all the songs called "Sing it!" is available. This CD-ROM or download can teach the songs to the children without any teacher input. Children can use it at school or at home - think of the time it will save you! Most schools use it in class on an interactive white board or in the school hall on the overhead projector to allow full cast practice. Children LOVE learning this way and the product is foolproof.
Age range: Key Stage 2 Production - Lower Juniors (7-9 years)
Duration: 45 minutes
NEW! Instant Scenery with our digital backdrops
A different backdrop for EVERY scene change
Supplied in both a PowerPoint presentation and as individual JPG files.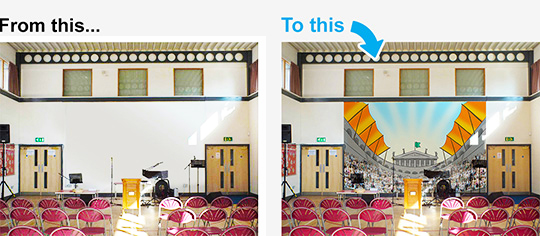 No more Scenery Painting!
Scene One:
The action begins in the Air Olympic sports studio where todays big story is the possible withdrawal of Olympic hopeful, Suzie Swift due to lack of sponsorship money.
Scene Two:
We move to Suzies parents house where the whole family and Suzies trainer, Phil O Sophie are discussing money vs. duty, Phil being firmly on the side of Suzies status as a role model for aspiring young athletes being more important than holding out for more money. He starts to explain how & why the games came into being and we go back in time to 557BC...
Scene Three:
A street in Athens where a group of macho, bellicose Spartans are discussing with a group of somewhat more intelligent (slightly nerdy) Athenians the merits of letting out ones aggression on the fields of combat as opposed to the fields of sport. The discussion comes to a sudden end when a messenger from the gods announces that ALL wars between states will cease for 3 months prior to the commencement of the games at Olympia. We now flashback to...
Scene Four:
The Swift house where Phil warms to his task of enthusing the Swift family concerning the origins the the modern Olympic games especially the role of the god Zeus who lived on...
Scene Five:
Mount Olympus where Zeus is discussing with his dysfunctional extended family (all the other gods) whether the mendacious, malevolent, Machiavellian Hades (of the underworld) is planning to sponsor a rival to Zeus champion athlete Milo the wrestler, 6 times Olympics winner who trains for 9 months by lifting a calf on his shoulders until it grows into a cow. We move to...
Scene Six:
An Ancient Greek training track where Hades hopeless protg, Gorgeous Georgeos Michaelus is exhausted, breathing heavily after a 100 metre training run. Having pinched Milos idea of training with a cow, he failed to grasp the significance of lifting it, preferring instead to convert it into beef burgers, hence his lack of fitness. Hades, not being enamoured with Georgeoss Plan B which involves donning Nike (the Greek goddess of triumph) running shoes in order to run away from Milo as opposed to wrestling with him, decides to stir up trouble between the different competing states in the hope that this will result in the games cancellation. We move to...
Scene Seven:
Milos garden where the magnificent Milo is training under the eyes of his adoring family.
Scene Eight:
In the Swift house, Phil explains how winning athletes at the ancient Olympics became heroes, and Susie realises that 2,500 years later, these athletes are still being talked about they are legends and gradually in Suzies mind, the important reasons for competing are becoming clear. Flashback to...
Scene Nine:
The Ancient Greek Olympics where deep unrest between the competitors is threatening to derail the games. The only winner at this time is Peta Potter who, being an entrepreneurial spirit with an eye for the main chance & having discovered the joys of merchandising, is selling statues of Milo for use as potential weapons. Just as things are really hotting up, Zeus appears and forces Hades to admit that he is the instigator of the unrest. Hades, for his part, points out that it becomes somewhat wearing always being the bridesmaid, never the bride so Zeus, in an act of contrition, decides that Hades has been in darkness for too long and a holiday is in order, namely, a prime position for viewing the games. Peace is restored.
Scene Ten:
The Swift house where Suzie announces that she now realises that the Olympic games are about Striving for perfection & doing your best not Money and sponsorship. The family celebrate, joined by the rest of the cast and sing the song Celebrate. The show ends with the entire cast singing the show stopping. Go for Gold.