Happy Birthday Jesus (Nativity)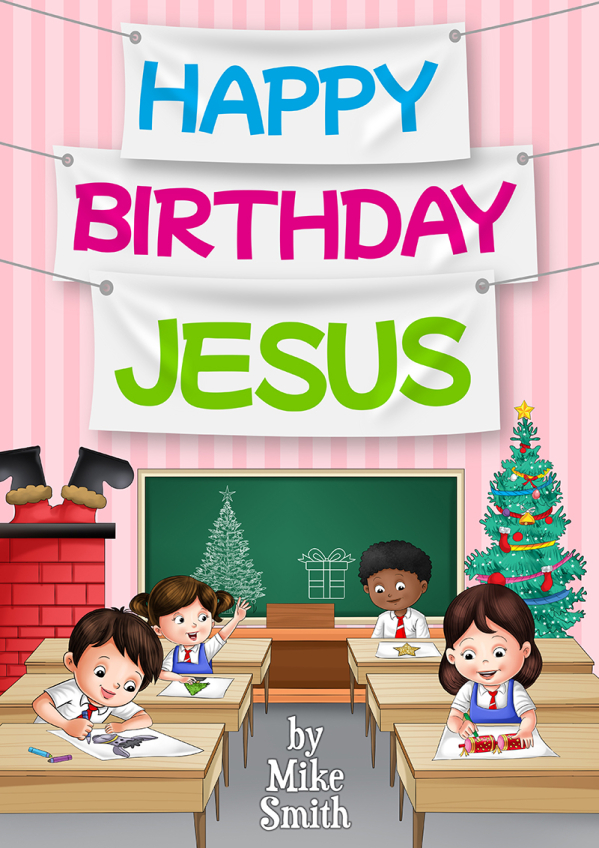 Why choose this Musical?
Flexibility
Flexible Cast size to suit YOUR group numbers, from 28 actors upwards. See "Casting" tab below.
Unlimited chorus parts
Easy to stage with simple scenery
CDs of Backing and Vocal Tracks available
Piano Score (Grade 4 Standard) available
Easily constructed and manageable props
Age Range: EYFS and Key Stages 1/Lower KS2 Production (4-8 years)
Duration: 35 Minutes
The show opens with a group of six children making a birthday card in order to celebrate Jesus birthday. 'Happy Birthday Jesus' is sung as they all join in to help decorate the card. Hannah, one of the children, then suggests drawing a Christmas tree on the card and this acts as a perfect link for young children to understand the modern festivities and how they relate to the birth of Jesus; the children explain how trees are made from wood, and that the stable and manger were too. 'Christmas Trees' follows.
John's suggestion is to draw some fairy lights on the tree and this is linked back to the stars in the sky on the night Jesus was born; 'Starlight' is sung as the fairy lights enter and dance a short routine before joining in to sing.
After this musical number, the lights exit apart from one that remains behind to guide the shepherds. As the shepherds exit in order to follow the star, Hannah suggests drawing a donkey. After a failed attempt the travellers and Mary and Joseph enter and sing 'Travellers Song' as they journey towards Bethlehem. After a stroke of luck, Mary and Joseph find a place to stay and Hannah successfully draws a donkey to put on the card!
The Christmas Crackers are the next to enter as Jenny suggests drawing these next to represent the presents we all receive on Christmas Day. As you may have guessed, a few jokes are shared between the crackers which may or may not crack a smile... 'Crackers' follows.
The Kings enter and present their gifts to Jesus during the Crib Song. After this, the lights fade on the crib scene and the children put their finishing touches on the birthday card before everyone sings a reprise of 'Happy Birthday Jesus.'