Having Fun At Christmas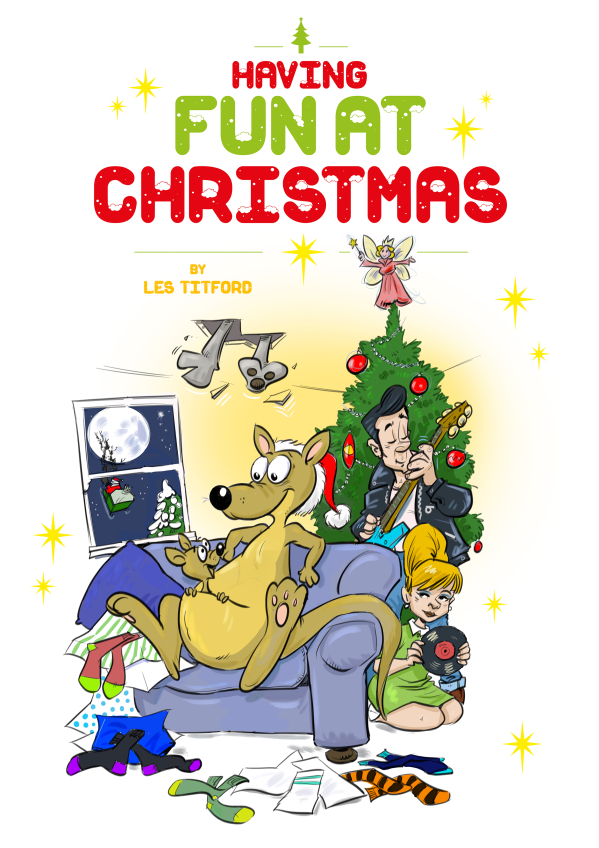 Why choose this Musical?
Adaptable
Use as a whole work or as single items (class assemblies).
Save Time
Each class rehearses its own sketch.
Free The School Hall Up!
No need to use the school hall until dress rehearsal time.
No Scenery Required
Very easy to stage as no scenery is required.
Flexible Casting
Script contains cast list instructions for both large (30+) and small (13 to 19) cast sizes for every sketch. (see "Casting" tab below for full details)
Festive Fun!
Fun and funny but the spirit of Christmas is not forgotten.
Multi-use Songs
Songs can be used as Christmas "Assembly" material without the accompanying sketch.
Suitable material for children aged 5 to 11
Includes material suitable for the inclusion of Key Stage 1 children if required.
CDs of Backing and Vocal Tracks available
Click the "Scripts and Songs" tab below to listen to these songs.
Easy Play Piano Score available
Especially written for ease of playing by Grade 5 pianists.
Duration
50 to 60 minutes for the whole show or 5 to 8 minutes for each sketch.
Here is a more detailed look at the various songs and sketches. There are eight songs in all, six of which have accompanying sketches. All of the sketches are simple and inexpensive to stage.
We're Having Fun At Christmas (SONG)
This song opens the show. It's a very up-beat song with a great driving rhythm and an underlying message in the words which will put everyone in a good mood.
The Top Of The Tree (SKETCH and SONG)
This item is for Years 1, 2 or 3 (age 6 to 8 years) pupils with some scope for including Reception children. In the sketch, the Christmas decorations come to life and argue about which one of them should be at the top of the tree. Both the song and sketch carry a simple age-appropriate message whilst being very funny at the same time. There are lots of small parts, both speaking and non-speaking with some slightly larger parts for more able children.
A Kangaroo At Christmas (SKETCH and SONG)
An Australian family visit their English relatives on Christmas Day. There are lots of laughs as Greg, the classic alpha-male Aussie dad brings his character to bear on the scene. The song is a fantasy about a real kangaroo being given as a Christmas present and all the antics he gets up to. This item will suit Years 5 and 6 (age 10 to 11 years).
Christmas In '63 (SKETCH and SONG)
Present day - two grandparents reminisce about their childhood Christmas experiences in the year 1963. This is a real trip down memory lane as we return to the time of the Beatles, twanging guitars and Sindy dolls; again, lots of laughs followed by a slice of Merseybeat in the shape of the title song. The older children of Key Stage 2 (Years 5 & 6; age 10 to 11 years) will have great fun with this item.
Socks and Pants And Handkerchiefs (SKETCH and SONG)
Three dads bemoan their annual fate of always receiving the same old boring presents. There is true farce when all the family Christmas gifts get mixed up and for a while it seems that the dads might have had a change of luck this year! The song gives the audience a chance to join in with the singing. All children from Key Stage 2 (age 7 to 11 years) will be able to manage this item.
Prancer Pays A Visit (SKETCH and SONG)
Prancer, one of Santa's reindeer, crash-lands on a suburban rooftop and asks the family inside for help. The police are called and Santa and the rest of the reindeer turn up to reclaim their lost friend; funny and farcical with a very catchy song to follow & suitable for the whole of Key Stage 2 (age 7 to 11 years).
Don't Wait Until Christmas (SKETCH and SONG)
A sweet sketch and song for the younger members of Key Stage 2 (Years 3 and 4; age 7 to 8 years). The class prepares for the Christmas concert. In addition to the classic Christmas repertoire, they are to perform a new song written by their music teacher. The class teacher brings the message in the song alive for the children in a very special way.
Christmas All Over The World (SONG)
The grand finale. This is a real rocker to end the show and have everyone clapping their hands to.
All sketches have sound effects, incidental music and "play-offs" which can be found on the CDs. Track 1 on the CD ("The Top Of The Show") is to be played while the children are entering, ready to perform.