Michaelmas Mouse (Nativity)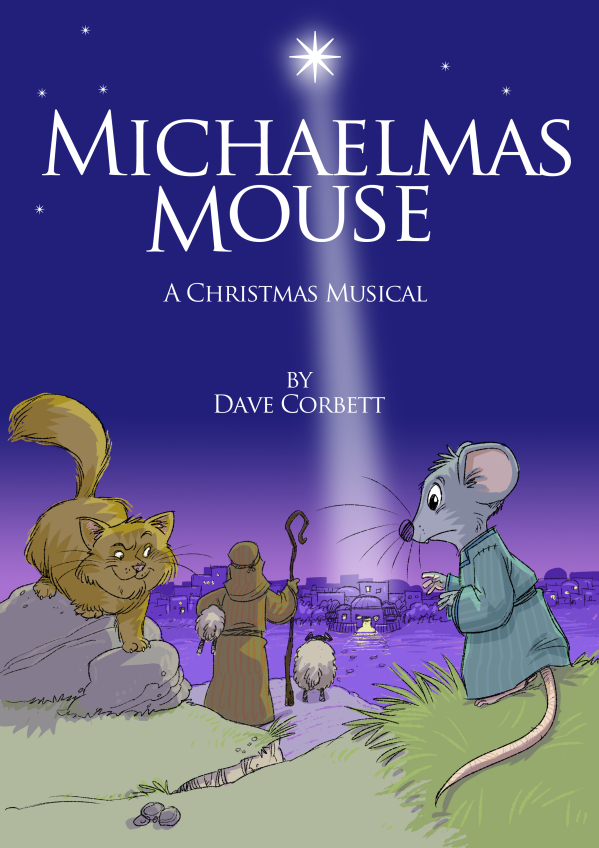 Why choose this Musical?
Flexibility
Flexible Cast size to suit YOUR group numbers, from 35 actors upwards. See "Casting" tab below.
Unlimited chorus parts
As many as you like!
Easy to stage with simple scenery
CDs of Backing and Vocal Tracks available
Piano Score (Grade 5 Standard) available
Easily constructed and manageable props
Age Range: Key Stages 1 and 2 Combined
Years 1, 2 & 3 (Age 5 - 8 years).
Duration: 35 Minutes
'Michaelmas Mouse' tells the traditional nativity story in a slightly different way as Michaelmas Mouse sets off for an adventure to Bethlehem to visit family and friends.
After the narrators set the scene in a homely hole in Nazareth, Michaelmas' family are preparing for his going away dinner as they set the table with cheese, and more cheese! After singing 'Michaelmas Mouse' as his family wish him farewell, Michaelmas learns that he has a free ride to Bethlehem; he is going to hide in Mary and Joseph's baggage.
During the journey to Bethlehem, Mary and Joseph come across other travellers as they discuss the census. Mary becomes anxious about finding a place to stay, but during 'Heading for Bethlehem' she is reassured by Joseph and they move swiftly on. After being bounced all the way to Bethlehem, Michaelmas jumps off at the City Marketplace, and without much trouble finds the City Mousehole where he is reunited with his cousins. However, his greeting is far from friendly as his cousins waste no time in pointing out his dirty clothes, including a cheese stain on his brand new tie! 'City Mice' is sung as Michaelmas' cousins take great pleasure in pointing out how much better, and cleaner, city mice are.
However, the insults are cut short as everyone becomes preoccupied with the news that Morz the cat is lurking outside, which gets everyone's tails in a twist... 'Morz' is sung as the cat introduces himself in style, but before he can even straighten his whiskers, Michaelmas ties his tail to a chair and convinces Morz to become a friendlier cat.
After this success, the narrators take us to the hillside where the shepherds learn of the new king about to be born in Bethlehem. 'Allelu' is sung in celebration, and overhearing about the upcoming events, the mice decide to visit the stable as well. In 'Friends Again' Michaelmas' cousins apologise, and they set off to visit Jesus in harmony.
Unfortunately, the journey towards the stable takes the mice past the palace of King Herod, where the king is more than displeased to hear about the birth of Jesus. The cook is even more displeased at the sight of mice near her kitchen, and Morz makes another appearance as he sharpens his claws in preparation for an attack. However, spotting Michaelmas, Morz slinks off and promises once again to leave the mice alone.
Continuing with the traditional nativity story, the kings also spot the star shining in the sky and sing 'We are the Three Kings' as they too make the decision to follow it towards the stable.
In the final scene, everyone gathers together in the stable as the kings present their gifts and Michaelmas is overjoyed that he was able to visit the new born king. 'Michaelmas Mouse' is sung again to end the show.