Go For Goal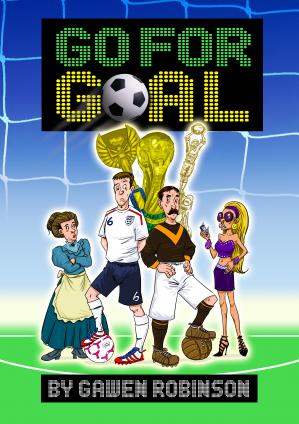 Click HERE to read the Script, look at the Score and listen to the Songs
Go For Goal
by
Gawen Robinson
Pricing & Order Info.
A musical comedy with the Football World Cup as its theme.
"What a brilliant script - I loved this (and I hate football!). Songs are terrific - hand out the tissues before "The World at your Feet" finale."
Sally Chester, Deputy Head - Ayscoughfee Hall School, Lincolnshire
Minimum Possible Cast Size
22
Share this product with friends or colleagues...
Why choose this Musical?
43 speaking roles
Easily reduced to 22 speaking roles, see "Casting" tab.
Engage your boys
With the football theme.
Engage your girls
With shades, style, WAGs and PAPs (see Script!).
Editable Word Doc Script available
Duration: 45 - 50 minutes
CD of Backing Tracks plus essential sound effects available
No pianist required! This CD includes ALL Backing Tracks, Incidental Music and Special Effects in the order you need them enabling production and direction to take place without specialist musical expertise.
CD of Vocal Tracks available for learning the songs
Sing It! Mk. 3 version, now with NEW...
"Lyrics Off" feature
"Vocals Off" feature
"Line by Line" practising feature
A BRAND NEW product; a CD-ROM or download of all the songs called "Sing it!" is available. This CD-ROM or download can teach the songs to the children without any teacher input. Children can use it at school or at home - think of the time it will save you! Most schools use it in class on an interactive white board or in the school hall on the overhead projector to allow full cast practice. Children LOVE learning this way and the product is foolproof.
Read the "Sing it!" reviews 'The "Sing it!" products were fantastic.' The Downs School, Bristol. 'Absolutely amazing material.' Mary O'Neill-Delano, Canada. ' "Sing it!" is fantastic for us less musically inclined teachers.' The Coppice Primary, Worcestershire. 'I really appreciate the "Sing it!" component as we often use this in rehearsals.' Newborough East Primary, Victoria, Australia. 'Can I also say that your "Sing it!" CD was brilliant.' Key Stage 2 teacher, Singapore.
Full Performance Piano Score available
Grade 5 / 6 standard, see "Script & Songs" below.
"Very Easy Play Songs Only" Rehearsal Piano Score available
Grade 2 / 3 Standard, see "Script & Songs" below.
Full Production Notes
Check out the "Production Notes" in the "Script Sample" below for full details of "Go For Goal".
No Problem Props
See "Script & Songs" below for full listing.
Any number of chorus parts
Very easy to costume
Detailed in "Script & Songs" below.
Simple staging
Detailed in "Script & Songs" below.
Age range: Key Stage 2 Production (9-11 years )
FREE assembly!
Click HERE for your FREE PowerPoint 2018 Football World Cup Assembly.
NEW! Instant Scenery with our digital backdrops
A different backdrop for EVERY scene change
Supplied in both a PowerPoint presentation and as individual JPG files.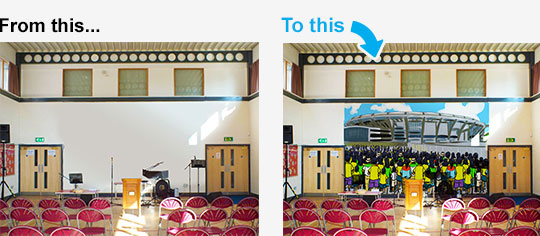 No more Scenery Painting!
"Go For Goal" tells the true story of the Football World Cup, as related to Oscar, a young, rising Brazilian football star by his father, Lucas and his grandfather, Leonardo.
The history of the World Cup is told in a series of flashbacks, including...
The 1909 "Sir Thomas Lipton" World Cup competition, won by an English amateur team - West Auckland - and won again by the same team in 1911...
The 1950 World Cup Final played in Brazil featuring Brazil vs. Uruguay...
The 1966 World Cup featuring "Pickles", the dog famous for finding the stolen "Jules Rimet" trophy and...
"The World Cup Hall of Fame", featuring famous and infamous moments from many past Football World Cups and told as a song.
The show ends in the present day at the "Maracana" stadium in Brazil, where the importance of "facing life's challenges" is explored in the final song... "The World at your Feet"
"Go For Goal" is dynamic, very funny and historically accurate - yes, England really did win the first two Football "World Cups"!
This musical has gone down a storm in pre - publication performances - especially the songs - and is a brilliant way to enthuse your children about the true story of the Football World Cup.