Musicline ONLINE
Welcome to Musicline ONLINE, the online repository for Musicline projects.
Please find info and links below for our current project, "Back Together (IRL)":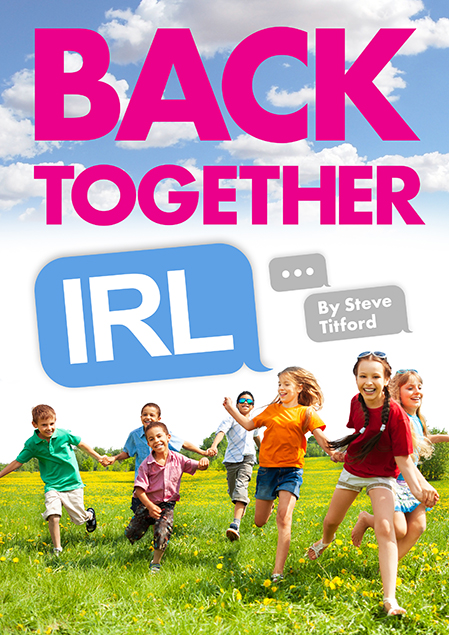 Project: "Back Together (IRL)"
ATTENTION YOUNG PERFORMERS AND TEACHERS:
AN EXCITING PROJECT THROUGH AND OUT OF LOCKDOWN!
At Musicline, we're planning something special to celebrate creativity during and BEYOND Lockdown. To do this, we're setting up an online supergroup of talented young people who can make amazing things together, wherever they are!
Our first project together starts NOW!
We have a new song about positivity in our changing world that we'd love to involve young performers with. The song is called ​"Back Together (IRL)"​ and is written by Steve Titford of "Shakespeare Rocks!"​ fame. We're all set to do this "virtual choir" style with possibly a few soloists.
Steve has designed the song to offer opportunities to different ages and various ability levels. We're looking for performers aged around 6-16 to appear on the finished version, which will include a music video.
To assist everyone, Steve is leading a fun new resource called "​Musicline Online​". We are already adding many helpful videos and tips to this FREE resource, which can be found at musiclinedirect.com/online. This is where we will also host the materials for the song "Back Together (IRL)", which will include lyric sheets and tutorials for the different parts that performers can try.
You can get the following right now:
Sing It!
"Back Together (IRL)" is available on our fantastic karaoke style app, Sing it!
Just head over to SingIt.app to get started.
MP3s of Vocal and Backing Tracks
Click HERE for the Vocal MP3.
Click HERE for the Backing MP3.
You may need to right click the links and select "Save Target As..." in order to download the MP3s.
PDF Lyrics Sheet
Click HERE to download.
PDF Vocal Melody Score
Click HERE to download.
Steve's demo vocal track is also available on these popular streaming platforms:

Also available on TikTok, just search "Back Together IRL"
Steve giving some great advice on how to be part of this project...
How to video yourself singing
Introduction and Hook Tutorial
Main Melody (Part 1 of 2)
Main Melody (Part 2 of 2)
In the coming days, we'll also be adding:

Video tutorial on how to film yourself singing. (see above).
Melody line and harmony score for teachers and more experienced musicians. (see above).
Tutorials for main vocals (see above) and harmonies for different ages and abilities.
Advice on how to get involved by just recording sections of the song (see below).
Anything else helpful that has been suggested!
What Now?
We have a safe, simple and secure sign-up system for anyone interested in taking part. This will help us to plan the next stage of the project and keep you informed of updates (which you can always unsubscribe from).
Please register HERE
Once registered, you can upload your video submission by clicking HERE
Below are some great tips and advice for varying confidence levels. If you only want to record a section and not the whole song, that's totally cool with us!
"I want to be on it!"
Good for you! We'd love to have you on board, so here are some pointers for sending in a GREAT submission.
Quick question - How confident are you?
"I want to have a go, but I'm a bit nervous."
No problem! You DON'T have to perform the whole song, so we've picked the best section to ease you in. It's quick to learn and has some basic movement in it (though you don't HAVE to do the movement!). If you ONLY send us a video of this section, that's totally fine! Watch this:
"I don't want something too easy, but I'm not sure about doing the whole song either."
Perfect. Here's a slightly more challenging section for you to try out. See if you can keep up with our example video. If you find some of the moves too complicated, don't worry. Just singing is cool too. Have a go at both of these:
"I'm all practised up, now what?"
Brilliant. If you're doing the whole song, the Sing It! is the best thing to sing along to. If you're doing one or two of the sections only, feel free to perform along with the videos. In all cases, make sure you're wearing headphones so we can mix your voice in clearly! Have fun!
Once you're ready to submit your video, head on over to the Upload Page.
The Future
The Musicline family has been growing over our 30-year history as a company. We're always looking for new talent to showcase - singers, dancers and actors amongst other skills. Using our reputation, reach and high production values, we want to further nurture a network of support and opportunity for up and coming talent. This is the next step in that dream and we'd love you to be part of it!