Splash!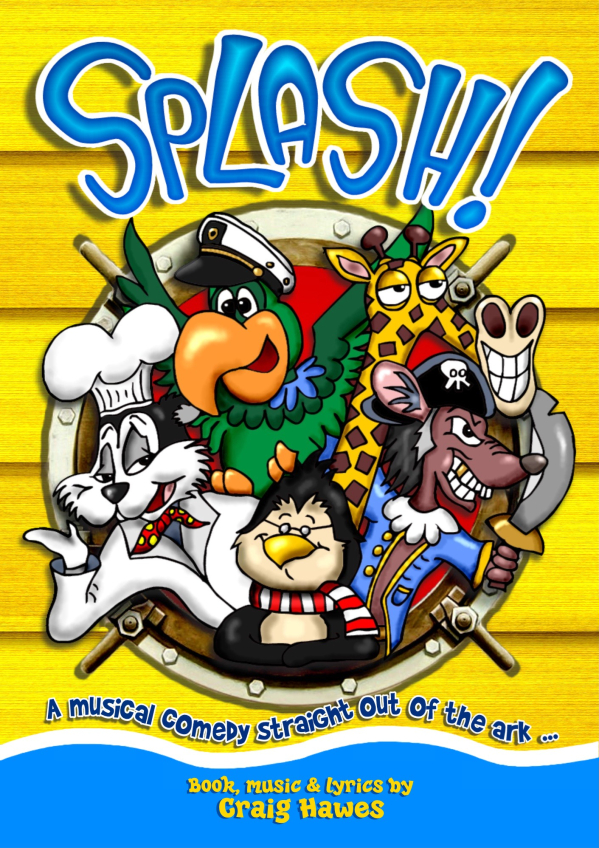 Click HERE to read the Script, look at the Score and listen to the Songs
Splash!
by
Craig Hawes
Pricing & Order Info.
A Musical Comedy Straight Out Of The Ark
42 speaking roles.
Easily reduced to 30 speaking roles. See "Production Notes" in Script Sample.
Unlimited chorus parts.
Easy to stage with simple scenery - adaptable.
Backing Tracks CD with essential sound effects available. No pianist required!
Vocal Tracks CD with essential sound effects available.
Both these CDs include Overture, ALL Songs, Special Effects, Play Ons and Play Offs in the order you need them enabling production and direction to take place without specialist musical expertise.
However - for those of you who prefer a live pianoforte accompaniment, we now have available a superb BRAND NEW Performance Score which encompasses Overture, ALL Play Ons and Play Offs, Songs, Link Music, Cues and Chord Symbols. (Grade 5 / 6 standard).
We also have available a BRAND NEW Rehearsal Score (Grade 4 standard).


Check them out on the "Script and Songs" heading.

No fuss props.
Age range: Key Stage 2 Production. (7-11 years)
Duration - One Hour.
Share this product with friends or colleagues...
Don't miss the boat! Craig Hawes, the writer of ZOOM!, invites you to take the trip of a lifetime with "SPLASH!" - a great new musical comedy version of Noah's Ark - told from the animals' point of view! Preston Parrot is on a mission to save his animal friends from the greatest flood in history. But when no one believes his news, he resorts to a little deception and arranges a luxury cruise on board "The Ark!" Aboard, you'll find a crew of colourful comic characters, including ballroom dancing giraffes, loopy lemmings, a band of brutal pirate rats and a love-sick French cat! The journey is overflowing with surprises - a rock and roll party, a kidnap, a storm and a rescue are just some of the twists and turns that make this show an adventure you'll never forget!
"SPLASH!" combines a fun story, hilarious script and a superb score full of incredible songs to guarantee you a production that your cast and audience will love. With parts for between 30 and 50 children plus unlimited chorus parts, this show will suit any size school or group.
A CD featuring dazzling, fully orchestrated backing tracks is available.
A CD of vocal tracks is also available which can be used for rehearsals and performances.