The Amazing Adventures of Superstan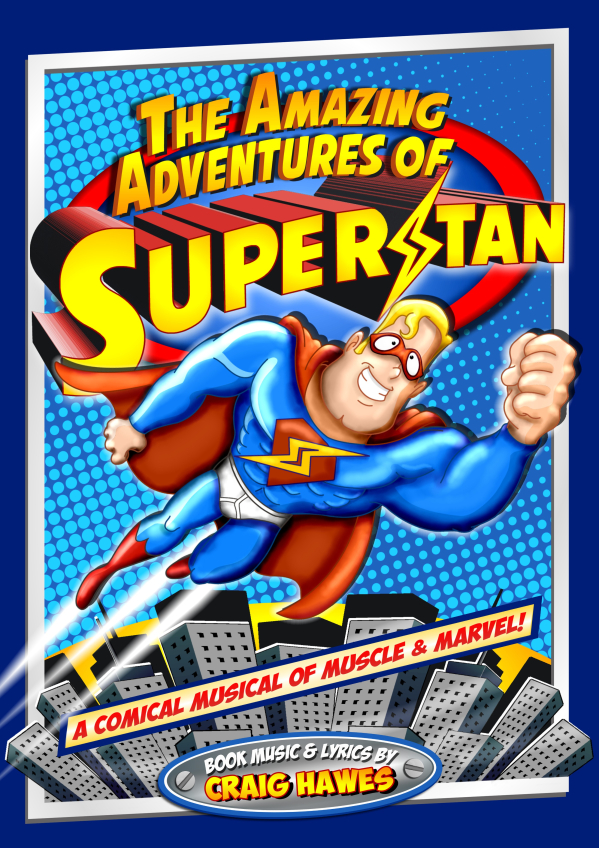 Why choose this Musical?
Editable Word Doc Script available
42 speaking roles
Easily reduced to 25 speaking roles, see "Casting" tab below for full instructions.
Any number of chorus parts
CD of Backing Tracks plus essential sound effects available
No pianist required! This CD includes ALL Backing Tracks, Incidental Music and Special Effects in the order you need them enabling production and direction to take place without specialist musical expertise.
CD of Vocal Tracks available for learning the songs
NEW for 2019

Sing It! Mk. 4 version, now with...
"Volume Control" feature
"Minimise Window" feature
"Lyrics Off" feature
"Vocals Off" feature
"Line by Line" practising feature
"Phrase by Phrase" practising feature
A BRAND NEW product; a CD-ROM or download of all the songs called "Sing it!" is available. This CD-ROM or download can teach the songs to the children without any teacher input. Children can use it at school or at home - think of the time it will save you! Most schools use it in class on an interactive white board or in the school hall on the overhead projector to allow full cast practice. Children LOVE learning this way and the product is foolproof.
Read the "Sing it!" reviews 'The "Sing it!" products were fantastic.' The Downs School, Bristol. 'Absolutely amazing material.' Mary O'Neill-Delano, Canada. ' "Sing it!" is fantastic for us less musically inclined teachers.' The Coppice Primary, Worcestershire. 'I really appreciate the "Sing it!" component as we often use this in rehearsals.' Newborough East Primary, Victoria, Australia. 'Can I also say that your "Sing it!" CD was brilliant.' Key Stage 2 teacher, Singapore.
Dance it! Available
Another BRAND NEW product is the "Dance it!" Choreography DVD. Watch each song performed by a group of age-appropriate children in two different versions - a full speed 'Performance' version and a slowed down 'Step By Step' version with helpful narration to guide you through the dance. Introduced by Craig Hawes, the DVD is also packed with lots of handy hints for teaching dances. Absolutely no previous experience or expertise is needed.
Read the latest "Dance it!" reviews
'The "Dance it!" DVD was great.' St Hugh's Catholic Primary, Lincolnshire.
'For the first time we used the "Dance it!" DVD and found it wonderful.' Rising Starz Performing Arts, New Zealand.
'"Dance it!" videos were very useful.' Sacred Heart Catholic Primary, Hertfordshire.
'Loved having the Choreography (Dance it!) video this year. That really helped our choreographer get the kids started and when she was sick, we could still rehearse their dance moves.' The American School, Marrakesh.
'Loved the "Dance it!" that came with "Porridge" and would love similar for other productions. Makes my life so much easier.' Aria School, New Zealand.

Full Performance Score available
Grade 6/7 standard, see "Script & Songs" below.
Full Production Notes
Check out the "Production Notes" in the "Script Sample" below for full details of "The Amazing Adventures of Superstan".
No problem props
See "Script & Songs" below for full listing.
Very easy to costume
Detailed in "Script & Songs" below.
Simple staging
Detailed in "Script & Songs" below.
Age range: Key Stage 2 Production (7-11 years)
Duration: 70 to 90 minutes
NEW! Instant Scenery with our digital backdrops
A different backdrop for EVERY scene change
Supplied in both a PowerPoint presentation and as individual JPG files.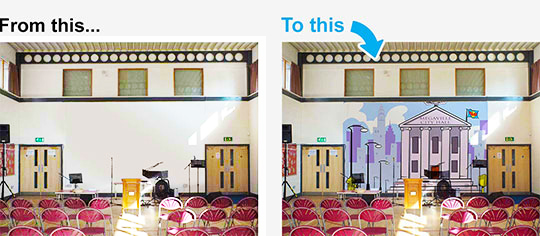 No more Scenery Painting!

The Amazing Adventures of Superstan
"

After three performances, I can safely say "The Amazing Adventures of Superstan" was one of the best junior musicals I've directed. It comes with everything you need to put on a successful performance, including backdrops, sound effects and even choreography. The script is easy to use and doesn't need to be adjusted for technical staff. The boys loved performing the songs, dances and dialogue and I have only heard positive reviews from audience members, including many comments about the hilarious jokes! This is a fantastic musical for boys and I highly recommend.

"
Trista Fry, Camberwell Grammar School, Balwyn
---

The Amazing Adventures of Superstan
"

Thanks Craig. You inspired boys to sing and get into acting. With teaching drama and organising productions people are nagging me to organise other productions that you have done. You have made my life a lot easier so well done. Merry Christmas and have a happy new year!

"
Katie Wright Yearr 6 teacher , Newmiltion Junior School , Newmiltion
---

The Amazing Adventures of Superstan
"

We just finished this amazing production and we smashed it, thank you. Craig Hawes you literally inspired BOYS to sing SOLOS and everyone to join in a brilliant script with mind blowing and hilarious jokes. Thanks for being a script writer and carry on with the fantastic work, well done.

"
Holly, New Miltion Junior School (nmjs), New miltion
---

The Amazing Adventures of Superstan
"

This is our 3rd Craig Hawes production and it has received rave reviews from the audience. The jokes are loved by children and adults alike. We can't recommend this production high enough!

"
Gabby Asplin, Makarewa School, Invercargill, New Zealand
---

The Amazing Adventures of Superstan
"

This play is simply fantastic!! Our year 6 staff and children have loved every single minute of doing this. The songs are catchy and great fun!! And the jokes are fab!! Difficult to find a better script....thank you, Craig Hawes

"
Lynsey Riggs, Welcome academy, Grimsby
---

The Amazing Adventures of Superstan
"

This is yet another fantastic script by Craig Hawes and the music is also wonderful. This is the fifth play by Craig that our school has performed and I have to say I haven't found another writer who produces plays of such high calibre. The scripts entertain parents and children alike. We managed to bring the curtain down after 70 minutes, with some very slick scene changes. The audience were full of praise. Having a CD with the sound effects and backing tracks and also the 'Dance It' DVD are brilliant. Well done. Waiting for the next one.

"
Rani Chakrabarti, Cheadle Hulme School, Cheadle Hulme
---

The Amazing Adventures of Superstan
"

The Amazing Adventures of Superstan is an amazing play! Me and my classmates really enjoyed it. I got the part of Stanley Marvel and everyone in the audience laughed their heads of when I did my transformation into a Superhero. It was brilliant. When we finished, confetti canons went off and when the curtains closed we were filled with glee.

"
Anon., Anon, Anon
---

The Amazing Adventures of Superstan
"

The Amazing Adventures Of Superstan is a really good play it really brings out your sense of humour, the sound effects I think are really good it is a really great way to end Year 6. The song are really jolly. Love it

"
Ceserina Nevar, St Paul's C of E Primary School, Leamington Spa
---

The Amazing Adventures of Superstan
"

this is amazing the whole play is so dramatic the songs are incredible and a fantastic show to our parents my best friend was superstan he was so SUPER!

"
Lucy Gamboa, St.Albans
---

The Amazing Adventures of Superstan
"

I gave this show a 5 star rating because there isn't a 6. Wonderful. We all had tremendous fun and the audience loved it.

"
Claire Scott, Newark Primary School, Port Glasgow
---

The Amazing Adventures of Superstan
"

I loved it! All the vocals and happy singing really put a smile on our 5/6 pupils' faces. The Best Childrens Musical EVER!!!!

"
Jacob Martin, Winchester Oak Primary School, Winchester
---

The Amazing Adventures of Superstan
"

We thoroughly enjoyed the end production. It took time and effort to pull the comedy timing and sound effects together but the result was a first class comedy. There were parts for a wide range of abilities. Some roles were split and many could be played by either boys or girls. We also used some role reversal with gran played by a boy wearing a frock and wig; and Stanley himself was played by a girl to shake things up a bit. The jokes came thick and fast and were enjoyed by the older children and adults, whereas the infants, who watched enjoyed the slap stick battles, larger than life characters, and whizzy sound effects. It certainly got the thumbs up at our school

"
Anne Tinson, Emmbrook Junior School, Wokingham
---

The Amazing Adventures of Superstan
"

We've just finished this show and what a brilliant one to rehearse and perform. The crazy crumblies were hilarious and three Year 5 girls playing the evil scientists alongside a boy in Year 8 worked a treat. Loads of props to make but the backdrops were fabulous in creating different scenes. Interval recommended after scene 3 as it's a long show...but possibly our best yet!

"
Antonia Robinson , Yateley Manor School, Yateley!
---

The Amazing Adventures of Superstan
"

I have to say this was an excellent production. Full of fun and puns and jokes, it really was a hit. In our production, Curly and Wurly were played by girls and they were both amazing - so nice that the major comedic roles went to girls this time. Really fabulous show, thank you so much! :)

"
Ann Beirne, Morisset Public School, Morisset
---

The Amazing Adventures of Superstan
"

It was really funny! As the audience watched, they couldn't stop laughing. Everyone enjoyed it and was talking about it way after the show!

"
Alyse, Wood primary , Ireland
---

The Amazing Adventures of Superstan
"

Very funny script and songs.

"
Mrs Fishwick, Y4 Teacher, England
---

The Amazing Adventures of Superstan
"

Our pupils LOVED the fun and exciting comic-book theme. Such a clever story and hysterically funny from start to end. Everyone had their moment to shine and performed with enthusiasm thanks to the hilarious script and catchy songs. The real Superhero has to be Craig Hawes for writing another epic show which our pupils and their parents will never forget!

"
Angela Campbell
---

The Amazing Adventures of Superstan
"

Wow, what can I say? Simply the best children's musical I've produced. It's full of non-stop lively fun and action, every song is fantastic (the teachers were singing and dancing in the staffroom), the script is pure genius and had the children and adults in stitches. Our audience loved every moment, a standing ovation each night!

"
Miss J Chambers, Y5 Class Teacher
---

The Amazing Adventures of Superstan
"

A Craig Hawes show is always a guaranteed hit at our school, but Superstan has to be his best yet! The superhero theme had every child hooked from the first read-through and they couldn't wait to rehearse! A brilliantly written script packed with hilarious jokes and slapstick and wonderfully catchy songs that children learn quickly and love to sing. The audience response was overwhelming, our parents were thrilled, so thanks for a "Super" show!

"
Peter Delafield, St. Luke's Primary
---