The Dracula Rock Show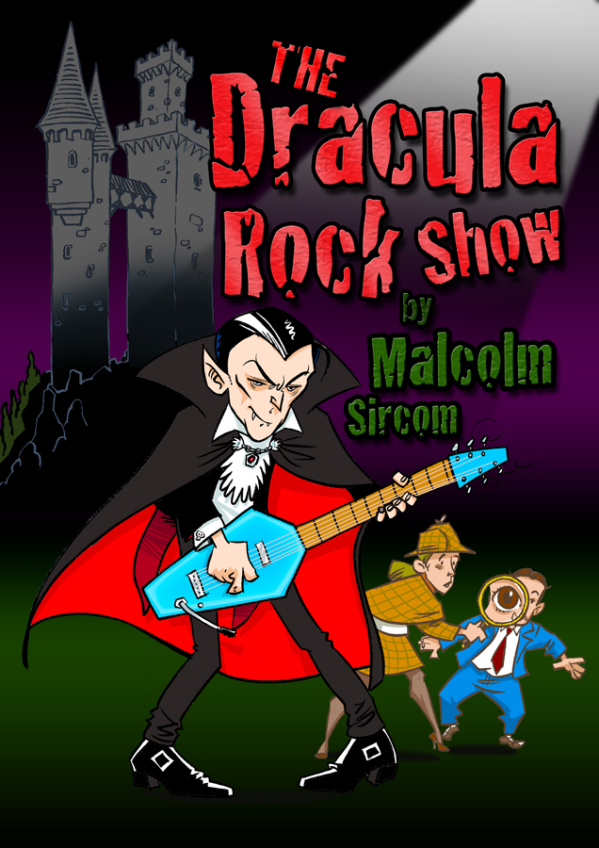 Click HERE to read the Script, look at the Score and listen to the Songs
The Dracula Rock Show
by
Malcolm Sircom
Pricing & Order Info.
Another Classic by Malcolm Sircom
NATIONAL CURRICULUM - PSHE DENTAL CARE! (only kidding!)
25 speaking roles plus choose your own cameos.
Unlimited chorus parts.
Easy to stage, Easy to costume.
CD of Backing Tracks available.
CD of Vocal Tracks available.
All Sound Effects Included On Both CDs.
However... for those of you who prefer a live pianoforte accompaniment, we now have available a superb BRAND NEW Performance Score which encompasses Overture, ALL Songs, Link Music, Cues and Chord Symbols. (Grade 7 standard).
Easily manageable props.
Age range - Key Stage 2 Production (7-11 years).
Duration - One hour 15 minutes.
Share this product with friends or colleagues...
The Zombies and Vampires are unhappy with their life underground, and summon Count Dracula, their master. He promises them fun among the humans, disguised as the audience at Rock Concerts, where their bizarre appearance will go un-noticed. To achieve this, after a Pop Idol audition scene, he creates his own Rock Group.
Meanwhile Inspector Shirley Holmes of the Dewberry CID and her pathologist, Dr. Watson, are battling against the master criminal Professor Moriarty and his gang - as well as trying to solve the mystery of an outbreak of anaemia among young women.
These strands are woven together in a hilarious plot, full of splendid eccentric characters, sparked by a dynamic Rock score, which takes in 60's rock, a touch of 70's disco, and even a Line Dance! A rock 'n' roll Dracula, Shirley Holmes doing a Dolly Parton, and a Mick Jagger-like rock star are just some of the surprises in this comedy musical - as gloriously off-the-wall as its predecessor.
Those of you who have already performed The Rocky Monster Show will know what to expect - loads of laughs, great tunes, and enjoyment for all involved. Casting will motivate your entire company, for as well as the Principals, the Choruses of Zombies, Vampires, Police and Criminals all have plenty of speaking parts.
The show has the option of being presented in One Act (One hour 5 minutes) or in Two Acts (One hour 25 minutes, including interval)