The Tudor Rose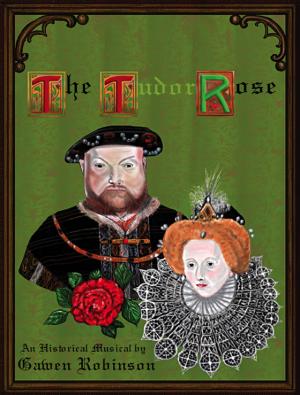 Click HERE to read the Script, look at the Score and listen to the Songs
The Tudor Rose
by Gawen Robinson

Pricing & Order Info.
NATIONAL CURRICULUM - THE TUDORS - HENRY VIII
32 speaking roles plus several cameo parts; easily reduced or expanded.
Unlimited chorus parts - as many as you like!
Easy to stage with simple scenery - adaptable.
CD of Backing Tracks available.
CD of Vocal Tracks available.
Piano Score available.
Easily constructed and manageable props.
Age range - Key Stage 2 Production (7-11 years).
Duration - One Hour.
Children learn more while they are having fun so the scripts and songs are geared as much toward entertainment, as historical accuracy. "The Tudor Rose" can be performed as a full musical production or a shortened assembly piece and being topic based, is easily adapted into an invaluable classroom teaching resource.
"The Tudor Rose" is set out as a musical play in two acts. A Narrator links the events in between sections giving an historical backdrop to each scene in the lives of these two great Tudor monarchs. Act 1 concerns the life and times of Henry VIII from his childhood until his death in 1547. The main events in his life are remembered by the ageing, bad tempered King in a series of flashbacks which are re-enacted through song including his triumphs at the Battle of the Spurs and in the Field of the cloth of gold.
His long suffering jester and his last wife try to humour him in an attempt to survive his worsening moods haunted by the memory of his previous wives and associates.
Act 2 portrays the events leading up to the invasion of the Spanish Armada in 1588. The action is split between Spain and England as Elizabeth I, Lord Howard and Sir Francis Drake plot to defeat Philip II and his chief naval commander Duke Medina Sidonia. Each act is preceded by a song leading up to the events of the story. All the songs can be sung by a separate choir while the action is self -contained.
This show has been performed in a variety of ways including an outdoor pageant with tent and all!