We'll Meet Again (Primary Production)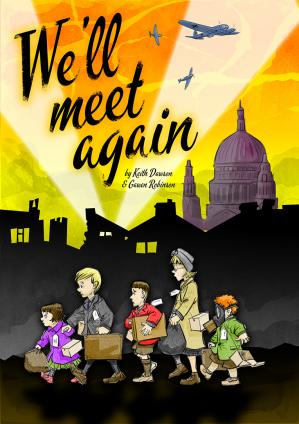 Click HERE to read the Script, look at the Score and listen to the Songs
We'll Meet Again (Primary Production)
by
Keith Dawson & Gawen Robinson
Pricing & Order Info.
Life as an evacuee
NATIONAL CURRICULUM - HISTORY
65 speaking roles (easily reduced if necessary).
Unlimited chorus parts.
Easy to stage: adaptable.
CD of Backing Tracks plus essential sound effects.
CD of Vocal Tracks.
Piano Score available.
All Sound Effects Included On Both CDs.
Easily manageable props.
Duration - One hour 15 minutes.
Age range: Key Stage 2 (plus optional infant evacuees!).
Share this product with friends or colleagues...

We'll Meet Again (Primary Production)
"

Great songs that help educate children and help them enjoy history in a more musical way amazing!

"
Daniel M, Student, Fawcett Primary School, Trumpington
---

We'll Meet Again (Primary Production)
"

At school, I'm never intrested in history BUT when I heard when our year group was going to perform this play at our Leavers Assembly I was so excited. I only play a minor part with 4 lines called 'William'. Anyways, a great production to help educate a child's mind in a fun, and easy way. Who needs lessons when you have this?

"
Drew Bennett, Quensmead Community Primary School, Leicester, England
---

We'll Meet Again (Primary Production)
"

What a wonderful way to show what life was REALLY like for children during World War 2; a term of history lessons in one production.

"
Denise White - Headteacher, Blakenhale Junior School, Birmingham
---