Go For Gold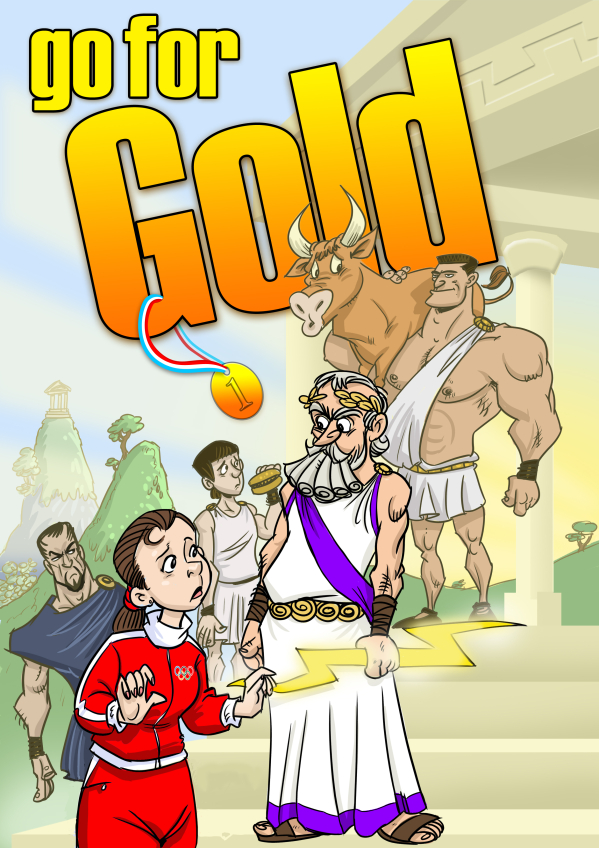 Why choose this Musical?
42 speaking roles
Easily reduced to 32 speaking roles. See "Casting" heading below for full details.
Any number of chorus parts
Very easy to costume
Simple staging
CD of Backing Tracks plus essential sound effects available
No pianist required! This CD includes ALL Backing Tracks, Incidental Music and Special Effects in the order you need them enabling production and direction to take place without specialist musical expertise.
CD of Vocal Tracks available for learning the songs
We normally supply a full Performance score with our musicals but because Go For Gold uses a large number of special effects which are supplied on the Backing Tracks CD we recommend that you perform this musical using the CD rather than piano. We do however have available a BRAND NEW Songs Only Rehearsal Score (Grade 4 / 5 standard) and a Very Easy Play Songs Only Rehearsal Score (Grade 1 / 2 Standard).
No Problem Props
NEW for 2019

Sing It! Mk. 4 version, now with...
"Volume Control" feature
"Minimise Window" feature
"Lyrics Off" feature
"Vocals Off" feature
"Line by Line" practising feature
"Phrase by Phrase" practising feature
A BRAND NEW product; a CD-ROM or download of all the songs called "Sing it!" is available. This CD-ROM or download can teach the songs to the children without any teacher input. Children can use it at school or at home - think of the time it will save you! Most schools use it in class on an interactive white board or in the school hall on the overhead projector to allow full cast practice. Children LOVE learning this way and the product is foolproof.
Read the "Sing it!" reviews 'The "Sing it!" products were fantastic.' The Downs School, Bristol. 'Absolutely amazing material.' Mary O'Neill-Delano, Canada. ' "Sing it!" is fantastic for us less musically inclined teachers.' The Coppice Primary, Worcestershire. 'I really appreciate the "Sing it!" component as we often use this in rehearsals.' Newborough East Primary, Victoria, Australia. 'Can I also say that your "Sing it!" CD was brilliant.' Key Stage 2 teacher, Singapore.
Age range: Key Stage 2 Production (7-11 years)
Duration: 50 to 60 minutes
NEW! Instant Scenery with our digital backdrops
A different backdrop for EVERY scene change
Supplied in both a PowerPoint presentation and as individual JPG files.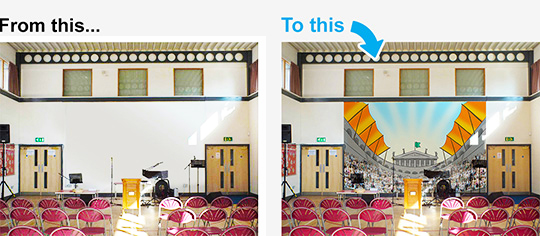 No more Scenery Painting!

Go For Gold
"

Excellent, The Year 3s had a ball, all 99 of them!! Parents said it was the best show they had seen in my 7 years at the school.

"
Ginny Macpherson, Collaroy Plateau Public School , Sydney, Australia
---

Go For Gold
"

Great.Tremendous.Excellent. A perfect all in one performance sure to blow peoples minds!

"
James Lakefield, Greenacre school of arts , Surma Close
---

Go For Gold
"

If you could rate higher I definitely would. It's a good show for year 5-6 and I hope you enjoy making it your own and bringing it to life as much as i did! :) thankyou

"
meisposiedon, Thebestschoolever, Watson
---

Go For Gold
"

We are beginning rehearsals and auditions for this play and already it's loads of fun. The characters are very funny and outgoing and I would recommend this play to anyone!

"
Gabby, St Margarets CE Primary, Rottingdean
---

Go For Gold
"

I think this play/production is brilliant for years 5 and 6 I am Suzie and we have just started rehearsals for this play. I would really, really recommend this play/production to others and I hope you enjoy it if you are rehearsing it at your school. Everyone absolutely loved the script and every aspect of Go For Gold!

"
Emily Hawke , Forest View Junior School , Ollerton
---

Go For Gold
"

Our year 6 pupils absolutely loved every aspect of Go For Gold! The songs were really catchy and within days we had the whole school hooked on the songs. We did 2 amazing shows and the second was a very special night for the children as the show was watched by the writer himself 'Mr G Robinson'. This production comes highly recommended- you will not be disappointed.

"
Mr Winsper, Colegate Community Primary School
---

Go For Gold
"

A fantastic reception from the parents and kids loved performing. So much positive feedback from parents. The characters and one liners went down a treat and there was a good balance of history and humour. Thanks - and we'll be coming back for more Musicline productions. Looking forward to it already!!

"
Andy Taylor, Tanners Wood Primary School, Abbots Langley school
---

Go For Gold
"

I am soooo pleased that I got chosen to be Hades. I am usually termed as a good person, but to play a baddie is great! Thank you Musicline!

"
Hades, Offord Primary, St Neots
---

Go For Gold
"

This play is really great!! We are doing it for Yr6 Leavers show, and we were all expecting to do something like Matilda or Wizard of Oz. We were slightly dissapointed when we got this, but now we've rehearsed it a couple of times we love it and wouldn't swap it for anything!! I am Mikos Rafonus, and the understudy for Suzie Swift. I think it is extremely relavent this year, as the Olympic Games are going to be held in London. I would 100% reccomend this play for a Yr5-6 Production (our one is just yr6), especially because there is no one main character, there are lots of big roles.

"
Annie, Martin Primary School, London
---

Go For Gold
"

One of the best shows ever. My best songs songs are Zues and Zueses Rap Excellent script!

"
Stanmore Primary school
---

Go For Gold
"

I love this play. I play Hera and because we have such a small school we can play 2 parts so I'm a runner as well. I love this play and it is so funny - thank you for this. AMAZING

"
B. Dallington
---

Go For Gold
"

Amazing and very funny!! My school are doing this for their year 5/6 production. I'm playing Suzie Swift and she has 21 lines! i am finding the script very clever and funny and it helps you learn about the history of the Olympics!

"
Jessica Hinz, Hildenborough CEP Schoo, Tonbridge
---

Go For Gold
"

I am doing this Play for my Year 6 Leavers Play. I am Gabby Galore, which Is perfect for me, as I didn't want a big part!! I love this Play and It Is very relevant to The Olympics.

"
Cerys Eyles, St. Cuthberts CofE Junior School, Wells, Somerset
---

Go For Gold
"

Our year 5/6 production is on this play and I love this play about Ancient Greece. The songs are funny and amazing but we are performing in 5 weeks time so we have to get practicing!!!!! I'm Hera - but i might get my role changed.

"
Sonya Wilenhall, St Giles Primary School C of E School
---

Go For Gold
"

i think this play is amazing. I love it.

"
Calista Borello, St James, Perth
---

Go For Gold
"

This play is a great play for children as I'm doing it for my p7 show. I play Hera , Zeus 's wife. I really enjoy the songs In this play and it's a masterpiece once you've seen the whole play. I hope you will enjoy it as much as I do!!!!!!!

"
Megan Douglas, South Parks Primary School
---

Go For Gold
"

This is an excellent way to learn and also have fun. I enjoyed doing this play as well as making the Props. In the play I was Phil 'o' Sophie. He has 45 lines and is Suzie Swift's trainer. It was extremely funny and here is an example. Phil: Well it all goes back into the ancient Greeks. Jack: A bit like Dad then, only he's an ancient GEEK!

"
Annabelle Wilkinson, Newton Hill Community School, Wakefield
---