Rock Bottom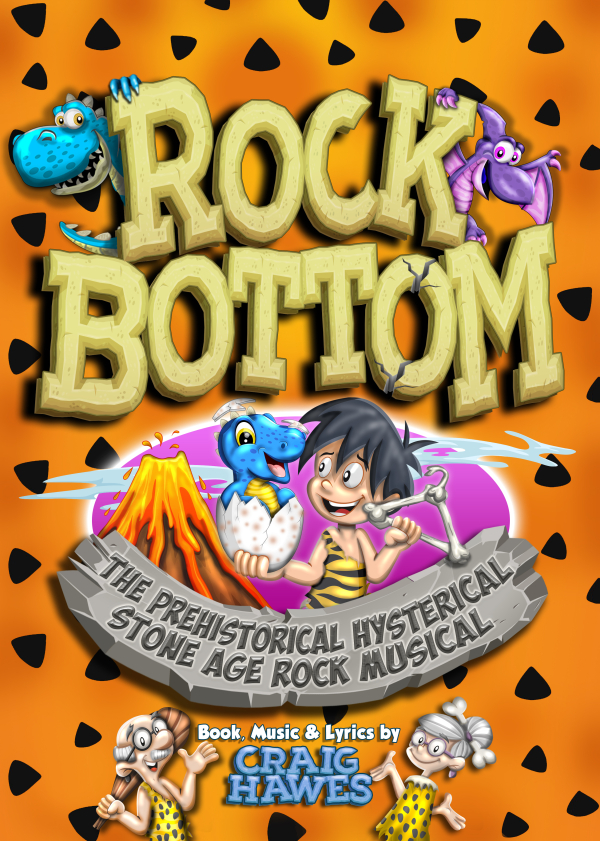 Why choose this Musical?
Editable Word Doc Script available
41 speaking roles
Easily reduced to 25 speaking roles
Any number of chorus parts
CDs of Backing Tracks plus essential sound effects available
No pianist required! These 2 CDs include ALL the Backing Tracks, Incidental Music and Special Effects (105 tracks on 2 CDs) in the order you need them enabling production and direction to take place without specialist musical expertise.
CDs of Vocal Tracks available for learning the songs
NEW for 2019

Sing It! Mk. 4 version, now with...
"Volume Control" feature
"Minimise Window" feature
"Lyrics Off" feature
"Vocals Off" feature
"Line by Line" practising feature
"Phrase by Phrase" practising feature
A BRAND NEW product; a CD-ROM or download of all the songs called "Sing it!" is available. This CD-ROM or download can teach the songs to the children without any teacher input. Children can use it at school or at home - think of the time it will save you! Most schools use it in class on an interactive white board or in the school hall on the overhead projector to allow full cast practice. Children LOVE learning this way and the product is foolproof.
Read the "Sing it!" reviews 'The "Sing it!" products were fantastic.' The Downs School, Bristol. 'Absolutely amazing material.' Mary O'Neill-Delano, Canada. ' "Sing it!" is fantastic for us less musically inclined teachers.' The Coppice Primary, Worcestershire. 'I really appreciate the "Sing it!" component as we often use this in rehearsals.' Newborough East Primary, Victoria, Australia. 'Can I also say that your "Sing it!" CD was brilliant.' Key Stage 2 teacher, Singapore.
Dance it! Available
Another BRAND NEW product is the "Dance it!" Choreography DVD. Watch each song performed by a group of age-appropriate children in two different versions - a full speed 'Performance' version and a slowed down 'Step By Step' version with helpful narration to guide you through the dance. Introduced by Craig Hawes, the DVD is also packed with lots of handy hints for teaching dances. Absolutely no previous experience or expertise is needed.
Read the latest "Dance it!" reviews
'The "Dance it!" DVD was great.' St Hugh's Catholic Primary, Lincolnshire.
'For the first time we used the "Dance it!" DVD and found it wonderful.' Rising Starz Performing Arts, New Zealand.
'"Dance it!" videos were very useful.' Sacred Heart Catholic Primary, Hertfordshire.
'Loved having the Choreography (Dance it!) video this year. That really helped our choreographer get the kids started and when she was sick, we could still rehearse their dance moves.' The American School, Marrakesh.
'Loved the "Dance it!" that came with "Porridge" and would love similar for other productions. Makes my life so much easier.' Aria School, New Zealand.

Full Performance Piano Score available
Grade 6/7 standard, see "Script & Songs" below.
"Easy Play Songs Only" Rehearsal Piano Score available
Grade 4/5 Standard, see "Script & Songs" below.
Full Production Notes
Check out the "Production Notes" in the "Script & Songs" tab below.
No problem props
See "FREE Resources" below to download "Props" ideas; for full list of "Props" see Script sample.
Very easy to costume
Click "FREE Resources" below then scroll down to "Gallery of Costume Ideas".
Simple staging
Click "Script & Songs" below then click "Production Notes".
Age range: Key Stage 2 Production (7-11 years)
Duration: 80 minutes
NEW! Instant Scenery with our digital backdrops
A different backdrop for EVERY scene change
Supplied in both a PowerPoint presentation and as individual JPG files.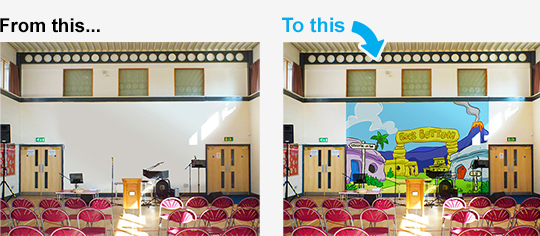 No more Scenery Painting!

Rock Bottom
"

Fast paced, catchy songs and some hilarious characters ; it was destined to be a rousing success. It did not disappoint and audience members rated it 'the best show so far' after producing 20 years of large school shows. With 350+ students to cast in various choruses this musical lent itself brilliantly to our needs. The support materials were beyond our dreams and helped to make a quality show with very little extra work required by our teachers when it came to chorus choreography and song rehearsal. Searching the site for another one for our next show. Thanks, Musicline!

"
Jane Lacey, Overport PS, Frankston Sth, Victoria, Australia
---

Rock Bottom
"

Hilarious fun. Adults and kids alike enjoyed the puns. Play had a cast of 160 kids with speaking and non-speaking roles. The Director added some unique South African fun to the play which resonated well with the audience. The play was a blast from beginning to end. Looking forward to the next production.

"
Al Reddy, Hillcrest Prmary, Hillcrest, Durban
---

Rock Bottom
"

This is the fourth Craig Hawes we've done and we weren't disappointed. Had 62 Y5/6 pupils and the show was amazing. Songs were brilliant, the Dance-It really helped and the audience said it was the best yet. Such fun to put on. Make sure you get three really funny children as the three amigos - they'll need to perfect their rubbish Mexican accents but it's better if they're not good! Best line... 'Yabba, dabba'..."Don't" Amigo's hold the whole thing together and are fab parts. We had a boy play the baddie Lady - this was a great decision but make sure they're happy to fulfil the role to its fullest! Thank you Craig - what would Christmas be without your shows? Love them!

"
Paula Ketcher-Murrell, Newton Primary School, Swansea
---

Rock Bottom
"

Great fun for us (audience members, uncle and aunt of cast members)! Lots of jokes to make grown-ups guffaw as well as the kids, some neatly written songs, and a fast pace to make sure even tired adults don't fall asleep. Lovely to see all the kids, whatever their background and personality, able to participate and have fun and enjoy being part of a big team effort. Well done everyone! :)

"
Rob Ainsley, Audience member, Harrogate
---

Rock Bottom
"

Another brilliant show from Craig Hawes! Our Year 5 and 6 had a blast putting this together and we even managed to extend the script to nearly 65 speaking parts by having 2 sets of Eggheads and 9 Time keepers! I think the songs are some of the best yet being both catchy and clever! As usual the script is fast moving and jam- packed with truly terrible puns! Thank you .

"
Hannah Mann, Whiteley Primary School, Fareham, Hampshire
---

Rock Bottom
"

You'd be mad not to buy this - yet another hilarious hit from Craig Hawes. It's a laugh-a-minute show, with jokes for all ages strewn in cleverly along the way. The songs are catchy and easy to pick up; you'll be singing them for weeks afterwards! Our Year 3 & 4 children had a fantastic time rehearsing and performing this super show and they (and their audiences) will remember it for years to come. Fred Flinstone eat your heart out!

"
Laura Mitchell, Oak Farm Junior School, Hillingdon
---

Rock Bottom
"

We absolutely loved this show. The most fun we've ever had rehearsing. Went down a storm with children and parents and the songs are so catchy that the whole school are singing them! Well done Craig Hawes another smash hit. Thank you!!

"
Miss E Holloway, Margaret Roper RC Primary School, Purley, Surrey
---

Rock Bottom
"

We performed this hilarious production with all our KS2 children and it was a huge success! We split the show into two halves with an interval, which worked perfectly. Children and adults loved the humour and the Stone Age theme, and the songs are just superb! Rock Bottom really rocks!

"
Pete Delafield, St. Luke's Primary, Shireoaks
---

Rock Bottom
"

Our Year 5s had a blast with this show. Such a clever, funny, fast-moving script, brilliantly catchy songs and so easy to costume! Great fun from beginning to end - I think this is my new favourite Craig Hawes show!

"
Jessica Chambers, Sparken Hill Academy, Worksop
---