Olivia! (Senior KS3 and KS4 School Musical)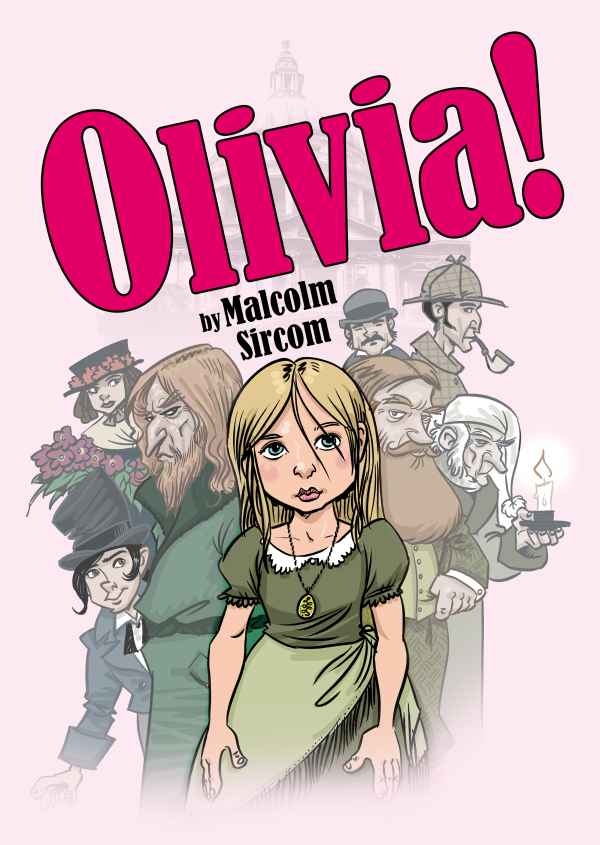 Why choose this Musical?
Editable Word Doc Script available
Make your own changes
35 speaking roles
Easily reduced to 23 speaking roles. Flexible cast size to suit YOUR group numbers, from 40 actors upwards. See "Casting" tab below for full details.
Any number of chorus parts
NEW! Band Parts available for the ultimate live performance
This show is sold with the following parts:
Full Conductor's Score
Flute 1 (with optional Piccolo)
Flute 2
Oboe
Clarinets 1, 2 and 3 (in Bb)
Alto Saxophone (in Eb)
Bassoon

French Horn (in F)
Trumpet (in Bb)
Trombone
Drum Set
Violin 1
Violin 2
Double Bass
The Trombone part comes in two versions - Trombone (Bass Clef) and Trombone in Bb (Treble Clef). The Bass Clef version will suit most players, but schools with a Brass Band tradition should opt for the Treble Clef version.
To view, click "HERE" or click "Band Parts" in the "Scripts & Songs" tab below.
Full Piano Performance Score available
Now republished. Encompasses Optional Overture, all Songs, Incidental Music, Cues and Chord Symbols. Click "Sample Performance Score (Piano/Vocal)" on the "Script & Songs" tab below.
NEW! Easy Play Rehearsal Score available
Grade 4 Standard, click "Easy Play Score" in the "Scripts & Songs" tab below.
CD of Backing Tracks available
No pianist required! This CD includes ALL Songs and Incidental Music in the order you need them. Ideal for rehearsals! Also enables production and direction to take place without specialist musical expertise.
CD of Vocal Tracks available for learning the songs
Very easy to costume and stage: adaptable
Detailed in "Script & Songs" below.
No fuss props
See "Script & Songs" below for full listing.
Full Production Notes
Check out the "Production Notes" in the "Script Sample" below for full details.
Age range: Key Stages 3 / 4 and 16+ Production (11-18 years)
NEW! Instant Scenery with our digital backdrops
A different backdrop for EVERY scene change
Supplied in both a PowerPoint presentation and as individual JPG files.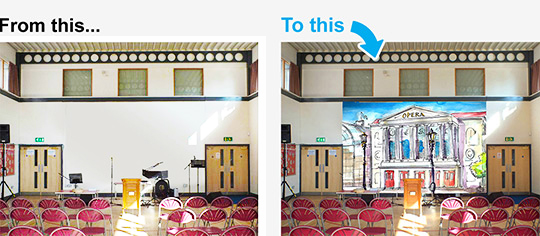 No more Scenery Painting!

Olivia! (Senior KS3 and KS4 School Musical)
"

This is now the second year I have produced Olivia! with pupils aged between 10-18. On both occasions the show was well received by the audience. The script is adaptable to individual circumstances and it is possible to have cast members playing multiple parts. The script is abound with humour, wit and backed up with lyrical and catchy musical numbers. The audience enjoy the references to well-known characters and are engaged fully from beginning to end. Highly recommended!

"
Ryan Lowe, Tobermory High School, Isle of Mull
---

Olivia! (Senior KS3 and KS4 School Musical)
"

Our young cast had great fun rehearsing for this show and the funny script kept us adults amused throughout... a great refreshing change to perform something new and fresh !!! lots of surprise appearances along the way....

"
Giz Giz Youth Theatre project , Aberdeen
---

Olivia! (Senior KS3 and KS4 School Musical)
"

I'm doing this play at my school - I'm Eliza - and I love it! The flower sellers are guaranteed to make people laugh, and the orphanage scenes in the first half are very Victorian!

"
Georgia Luckhurst, King's School , Rochester
---

Olivia! (Senior KS3 and KS4 School Musical)
"

I chose this show as we have a wide age and ability range of young people.. what a choice! It's a great vehicle for the experienced and more inexperienced alike. Great catchy songs that everyone found easy to learn and audiences loved. A very clever, witty script that our older ones thoroughly enjoyed having fun with. All our young people had a fantastic rehearsal period and show week with lots of tears when it ended from both cast and audience! Easy to stage and costume using very little scenery and props... so cheap too! VERY HIGHLY RECOMMENDED!

"
Janet Philbrook, Director Stage Door Youth Theatre, Colne - Lancs
---

Olivia! (Senior KS3 and KS4 School Musical)
"

Performed in this show as part of the Lime Walk Players a few months back. It has a great script, so easy to remember, catchy songs that you will be singing even when the show's over, and needs very little in the way of staging, props, lighting, etc. The audiences were fantastic and on a couple of the evenings, the laughter seemed to be constant. Hardly a chance for them to catch breath between lines. I was proud to be part of this show (as Artful Dodger) and can't wait to see what the Players decide to do for the next show. I'm told it's likely to be by Malcom Sircom again. If so, I can't wait. It's bound to be brilliant! HIGHLY RECOMMENDED!!!

"
Roy Peach, Lime Walk Players, Oxford
---

Olivia! (Senior KS3 and KS4 School Musical)
"

My class are doing it and we love it! It is funny, musical, smart and very enjoyable! I am playing The Artful Dodger and I love my lines! My school is an all girls' school and we have great girls playing boys. Whoever reads this and is a teacher pick this play! There are really funny characters in this play. Anyway you should get this play for 11-14 year olds. Thanks for reading!

"
Shelly - Cast Member, Our Lady of Mercy, Dublin, Ireland.
---

Olivia! (Senior KS3 and KS4 School Musical)
"

Fantastic for cast and audience. The best show I've directed; better than 'Joseph'.

"
Georgian Theatre Royal , Richmond - North Yorkshire.
---

Olivia! (Senior KS3 and KS4 School Musical)
"

Fantastic! Easy to put on with 30 year 7-10 pupils, costumes easy to assemble, dances easy to create - thoroughly enjoyed by all performers and excellent feedback from audience!

"
Colin Quinton, Performing Arts Director.
---

Olivia! (Senior KS3 and KS4 School Musical)
"

Olivia is an absolutely fantastic show in every way. The music is top drawer stuff (challenging and melodic with carefully constructed lyrics) whilst the script is funny with plenty of opportunities for creative direction. Well done Malcolm.

"
Woods Foundation School, Nottingham.
---