Zoom!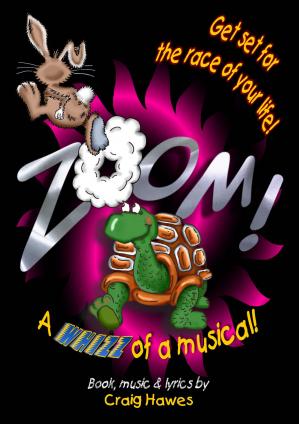 Why choose this Musical?
NATIONAL CURRICULUM - LITERACY / FABLES
Flexibility
Flexible Cast size to suit YOUR group numbers, from 27 actors upwards. See "Casting" tab below.
Unlimited chorus parts - as many as you like!
Easy to stage and costume
CDs of Backing and Vocal Tracks available
Both these CDs include Overture, ALL Songs, Special Effects, Play Ons and Play Offs in the order you need them enabling production and direction to take place without specialist musical expertise.
Piano Scores available
Grade 5/6 standard Performance Score (encompasses Overture, ALL Play Ons and Play Offs, Songs, Link Music, Cues and Chord Symbols) and Grade 2/3 standard Rehearsal Score. Check them out on the "Script & Songs" tab below.
Manageable props
Age range: Lower Key Stage 2 Production (7-9 years)
Duration: 55-65 minutes
Based upon The Tortoise and the Hare, Zoom is a sparkling musical comedy which retells the famous fable in an unusual and VERY current way.
Harvey Hare, fabulously wealthy, golf playing, sexist, misogynistic business tycoon is running for President... well, Mayor actually.
Toby Tortoise gets wind of the unscrupulous methods Harvey intends to use to secure his electoral dream.
Harvey considers Toby a 'loser' and 'slow', but Toby has a "TRUMP" card...
Your parents will LOVE it as will your children (read the reviews)!