The Rocky Monster Show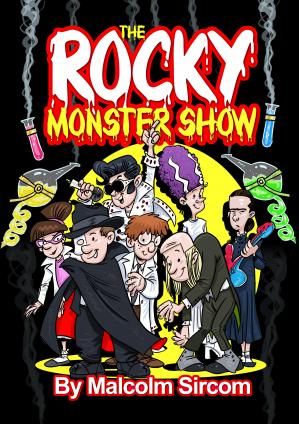 Click HERE to read the Script, look at the Score and listen to the Songs
The Rocky Monster Show
by
Malcolm Sircom
Pricing & Order Info.
"Co-produced this show with 11-year-olds. Absolutely wonderful - excellent parts for the highly talented and less talented. Clever, amusing and hugely enjoyable. Delighted that we could speak to Musicline directly for advice and discussion. They were so willing to be flexible which meant we could have one or two minor adaptations and additions to make it 'ours'."
Em - Producer
Minimum Possible Cast Size
19
Share this product with friends or colleagues...
Why choose this Musical?
23 speaking roles plus YOUR choice of extras
Can be reduced to 19 speaking roles (see "Casting" tab).
Unlimited chorus parts
Easy to stage & Easy to costume
CD of Backing Tracks available
CD of Vocal Tracks available
No pianist required! However - for those of you who prefer a live pianoforte accompaniment, we now have available a superb BRAND NEW Performance Score which encompasses Overture, ALL Songs, Link Music, Cues and Chord Symbols. (Grade 6/7 standard). We also have available a BRAND NEW Rehearsal Score (Grade 3 / 4 standard).
Sing It! Mk. 3 version, now with NEW...
"Lyrics Off" feature
"Vocals Off" feature
"Line by Line" practising feature
A BRAND NEW product; a CD-ROM or download of all the songs called "Sing it!" is available. This CD-ROM or download can teach the songs to the children without any teacher input. Children can use it at school or at home - think of the time it will save you! Most schools use it in class on an interactive white board or in the school hall on the overhead projector to allow full cast practice. Children LOVE learning this way and the product is foolproof.
Read the "Sing it!" reviews 'The "Sing it!" products were fantastic.' The Downs School, Bristol. 'Absolutely amazing material.' Mary O'Neill-Delano, Canada. ' "Sing it!" is fantastic for us less musically inclined teachers.' The Coppice Primary, Worcestershire. 'I really appreciate the "Sing it!" component as we often use this in rehearsals.' Newborough East Primary, Victoria, Australia. 'Can I also say that your "Sing it!" CD was brilliant.' Key Stage 2 teacher, Singapore.
Easily manageable props
Age range: Key Stage 2 Production (9-11 years)
Duration: 60 to 80 minutes
NEW! Instant Scenery with our digital backdrops
A different backdrop for EVERY scene change
Supplied in both a PowerPoint presentation and as individual JPG files.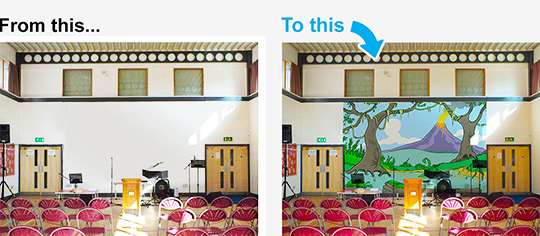 No more Scenery Painting!
Bizarre, anarchic and very funny, this Rock 'n' Roll musical is a riotous mix of the Addams Family, Young Frankenstein and Phantom of the Opera, with Rebecca and The Rocky Horror Show thrown in for good measure!
Baron Frankenstein's descendant, and ex-pop star turned professor of Genetics, creates DNA moulds of people in his computer. How these moulds come to life as the ultimate Rock Group, headed by a clone of Elvis himself is the highlight of the hilarious plot.
More traditional monsters also add spice to the explosive mixture. Staff, cast and audience will love the Rock 'n' Roll score, much of which is an affectionate send-up of the 60's. With some 20 principal parts including many splendid female roles, there is also plenty of chorus opportunity for maximum pupil participation.
From the writer of the hit shows 'Ebenezer' and 'The Dracula Rock Show'.