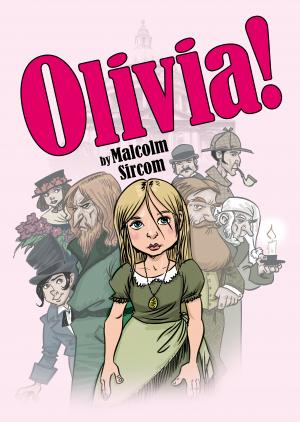 Why choose this Musical?
32 Speaking Roles
Easily reduced to 21 speaking roles, see "Casting" tab below for full details.
Unlimited chorus parts
National Curriculum - The Victorians
Full Performance Piano/Vocal Score available (Grade 7 Standard)
Encompasses Overture, Songs, Cues and Chord Symbols. Click "Performance Score" in the "Script & Songs" tab below.
Easy Play Rehearsal Piano/Vocal Score available (Grade 4 Standard)
Click "Easy Play Score" in the "Script & Songs" tab below.
A Female Oliver!
CD of Backing Tracks & CD of Vocal Tracks available
Sing It! Mk. 3 version, now with NEW...
"Lyrics Off" feature
"Vocals Off" feature
"Line by Line" practising feature
A BRAND NEW product; a CD-ROM or download of all the songs called "Sing it!" is available. This CD-ROM or download can teach the songs to the children without any teacher input. Children can use it at school or at home - think of the time it will save you! Most schools use it in class on an interactive white board or in the school hall on the overhead projector to allow full cast practice. Children LOVE learning this way and the product is foolproof.
Read the "Sing it!" reviews 'The "Sing it!" products were fantastic.' The Downs School, Bristol. 'Absolutely amazing material.' Mary O'Neill-Delano, Canada. ' "Sing it!" is fantastic for us less musically inclined teachers.' The Coppice Primary, Worcestershire. 'I really appreciate the "Sing it!" component as we often use this in rehearsals.' Newborough East Primary, Victoria, Australia. 'Can I also say that your "Sing it!" CD was brilliant.' Key Stage 2 teacher, Singapore.
Easy to stage: adaptable
No fuss props
Age range: Key Stage 2 Production (9-11 years)
NEW! Instant Scenery with our digital backdrops
A different backdrop for EVERY scene change
Supplied in both a PowerPoint presentation and as individual JPG files.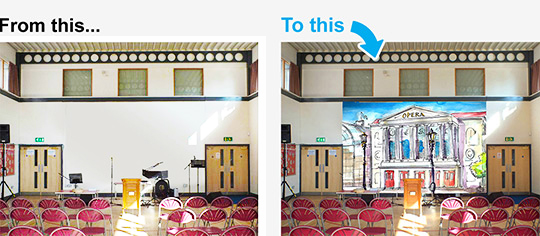 No more Scenery Painting!
OLIVIA! A female Oliver!
This brilliant and innovative show, set in Victorian times, traces the steps of Olivia, from downtrodden orphan to star of the stage. On her journey to the bright lights of London, she is befriended by Eliza Doolittle [from "My Fair Lady"] and, after a series of adventures, becomes a singer in a new Gilbert and Sullivan show, thanks to the unlikely assistance of Fagin and The Artful Dodger.
Eliza and the flower-sellers are joined by other major female roles, and with orphans, "Poor School" girls, and essential chorus work, you will have no difficulty in casting this female-orientated show.
The boys, however, are not overlooked, with splendid cameos for George Bernard Shaw, Ebenezer Scrooge, Sherlock Holmes and Doctor Watson. This feel-good show abounds with Malcolm Sircom's well-known wit and humour, both in the script and the songs which are catchy, lyrical, and full of gusto, as well as advancing the story-line.
Watch out for an outbreak of audience handkerchiefs in the final scene! Then be prepared for a great reception for this wonderful musical.
As the name suggests, "Olivia" is based on a favourite character from childrens fiction-the orphan Oliver. However, not only does this musical substitute the lovable boy character for a girl, but it also entwines other familiar faces such as Eliza Doolittle and Ebenezer Scrooge.
"Olivia" opens with 'Orphans' which sets the scene in Mrs Murdstones Orphanage for Girls-a grimy, dark environment. Upon hearing music, Mrs Murdstone enters and puts the girls in their places, before generously allowing them two minutes to become acquainted with the new addition. As the girls try to discover more about Olivia, she produces a locket which she believes holds the answers to the unanswered questions about her childhood. Warning her to keep it out of Mrs Murdstones sight, the girls barely have time to bond before Mrs Murdstone enters with Dickens to serve breakfast.'Slop' follows as the orphans try to bring themselves to eat the gruel.
Full of zest, Olivia dares to go and ask for less and threatened with being sent to the Hole she makes a run for it and escapes; a reprise of 'Orphans' follows.
Realising how alone she is, Olivia sings 'Happiness Somewhere' before Dickens catches up with her. However, in a surprising event, Dickens encourages the young girl to continue on her journey and makes the ultimate promise to try and abandon the slop and feed the girls something edible!
In a change of scenery, the audience find themselves witnessing a busy day in Covent Garden, London. Girls are busy selling flowers and Eliza Doolittle has the most success, convincing the Londoners to buy a flower off a poor girl In 'I Want To Be A Lady' Eliza expresses her desire to talk and walk like a lady, and her song gives the onlooker George Bernard Shaw an idea for a play; one that he is certain will become a hit! After Eliza is whisked off the Ritz by the playwright, Annie, a fellow flower girl, tries to recall how she was brought up, but unfortunately the only clue she has is a locket round her neck; we can see a link, and a happy ending beginning to emerge...
The next familiar faces are Dodge and Fagin who sing 'Good Times' before pinning their eyes on Olivia who they use as their accomplice in order to steal George Bernard Shaw's wallet. Feeling sorry for the girl, Eliza decides to introduce her to Mrs Dilber who runs a pleasant house for orphans. Unfortunately, Dodge and Fagin aren't as lucky as they hoped when they find the stolen wallet contains opera tickets. However, never ones to feel down, they embrace the discovery and sing 'Lets Go To The Opera'.
At Mrs Dilber's Poor School For Girls, Olivia is welcomed and fits right in. She demonstrates her skills in singing 'If There's A Star' and is sent to Covent Garden with Emily and Charlotte to collect money for charity. 'That's Life' is sung by Mrs Dilber and the girls.
Back in Covent Garden, Annie shares a dream she had with the other flower girls which they believe is a symptom of amnesia and that some of Annie's past is coming back to her. Desperate to help her to discover who she is, Eliza offers to take her to see a detective who can help Annie find the answers. Olivia, accompanied by Emily and Charlotte are successful in collecting money for charity and through singing 'The Charity Rag' Olivia reaches dizzy heights with the amount she collects and even gets a florin off Scrooge!
Noticing their old friend, Fagin and Dodger approach Olivia asking her to accept the role of the daughter in Gilbert and Sullivan's Trial by Judge. They appear reformed characters, and Olivia accepts willingly.
In Sherlock Holmes study, Eliza and Annie enter and the detective helps Annie in trying to discover who she is and in 'Who Am I?' the audience see how desperate she is to find the answers.
'Here Comes The Judge' opens the following scene as Dodger is found guilty of littering the streets and 'The Criminal's Song' follows. The Daughter (played by Olivia) defends the criminal as she sings 'The Convict's Child' and this moving piece allows her father to be released. As the Judge exits, 'The Criminal's Song' is sung again.
Returning to Covent Garden, Holmes and Watson reveal Annie's past to her; she was a passenger in a train crash outside Manchester and they also present her with a birth certificate of a baby? As Olivia enters after her performance in Gilbert and Sullivan's play, she is asked to sing a song. However, after the first line, Annie finishes it off and they both discover their connection as mother and daughter! Singing 'If There's A Star' together brings tears to the eyes and its a happy ending for Eliza as well as she is told she has been offered the opportunity to be taught how to become a lady by Professor Higgins and even Dickens makes a last minute appearance to share the good news that Mrs Murdstone's orphans followed Olivia's example and escaped! It truly is a happy ending for everyone.
Suggested Cast List For 51 Actors
N.B. In the following list, the number shows how many spoken lines each role has. An asterisk (*) before the character's name indicates that this character ALSO has solo or featured sung lines.
| Character Name | Number of Lines |
| --- | --- |
| * Olivia/Daughter | 138 |
| * Eliza Doolittle | 106 |
| * Fagin | 62 |
| * Annie | 50 |
| * Mrs. Murdstone | 45 |
| * Mrs. Dilber | 44 |
| * The Artful Dodger/Criminal | 42 |
| Dicken | 35 |
| George Bernard Shaw | 34 |
| Queenie | 34 |
| Sherlock Holmes | 32 |
| Doris | 29 |
| Flo | 28 |
| Orphan 1 | 20 |
| Orphan 2 | 20 |
| Ebenezer Scrooge | 17 |
| The Judge | 15 |
| Doctor Watson | 14 |
| Orphan 4 | 14 |
| Orphan 3 | 13 |
| Girl 1 | 10 |
| Girl 2 | 10 |
| Girl 3 | 9 |
| The Police Constable | 9 |
| Girl 4 | 8 |
| * Emily | 4 |
| * Charlotte | 3 |
| Lamplighter | 3 |
| Mrs. Hudson | 3 |
| * The Usher | 2 |
| Gentleman | 2 |
| Placard Girl | 1 |
Non-speaking roles:
The Fat Lady (who sings solo)
Fagin's "Ghost Gang" (8 boys)
Chorus of 10 playing:

Orphans (Scene 1)
Londoners & Opera-Goers (Scene 3)
Chorus in "Trial By Judge" (Scene 7)
Suggested Cast List For 32 Actors
N.B. In the following list, the number shows how many spoken lines each role has. An asterisk (*) before the character's name indicates that this character ALSO has solo or featured sung lines.
Character Name
Number of Lines
* Olivia/Daughter
138
* Eliza Doolittle
106
* Fagin
also plays The Judge
77
* Annie
50
* Mrs. Dilber
also plays Mrs Hudson
47
* Mrs. Murdstone
45
Dicken
also plays The Police Constable
44
* The Artful Dodger/Criminal
42
George Bernard Shaw
34
Queenie
34
Sherlock Holmes
also plays Gentleman
34
Orphan 1
also plays Girl 1
30
Orphan 2
also plays Girl 2
30
Doris
29
Flo
28
Ebenezer Scrooge
also plays *The Usher
19
Doctor Watson
also plays Lamplighter
17
Orphan 4
also plays *Charlotte
17
Orphan 3
also plays *Emily
17
Girl 3
also plays Placard Girl
10
Girl 4
8
Non-speaking roles:
The Fat Lady (who sings solo)
Fagin's "Ghost Gang" (4 boys)
Chorus of 6 playing:

Orphans (Scene 1)
Londoners & Opera-Goers (Scene 3)
Chorus in "Trial By Judge" (Scene 7)

Olivia!
"

Finally managed to get our OLIVIA production onto stage on a second attempt after lockdown. Cast Loved it, Crew Loved it, Audiences Loved it. Wonderfully catchy songs and tremendous opportunity to make this as big and colourful as you like. I loved directing Olivia and she has my heart. Fantastic Script, Highly recommend.

"
Graham Wilson, Haddo Children's Theatre, Ellon

Olivia!
"

Its Gucci

"
James Anter, Shinewater Primary School, eastbourne

Olivia!
"

Olivia was AMAZING! It had great music and the parents were thrilled. Best play I have ever put on and 100 percent recommend this to schools.

"
Layla, Queen Edith primary school, cambridgeshire

Olivia!
"

Olivia was full of pure awesomeness! It was really great. Everyday that we practiced it I I was thrilled. My part, Annie, is an amazing character, every character is! I enjoy every moment of it.

"
Erin, Fordham C of E Primary, Cambridgeshire

Olivia!
"

If you are looking for a show for this year then I cannot recommend 'Olivia' enough. We put it on last year with Year 6 taking the speaking roles and Years 3, 4 and 5 each having their own musical number (Y3 London!, Year 4 Orphans, Year 5 Let's Go to the Opera). The reaction from the parents was brilliant and the children loved it. The storyline is a clever blend of Annie, My Fair Lady, Oliver and other well known characters put in an appearance. Whilst the children might not pick up all the subtle references, your audience will and it makes it great fun to produce; the music is great too giving some great melodies for solo singers if you have them...

"
Jane Broadis, Christ Church School, Chorleywood

Olivia!
"

This was a memorable, funny and intelligent musical for children and teenagers which was superbly received by parents. Malcolm Sircom was an exceptional craftsman of musical theatre and we have loved doing two of his shows. Thank you Musicline for the brilliant memories.

"
Anon, Stagecoach, Galway

Olivia!
"

I've been in quite a few musicals at school but this one was just the best! We had a lot of fun preparing, the scenery was just great, the songs were fun and moving and the script was funny and light. Everyone had a great time doing it, and the show was amazing! Great great great!

"
Primary Student , Australia

Olivia!
"

I have seen many school plays both as a mother and grandmother and this was by far the best of the lot! Enjoyable from beginning to end - tuneful and amusing and brilliantly written. The children thoroughly enjoyed taking part and the audience loved it. Some of us saw it three times! Super Super Super!!

"
Grandmother of a pupil, Enmore Primary School, Bridgwater, Somerset

Olivia!
"

This was a wonderful show - it was the best show I have ever seen school children perform. So cleverly written - so tuneful - an evening to remember.

"
Parent, Enmore Primary School, Somerset

Olivia!
"

Our pupil council chose this show to perform last summer. The whole school took part, from the 5 year olds to our 12 year olds who were leaving to go to secondary school. Even though we do a musical every year, this one really challenged them - but every one of them rose to the challenge and performed brilliantly! As the teacher in charge, I loved the music - it's so nice to do a schools musical that sounds like a 'real' musical! I'll be buying from this site again, definitely!

"
Stenton Primary School, Dunbar

Olivia!
"

I LOVE practising Olivia! Our dress rehearsal is 2morrow and I'm really excited. I'm playing Eliza Doolittle and my best friend Paige is playing Olivia and my other best friend, Caitlin is playing Mrs Hudson. I also found it really hard 2 do the cockney accent though, I think my character is the hardest role 2 play.

"
Katie, Cambridge Primary School, Barrow-in-Furness

Olivia!
"

It was snazzy. Year 5 and 6 did it. It was fun. I was Mrs Hudson!!!!!

"
Caitlin, Cambridge Primary School, Barrow

Olivia!
"

I loved singing my song, the best play I've done ever at my school! I'm glad they picked it!!!!

"
Olivia age 10

Olivia!
"

I loved being ANNIE.

"
Anon, Knaphill Junior school

Olivia!
"

We performed it to most of the village and we and the audience loved it.

"
Anon, Saline Primary, Dunfermline

Olivia!
"

A play that shows off acting, dancing and singing talents. Lots of solo oportunities and perfect for a girl heavy cast. Went down a storm with cast and audience.

"
ALISON HANSON, ST. FAITH'S C of E PRIMARY, WINCHESTER

Olivia!
"

The upper part of my school did a production of this and it was brilliant. This was one of the biggest parts I have done in my life. Hopefully we'll do the show again and I'll get an even bigger part. You just never know.

"
Fiona, Armadale Primary

Olivia!
"

What a fantastic show with high quality music and lots for all the children to do. The best musical I have ever directed.

"
Sue (Youth Theatre Tutor and Director)

Olivia!
"

An outstanding production - one to show off the talents of your young people. The girl who plays Eliza should have a particularly good voice.

"
Music Teacher, Oak Hill School, Stoke On Trent

Olivia!
"

We performed this show with a cast of 40 children aged between 6 and 12 three weeks ago. Cast and audiences loved it! We cast adults in the roles of Mrs M, Mrs D and the Fat Lady but the children did the rest and were amazing!

"
Music Specialist, Junior S.O.D.S., Southampton

Olivia!
"

BRILLIANT! Everyone in my year group enjoyed it sooooo much! I love the way Malcolm Sircom has taken characters from different plays like Scrooge and George Bernard Shaw. i also love the way the characters are linked like Annie and Olivia.

"
Year 9 pupil

Olivia!
"

This brilliant play was a pleasure to put on. It was fun and all the kids loved it. I advise all schools to choose this play!

"
Jodie Horne, Cardinal Newman School, Luton

Olivia!
"

We are doing this play in school and the music and songs are really good to learn and basically it's the girl version of Oliver! WOW!!!!

"
Cast Member, Tunbury Primary School, Chatham, Kent

Olivia!
"

I never had a big part in this play. But this is the best play I've done! I was one of the Flower Sellers-Flo. And I enjoyed it very much!

"
Amy age 11

Olivia!
"

Olivia is a brilliant play. Our school was the first to perform it; Woods Foundation School in Nottingham, England. I think that even though the main character is Olivia, Eliza Doolittle was the hardest part! Brilliant.

"
Year 8 pupil

Olivia!
"

Last year, me and my classmates performed in "Olivia!" and nearly all of us thought it was the best play we had ever been in. I played the part of Olivia and want to say a big thanks to Malcolm Sircom for providing my school with such excellent shows!!

"
One pupil and her class who certainly enjoyed Olivia.

Olivia!
"

Olivia is a fabulous play. We performed this play and all in all it turned out great, including famous characters from Scrooge to Fagin and Dodger. The songs sound brilliant and with a choir they sound even better! I highly recommend this play!

"
Holly - Music Co-Ordinator

Olivia!
"

Last week we performed Olivia for two nights and not only was the audience reaction,to put it mildly, gobsmacked but the girls had a brilliant time both rehearsing and performing this fantastic piece.Thanks for such a great show with which to work.

"
Music Teacher, James Allens Prep School, London

Olivia!
"

Rehearsals have only just started for this latest offering from Malcolm Sircom, but Olivia looks like being one of his best yet. Lots of great and varied tunes with clever lyrics and a wonderful script. Can't wait for the performances!

"
GEOFF ELLIS, WOODS FOUNDATION SCHOOL, WOODBOROUGH