Ali Baba And The Bongo Bandits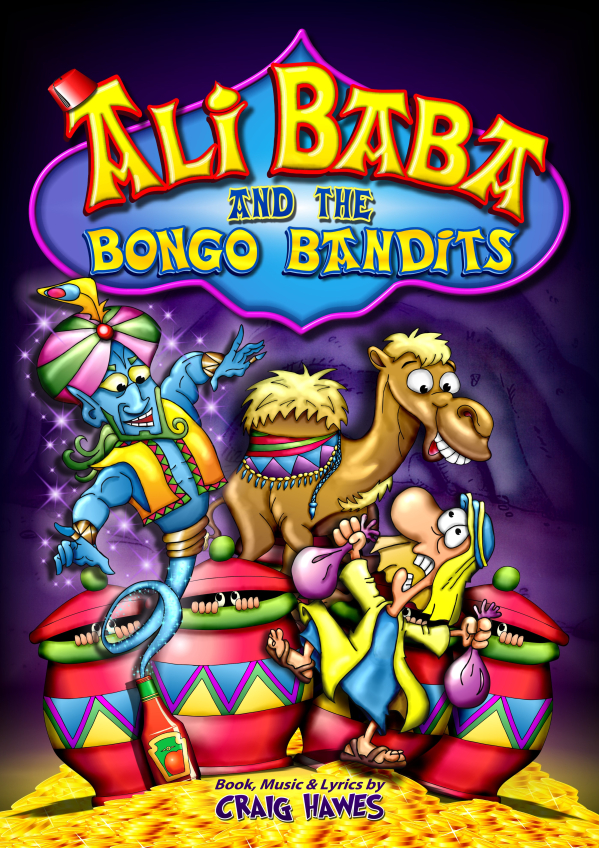 Why choose this Musical?
Editable Word Doc Script available
41 speaking roles
Easily reduced to 29 speaking roles, see "Casting" tab below for full instructions.
Any number of chorus parts
CD of Backing Tracks plus essential sound effects available
No pianist required! This CD includes ALL Backing Tracks, Incidental Music and Special Effects in the order you need them enabling production and direction to take place without specialist musical expertise.
CD of Vocal Tracks available for learning the songs
NEW for 2019

Sing It! Mk. 4 version, now with...
"Volume Control" feature
"Minimise Window" feature
"Lyrics Off" feature
"Vocals Off" feature
"Line by Line" practising feature
"Phrase by Phrase" practising feature
A BRAND NEW product; a CD-ROM or download of all the songs called "Sing it!" is available. This CD-ROM or download can teach the songs to the children without any teacher input. Children can use it at school or at home - think of the time it will save you! Most schools use it in class on an interactive white board or in the school hall on the overhead projector to allow full cast practice. Children LOVE learning this way and the product is foolproof.
Read the "Sing it!" reviews 'The "Sing it!" products were fantastic.' The Downs School, Bristol. 'Absolutely amazing material.' Mary O'Neill-Delano, Canada. ' "Sing it!" is fantastic for us less musically inclined teachers.' The Coppice Primary, Worcestershire. 'I really appreciate the "Sing it!" component as we often use this in rehearsals.' Newborough East Primary, Victoria, Australia. 'Can I also say that your "Sing it!" CD was brilliant.' Key Stage 2 teacher, Singapore.
Full Performance Scores available
Grade 6 standard and Grade 3/4 standard, see "Script & Songs" below.
Full Production Notes
Check out the "Production Notes" in the "Script Sample" below for full details of "Ali Baba And The Bongo Bandits".
No problem props
See "Script & Songs" below for full listing.
Very easy to costume
Detailed in "Script & Songs" below.
Simple staging
Detailed in "Script & Songs" below.
Age range: Key Stage 2 Production (7-11 years)
Duration: 60 to 80 minutes
NEW! Instant Scenery with our digital backdrops
A different backdrop for EVERY scene change
Supplied in both a PowerPoint presentation and as individual JPG files.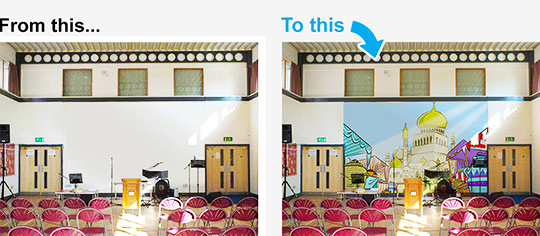 No more Scenery Painting!

Ali Baba And The Bongo Bandits
"

What a great show! The songs were absolutely brilliant and the script was really easy to edit. Lots of cheesy gags for the children and jokes for the adults too. Musicline made the whole process really easy and I have used them for other scripts since.

"
Kate Keith, Haberdashers' Aske's School for Girls, Elstree
---

Ali Baba And The Bongo Bandits
"

We have just performed this with amazing reviews. Our cast of 90 pupils absolutely loved it and the humour was appealing to both young and old. Having directed many plays, I am hooked on Craig Hawes' musicals and look forward to seeing what the next musical will be. Each year they just get wittier and more appealing.

"
Julie Meiklejohn, Cowan House Preparatory School, KZN, South Africa, Hilton
---

Ali Baba And The Bongo Bandits
"

Wow! The students absolutely loved performing this! The script is very witty, the songs are catchy... the audience were laughing and crying throughout... Highly recommend this show!

"
Mrs V, Eastchurch Primary All Saints
---

Ali Baba And The Bongo Bandits
"

This show was an incredible experience for both cast and audience. The entire school loved show week and the cast deserved every standing ovation. I have never seen so many potential performers singing and dancing in the school yard after the 1st show. I recommend to any school or youth performing group. Fun script, so many catchy songs and great choreography"

"
Ian Bianchi, Performing Arts Teacher, New Silksworth Junior School , Sunderland
---

Ali Baba And The Bongo Bandits
"

I still have no idea how Craig Hawes has managed to come up with this, just like all his others it is an amazing play and I recommend it to anyone who wants a funny, enjoyable play.

"
Andrew, Eccles, Cupar, Fife
---

Ali Baba And The Bongo Bandits
"

Excellent, I loved it, especially when I got given the part of Guard Apu. Everyone who saw it was roaring with laughter.

"
Paula , Sydenham girls , Sydenham
---

Ali Baba And The Bongo Bandits
"

Amazing play, the parents loved it when they came to watch, there was a part for everyone. The jokes were hilarious and were relatable to everyone! We all loved the play. I was in year 6 at the time, but we performed the play with the year 5's too! We were so pumped up when we found out that we were performing this play, we put the songs on and learnt the lyrics soooo quickly, it was unbelievable!

"
Mia, Scunthorpe
---

Ali Baba And The Bongo Bandits
"

Yet another fantastic Craig Hawes musical. This is the fifth one we have produced and they just get better and better. The jokes appeal to all ages and the songs are so catchy. I don't think there is a better writer if school musicals around. I would recommend these musicals to everyone. The backing track cd and dance video help to make such a professional production.

"
Tony Walker, Farnsfield St Michael's C of E Primary School ( VA), Newark
---

Ali Baba And The Bongo Bandits
"

I was so happy when I found out that We were going to perform it! I soon found out that I had got the part Izzi, a bandit which is defiantly worth trying to get. All of the songs were being sung and even teachers did a bit of singing from time to time! Some teachers performed with us. The crowd roared with laughter after the jokes were told every single time. We have also done many other performances by Craig Hawes. Our school has done performances like Greece so this is up with the greats. I don't know how he does it but we are glad he does ( I think he is a genius genie).

"
George, St Mary's CE, Amersham
---

Ali Baba And The Bongo Bandits
"

This is the best production I have ever heard of! This is what we are doing for our leavers production and I am Alakazam. I like the way he's not just a boring old narrator. He's got his own solo. And also he gets to be IN the story as well as narrating it.

"
Nana, All Saints Benhilton, Sutton
---

Ali Baba And The Bongo Bandits
"

THIS PRODUCTION IS AMAZING!!!!! This production brings a smile to each and every ace out there. It has some really catchy songs. So this musical with bring you joy and happiness. By Megan A student From Oakfield Primary School

"
Megan, Oakfield
---

Ali Baba And The Bongo Bandits
"

I was thrilled when I found out we were doing this play for my school year 6 production and soon found out that I had got the princess' solo and was also very happy, so I'd like to thank you for your hard work that has been put into this play. Thankyou so much! From Yasmin

"
Yasmin , ..., Buckinghamshire
---

Ali Baba And The Bongo Bandits
"

An amazing and hilarious production! Year 6 children were singing it all the time in the playgrounds! I definitely recommend it to other schools (I think it's the best production we have ever done! ) Wendy x

"
Wendy, Cooffley , London
---

Ali Baba And The Bongo Bandits
"

We couldn't have wished for a funnier script or more magical songs, Craig Hawes must be a Genie-us! We don't know how he does it, but we're so glad he does!

"
Paula Blythe, Head Teacher, Gateford Park Primary School
---

Ali Baba And The Bongo Bandits
"

This spectacular musical has brought the entire school together like never before. The playground is full of children reciting the very funny script, or dancing to the catchy songs they're still singing at the top of their voice! I even find myself singing along when I am alone in the office!

"
Jeanette Dunn, Head Teacher, St. Luke's Primary School, Shireoaks
---

Ali Baba And The Bongo Bandits
"

The hilarious script and toe-tapping tunes had the entire audience on their feet cheering for our Year 6 cast who were buzzing with absolute confidence and pride. From beginning to end, a simply superb show!

"
David White, Head Teacher, St. John's Primary School, Worksop
---