Porridge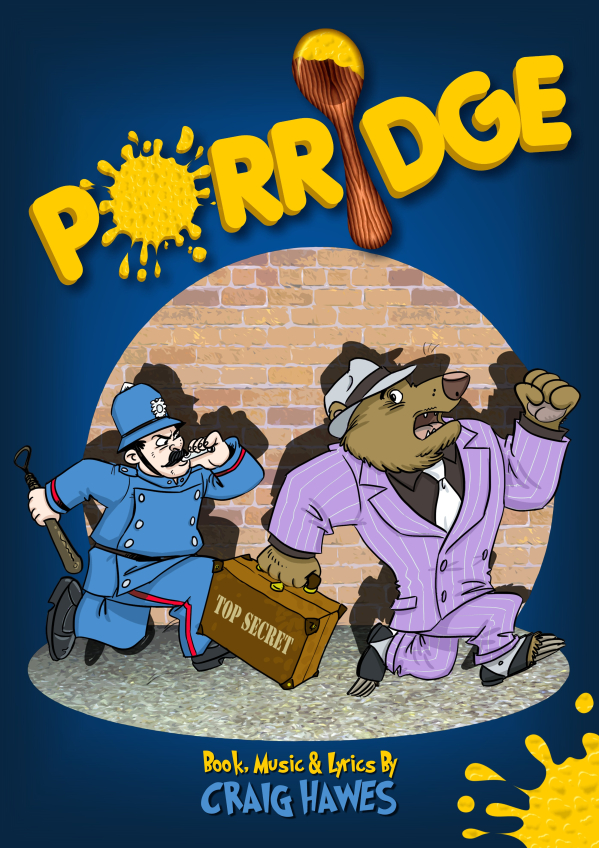 Why choose this Musical?
42 speaking roles & 2 non-speaking roles
This can be reduced to 26 speaking roles. See "Casting" tab below.
Sing It! Mk. 3 version, now with NEW...
"Lyrics Off" feature
"Vocals Off" feature
"Line by Line" practising feature
A BRAND NEW product; a CD-ROM or download of all the songs called "Sing it!" is available. This CD-ROM or download can teach the songs to the children without any teacher input. Children can use it at school or at home - think of the time it will save you! Most schools use it in class on an interactive white board or in the school hall on the overhead projector to allow full cast practice. Children LOVE learning this way and the product is foolproof.
Read the "Sing it!" reviews 'The "Sing it!" products were fantastic.' The Downs School, Bristol. 'Absolutely amazing material.' Mary O'Neill-Delano, Canada. ' "Sing it!" is fantastic for us less musically inclined teachers.' The Coppice Primary, Worcestershire. 'I really appreciate the "Sing it!" component as we often use this in rehearsals.' Newborough East Primary, Victoria, Australia. 'Can I also say that your "Sing it!" CD was brilliant.' Key Stage 2 teacher, Singapore.
CD of Vocal Tracks
Both these CDs include Overture, ALL Songs, Special Effects, Play Ons and Play Offs in the order you need them enabling production and direction to take place without specialist musical expertise. However - for those of you who prefer a live pianoforte accompaniment, we now have available a superb BRAND NEW Performance Score which encompasses Overture, ALL Play Ons and Play Offs, Songs, Link Music, Cues and Chord Symbols. (Grade 6 standard). We also have available a BRAND NEW Rehearsal Score (Grade 2 / 3 standard) - Check them out on the "Script and Songs" heading.
Dance it! Available
Another BRAND NEW product is the "Dance it!" Choreography DVD. Watch each song performed by a group of age-appropriate children in two different versions - a full speed 'Performance' version and a slowed down 'Step By Step' version with helpful narration to guide you through the dance. Introduced by Craig Hawes, the DVD is also packed with lots of handy hints for teaching dances. Absolutely no previous experience or expertise is needed.
Read the latest "Dance it!" reviews
'The "Dance it!" DVD was great.' St Hugh's Catholic Primary, Lincolnshire.
'For the first time we used the "Dance it!" DVD and found it wonderful.' Rising Starz Performing Arts, New Zealand.
'"Dance it!" videos were very useful.' Sacred Heart Catholic Primary, Hertfordshire.
'Loved having the Choreography (Dance it!) video this year. That really helped our choreographer get the kids started and when she was sick, we could still rehearse their dance moves.' The American School, Marrakesh.
'Loved the "Dance it!" that came with "Porridge" and would love similar for other productions. Makes my life so much easier.' Aria School, New Zealand.

CD of Backing Tracks plus essential sound effects
No pianist required!
Easily manageable props
Unlimited chorus parts
Easy to stage and costume
Age range: Key Stage 2 Production (7-11 years)
Duration: 60-70 minutes
NEW! Instant Scenery with our digital backdrops
A different backdrop for EVERY scene change
Supplied in both a PowerPoint presentation and as individual JPG files.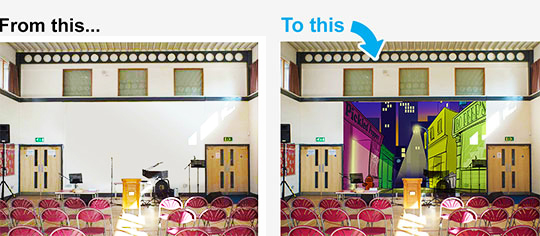 No more Scenery Painting!

Porridge
"

An absolutely brilliant play. We performed it with Y3/4 and they loved it. The songs were easy to learn and lots of fun (Boys in Blue took a while to master the different parts but totally worth the effort). It got fantastic feedback from the parents as well.

"
Chris Burfiend, Buckden Primary
---

Porridge
"

A fantastic show, really funny and plenty of parts so that each child had their chance to shine. The music and sounds effects are excellent, as is the choreography (on disc). We absolutely loved it!

"
Jo B, Sacred Heart, Manchester
---

Porridge
"

This has been an excellent show for our school to perform. All sorts of characters for all sorts of people. It has been so enjoyable performing this outstandingly wrote play. Our performance is due to be next week and it will certainly be a thriller!

"
Jason Jiang, Holymead Primary, Bristol
---

Porridge
"

"A amazing show that if filled with joy & laughter! It will make you realise the laughter side of the world. Line that are sure to get the audience laughing & up of they seats and joining in. The songs are catchy & suitable for little voices. What a joy to direct!!"

"
Abdullah Ahmed, Reedley Primary School, Burnley
---

Porridge
"

A fantastic show filled with one liners that which are sure to get the audience laughing. Brilliantly written and perfectly suited to children of all primary ages. The songs are up beat, catchy and perfectly pitched for little voices. A joy to direct!

"
Gilleon Clark, International School of Lyon, Lyon, France
---

Porridge
"

I have been doing School Productions for 14 years. Porridge held the students' attention from the word go. 250 students loved the production.

"
Kenneth Mills, Kingsley Park Primary School, Australia
---

Porridge
"

Our junior section have performed this piece and had a whale of a time. It is fantastic, hilarious script, brilliant songs and something for everyone; an all round, fun filled family show. We absolutely loved it!

"
Paul Cohen - Director, CATS Youth Theatre, Bolton
---

Porridge
"

This is a amazing story and all of my friends like it to and it makes you want to buy it off line i hope you enjoy it!

"
Amy rose, clever, london
---

Porridge
"

A clever story, hilarious script and fabulous songs that our whole school loved performing. The parents and pupils are still talking about it - a spectacular success!

"
Joanna Hall (Head Teacher), North Wheatley Primary School, Retford
---

Porridge
"

Every year the pupils of Years 5 & 6 at St. Elizabeth's put on an end-of-school-year show. By far the most successful (and most enjoyable for everybody) have been shows written by Craig Hawes. Every year we think he can't better that year's script. Every year we are proven wrong and 'Porridge' is no exception... it also has the added bonus of the really helpful, easy-to-use Sing It! song learning program AND a DVD with the choreography for the songs demonstrated. Absolutely brilliant! It makes our jobs so much easier.

"
Alan Shaefer, St. Elizabeth's Primary School, Belper, Derbyshire
---

Porridge
"

Years 5 & 6 did Porridge last term. They loved the humour of the script and songs, as did the audience. So many aspects were helpful - the list of props scene by scene, the choreography for the policeman's song, even the number of lines per character all made producing the show so much easier. And as usual with Craig's shows, we loved the music and the backing tracks. How he manages to produce one good show after another, virtually on yearly basis, is just fantastic. A great writer and one we delight in recommending to other schools. You're missing a real treat if you don't jump on board!

"
Isla Keys, Grosvenor School
---

Porridge
"

Spectacular success. Your play was out of this world.

"
Logan Sneddon, Johnstone, Renfrewshire
---

Porridge
"

Outstanding!!! and that's just the rehearsals... thank you - brilliantly written...

"
St Pauls Catholic Primary
---

Porridge
"

We are performing it at the moment. Best play we have ever done. Thousands of jokes and every night we have a full house. Tonight we have to put in 14 extra chairs because everyone loves it.

"
Chloe, Monteclefe C of E Academy
---

Porridge
"

This play is outstanding. At first i didn't want to do a play but after I saw this one I was really excited. I love it.

"
St Mary and St Pancras C of E Primary School, Summers Town
---

Porridge
"

Having directed school productions for 13 years, this was by far the best yet. From the first rehearsal it was a joy and has been so much fun. The children absolutely loved it and the audiences were full of nothing but praise! I thoroughly recommend this musical. The Boys in Blue song is pure gold and everyone's favourite part.

"
Chris Tune, Monteclefe Academy, Somerton
---

Porridge
"

Having performed Pirates of the Curry Bean (by Craig Hawes) last year, we thought that it was going to be a very hard act to follow. However, Porridge was an excellent show - so full of jokes, one-liners and catchy songs. From the first rehearsal I knew we had a winner. All pupils had a chance to shine, as the script had so many central characters. They all had so much fun, as did the audience!

"
Alison Hanson, St. Faith's C of E Primary, Winchester
---