Ye-Ha!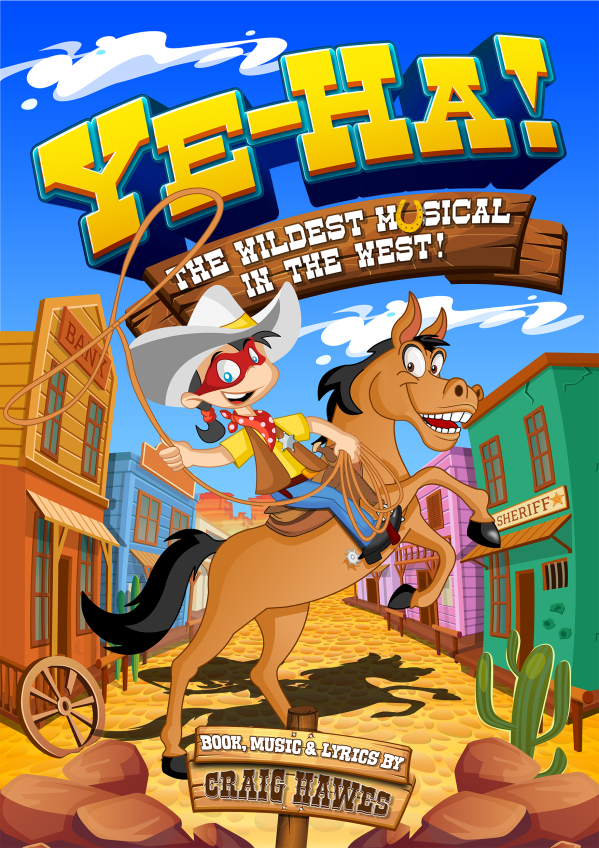 Why choose this Musical?
42 speaking roles
Flexible Cast size to suit YOUR group numbers, from 26 actors upwards. See "Casting" tab below.
Unlimited chorus parts
Easy to stage & Easy to costume
Sing It! Mk. 3 version, now with NEW...
"Lyrics Off" feature
"Vocals Off" feature
"Line by Line" practising feature
A BRAND NEW product; a CD-ROM or download of all the songs called "Sing it!" is available. This CD-ROM or download can teach the songs to the children without any teacher input. Children can use it at school or at home - think of the time it will save you! Most schools use it in class on an interactive white board or in the school hall on the overhead projector to allow full cast practice. Children LOVE learning this way and the product is foolproof.
Read the "Sing it!" reviews 'The "Sing it!" products were fantastic.' The Downs School, Bristol. 'Absolutely amazing material.' Mary O'Neill-Delano, Canada. ' "Sing it!" is fantastic for us less musically inclined teachers.' The Coppice Primary, Worcestershire. 'I really appreciate the "Sing it!" component as we often use this in rehearsals.' Newborough East Primary, Victoria, Australia. 'Can I also say that your "Sing it!" CD was brilliant.' Key Stage 2 teacher, Singapore.
No fuss props
CD of Backing Tracks plus essential sound effects
No pianist required!
CD of Vocal Tracks
Both these CDs include Overture, ALL Songs, Special Effects, Play Ons and Play Offs in the order you need them enabling production and direction to take place without specialist musical expertise. However for those of you who prefer a live pianoforte accompaniment, we now have available a superb BRAND NEW Performance Score which encompasses Overture, ALL Play Ons and Play Offs, Songs, Link Music, Cues and Chord Symbols. (Grade 5 / 6 standard). We also have available a BRAND NEW Rehearsal Score (Grade 2 / 3 standard).
Age range: Key Stage 2 Production (7-11 years)
Duration: 45 to 50 minutes
NEW! Instant Scenery with our digital backdrops
A different backdrop for EVERY scene change
Supplied in both a PowerPoint presentation and as individual JPG files.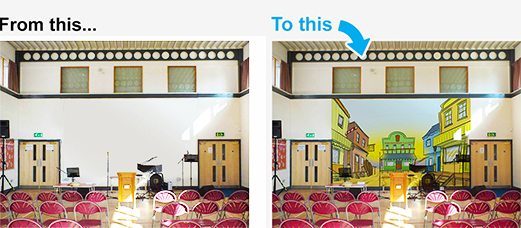 No more Scenery Painting!

Ye-Ha!
"

Ye-Ha! is the most fantastic and energetic play in the whole of the wild, wild west! It is an action-packed musical with astonishing jokes and catchy songs. Full of witty one-liners to make the parents snigger, interesting characters and a thrilling story-line, this amazing play is great to do as an end of Y6 production because everyone can take part: there is a range of speaking parts from 3-100 lines as well as characters with no speaking at all for the more reserved students. Scenery and props were easy to make and the staff only had to change the background twice. The costumes, which are easy to source, really help to liven up the performance. We would recommend purchasing the downloads of the songs because our CD kept skipping on the final song! "If you're good, if you're bad, if you're ugly or mad, be our guest," and buy this play for your school!

"
Class 6BH, Whipton Barton Junior School, Exeter
---

Ye-Ha!
"

Me and my year group have just started rehearsing for the play. Everyone loves their parts now. I got Verity Vandergelder and she's my favourite character now. This excellent play will fit any school. It's dramatic, humorous and a lovely tale from the wild west. we've written in some extra parts like Violet Vandergelder and Saloon girl Georgie. ''Ye-ha'' is the best play i've ever been in.

"
Isobel, Year 6, Bishop wood, Tring, Hertfordshire
---

Ye-Ha!
"

Our school has only just started practising ye-ha and already we all love it !!!!!!!!!!!! I am very exited about performing it and my favourite song is the Stetson Stomp . I recommend that other schools/clubs should do it to . Me and my classmates have even come up with handshakes for it. I can easily say it's my favourite production yet!

"
Caitlin, Stivichall primary, Coventry
---

Ye-Ha!
"

One of the best Year 6 plays i've been involved with, the children loved the songs and the dances and the parents loved the jokes and storyline. Would definitely recommend it

"
The Study School, New Malden
---

Ye-Ha!
"

Our Yr 5s and 6s have just performed Ye-Ha! as their end of year show. I have been teaching for over 20 years, and this certainly ranks as one of the most successful and enjoyable performances I've been involved in. The songs are catchy and easy to learn and the script full of one liners which amused children and adults alike. There are plenty of parts to involve reluctant boys - the McNut gang with their undies were very sought after parts.

"
Helen Hitchins, Redgate Junior, Hunstanton
---

Ye-Ha!
"

Ye-Ha is one of the best productions I have ever done. I have to say, that Ma Hubbard is defiantly the best character.

"
Sandra, Cast member, Splodge City
---

Ye-Ha!
"

Such a good play and we enjoyed ourselves so much

"
Michael, Stagecoach , Chester
---

Ye-Ha!
"

Me and my clas did Ye-Ha, and it was probably one of the BEST experinces of my life, thank you.

"
Nicole, St Bridgets School, West Kirby
---

Ye-Ha!
"

Best year 6 performance i have ever seen.

"
Anon, Lincoln Birchwood Junior School
---

Ye-Ha!
"

Me and my classmates haven't performed the final play yet, but we are rehearsing and it's getting so close to showtime. Brilliant scenes, fun to rehearse, great catchy songs, fun costumes, side-slitting script- why, this play has it all! I really recommend this play because it is enjoyable for children, the audience, and also the teachers that help us to make the play happen!

"
Lilah, aged 10, Saltdean Primary School, Brighton
---

Ye-Ha!
"

We did Ye-Ha! in 2009 and it was FANTASTIC. This year's cast is SO excited to do it again!! GREAT PLAY!!

"
Sandy Stone, California
---

Ye-Ha!
"

I love ye ha it is very very good

"
Anon
---

Ye-Ha!
"

Ye-ha is a fantastic show!!!!!!!!!!! I played Ellie and it was so much fun. It's a great show to do, I could do it every day!!!!!!!!!!! GREAT FUN!!!!!!!!!!!!!!!!!!! ********** for YE-HA!!!!!!!!!!!!!!!!!!!!!!!!!!!!!!!!!!!!!!!!!!!!!!!!!!!!!!!!!!!!!!

"
Ellen, Good Shepherd Primary
---

Ye-Ha!
"

Ye-Ha was such a hoot.... we had a blast with cream pies and silly string. The set designers had so much fun with the fordoor salon and Slodge city... The cast (3-10 years) loved the music and The Stepson Stomp is now our official song and dance of the Drama School. We have a whole new generation of Country and Western fans. We even had to have a Hoe-down for them to get into character... The Kids loved it!

"
Anon, Rising Starz Performing Arts Trust, Whangarei, Northland
---

Ye-Ha!
"

Great and funny script leading to a very enjoyable production. There are lots of diferent parts to play from saloon girls, cowboys, indians to villagers. I must say with hand on heart it was the best thing we have ever done in our school and it was enjoyed by all, parents and children. I thoughly recommend this show to any school!

"
Anon, Stagecoach, Highgate
---

Ye-Ha!
"

One of the best shows we have ever done. The show really captured the Wild West and was enjoyed by boys and girls alike. The parents roared with laughter. Inspired writing from Craig - thank you.

"
Corrine Wellby, Upper Beeding Primary School, West Sussex
---

Ye-Ha!
"

Year 5 and 6 performed Ye-ha at the end of this academic year and it was brilliant. The script is witty and intelligent, appealing to the adults and children alike. The music is toe-tappingly good and very easily learnt - producing some of the best singing the year groups have ever achieved. All in all a hugely positive experience for all of us.

"
Jenny Carlyle, Pulham Primary School
---

Ye-Ha!
"

KS2 performed this for their end of year show and it went down a storm. We had great fun in learning to line dance for the finale, and the puns and one liners were appreciated by the audience. Our more reluctant children were keen to join in.

"
Anon, Bishop Rawle Primary, Cheadle
---

Ye-Ha!
"

Great play it has been better then all the other ones PS The Outlaws rock!!!! PSS I'm an outlaw!

"
Marcel, Student, BPPS
---

Ye-Ha!
"

Our production of Ye-Ha! was great. The costumes were easy to provide and the script and songs were excellent. We love Craig's jokes.

"
Hill Top Primary School, Leeds
---

Ye-Ha!
"

As director of the JUNIOR PRODUCTION OF 'YE-HA' I could see that my class really enjoyed acting this play. Brilliant!

"
Class Teacher, St. Andrews School
---

Ye-Ha!
"

"Ye Ha" is a great play to do in Year 5. We have been practising and we are getting very good at the songs because they are easy to learn. We are going to start the drama soon. It is going to be the best school production I've ever been in.

"
Sage, Cast Member, Fynamore Primary School, Calne
---

Ye-Ha!
"

"Ye-ha" is the best play that I have ever done with my school. All of my class are enjoying it so much. We have only been practising for a short while but are really getting the hang of it! It's really good how mostly every part has something to say. "Yeha" is great fun. I think it is helping some people getting rid of stage fright because all your friends are there with you!!!!!!!!!!

"
Liv, Cast member
---