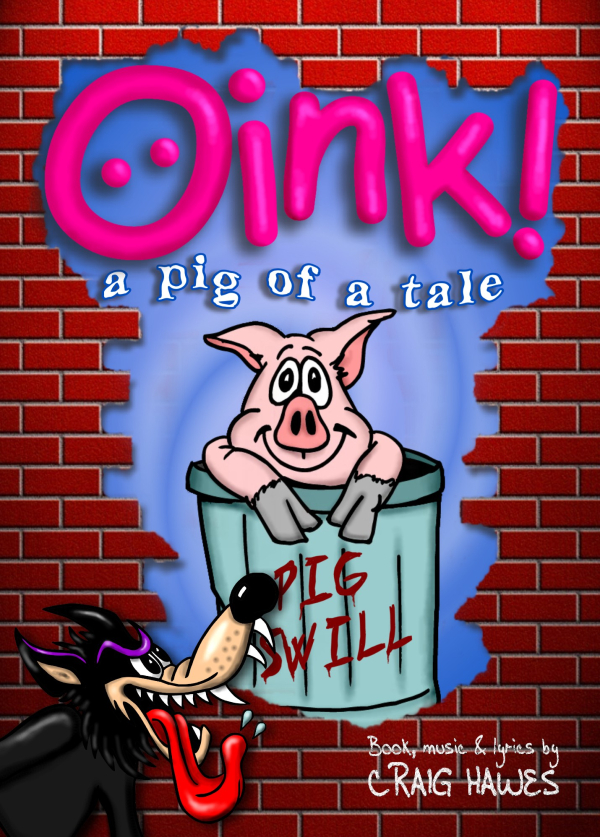 Why choose this Musical?
Editable Word Doc Script available
40 speaking roles
Flexible Cast size to suit YOUR group numbers, from 26 actors upwards. See "Casting" tab below.
Any number of chorus parts
CDs of Vocal and Backing Tracks plus essential sound effects available
Both these CDs include Overture, ALL Songs, Special Effects, Play Ons and Play Offs in the order you need them enabling production and direction to take place without specialist musical expertise.
Full Performance Piano/Vocal Score available (Grade 5 / 6 Standard)
Encompasses Overture, ALL Play Ons and Play Offs, Songs, Link Music, Cues and Chord Symbols. Click "Performance Score" in the "Script & Songs" tab below.
Easy Play Rehearsal Piano/Vocal Score available (Grade 4 Standard)
Click "Easy Play Score" in the "Script & Songs" tab below.
Easy to stage with simple scenery - adaptable
Manageable props
See "Script & Songs" below for full listing.
Age range: Key Stage 1 and 2 Production (4-11 years)
Duration: 60 minutes
OINK! is based upon the well known tale of The Three Little Pigs, but you can be sure you have never heard this version before! When little Frank Trotter and his big, greedy brothers Monty & Welly are caught stealing the harvest feast, they are banished from the farmyard and sent out into the big wide world. At the same moment, infamous carnivore BB Wolf is being released from prison, apparently cured of his granny-eating ways by a mad professor. Unfortunately, his vegetarian days are short lived and BB is soon on the prowl for a sausage sandwich! This hilarious take on the well known story is full of wonderful characters, superb songs and loads of laughs, making it a sure hit for performers and audience alike. With parts for between 26 and 50 children, plus unlimited chorus opportunities, this show will suit any size school or group. A CD featuring dazzling fully orchestrated backing tracks with AND without vocals is available for rehearsals and performances.
"Oink" is a musical that allows all the children to have fun with songs, dances, but most importantly putting together their animal costumes!
The play opens in the Farmyard and Percy the Pigeon and the chorus begin the fun by singing "Cock-A-Doodle-Doo". After this lively opening, the audience are introduced to the farmyard creatures, and there's something for everyone. If an agoraphobic donkey doesn't tickle your fancy then there's a browbeaten rabbit with his hot cross bunny of a wife and pigs that run wild! As everyone meets and greets one another, talk turns to the approaching harvest festival and "Pig Swill" is a song dedicated to the farmyard speciality; it may sound disgusting, but even Shep the Sheepdog is tempted.
Things don't calm down on stage just yet as the following scene sees the animals leaving the cocktail bar, with Roger the Rabbit a little the worse for wear! As the night begins to quieten down, the three piglet brothers, Frank, Welly and Monty are left alone. Frank has his head firmly on his shoulders and attempts to persuade his brothers to go home, but only receives grunts and snorts in return; The song "Nobody" follows and Frank reflects on how alone he feels at the farmyard. Never ones to listen to reason, Welly and Monty not only ignore their brother's wise words to head home, but their attention turns to the harvest feast which is out in preparation for the festival and you can surely guess what the two hungry piglets decide to do... steal it! But they don't get very far as Shep the Sheepdog catches them in the act and banishes them, along with Frank, from the farmyard.
The following scene is more light hearted as the Big Bad Wolf, safe in prison, experiences new scientific technology while the Professor attempts to turn him into a vegetarian. Although Officer McKenzie is doubtful of its successes, the Wolf appears to pass the test and is released back into the countryside, much to the delight of Melton and Mowbray - two rats who were his former sidekicks. However, they fail to hide their surprise when the BB Wolf announces he wants to open a vegetarian restaurant!
During "Home Sweet Home" the three pigs build their homes and reflect on their time in the countryside. Unfortunately, they are not aware that during the wolf's treatment in prison, the Professor failed to immunise the wolf against pigs, so they are not as safe as they believe.
As Wolf prepares for the opening of his new restaurant, Mowbray the rat fleetingly mentions pigs and unfortunately for Frank, Welly and Monty, BB Wolf becomes fixated on the idea of catching some for a hog roast, although he still insists that he's a changed wolf in the song "I'm Not As Bad As They Paint Me". After discovering that the harvest festival is about to begin, and this is where the ingredients for the hog roast will be, BB Wolf and his two sidekicks make haste.
The song "Come To The Funfair" opens the festivities, but unfortunately Welly and Monty are taken in by the Wolf's eating competition, during which he lures the two piglets into his care. Luckily, Frank, who is nearby, has his wits about him and recognises the Wolf's face from a "Wanted" poster. Conjuring up a plan of action he successfully captures Melton and Mowbray with the help of others, but the Wolf still gets away! To make matters worse, the Wolf doesn't get very far before he hears the whereabouts of the piglets' new homes and decides to pay them a surprise visit! The traditional fairy tale story follows as BB Wolf attempts to blow the three houses down, but be warned, there is a contemporary twist! Like all good musicals, there is a happy ending, as Frank's brick house survives the wolf's tactics and BB Wolf is caught successfully, in a pile of Pig Swill! Reprises of "Pig Swill" and "Cock-A-Doodle-Doo" end this animated musical.
Speaking Roles by Number of Lines
N.B. In the following list, the number shows how many spoken lines each role has. An asterisk (*) before the character's name indicates that this character ALSO has solo or featured sung lines.
| Character Name | Number of Lines |
| --- | --- |
| * BB Wolf | 78 |
| * Percy the Post Pigeon | 57 |
| Mowbray Rat | 52 |
| * Frank Trotter | 45 |
| Mrs Shirley Trotter | 40 |
| Professor Fruitenut | 39 |
| Horace the Horse | 35 |
| Mr Jinx | 34 |
| * Montgomery Trotter | 31 |
| * Wellington Trotter | 30 |
| Melton Rat | 29 |
| Officer McKenzie | 29 |
| Nurse Nightly | 28 |
| Shep the Sheepdog | 24 |
| Rene the Rooster | 22 |
| Derek the Donkey | 18 |
| Marigold Moo | 18 |
| Daisy Moo | 17 |
| Roger Rabbit | 17 |
| Maisy Moo | 14 |
| Rosy Rabbit | 14 |
| Lavinia Lamb | 6 |
| Lofty Lamb | 6 |
| Lotty Lamb | 6 |
| Phips The Ringmaster | 6 |
| Larry Lamb | 5 |
| Lenny Lamb | 5 |
| Lulu Lamb | 5 |
| Fifi Hen | 4 |
| Mimi Hen | 4 |
| Suzette Hen | 3 |
| Gabrielle Hen | 2 |
| Yvette Hen | 2 |
| Alfonso the Acrobat | 1 |
| Alfredo the Acrobat | 1 |
| Bernadette the Bearded Lady | 1 |
| Bobo the Clown | 1 |
| Butch Bison the Strongman | 1 |
| Dodo the Clown | 1 |
| Mystic Molly | 1 |
Suggested Cast List For 26 Actors
N.B. In the following list, the number shows how many spoken lines each role has. An asterisk (*) before the character's name indicates that this character ALSO has solo or featured sung lines.
Character Name
Number of Lines
* BB Wolf
78
* Percy the Post Pigeon
57
Mowbray Rat
52
* Frank Trotter
45
Mrs. Shirley Trotter
40
Professor Fruitenut
39
Horace the Horse
35
Mr. Jinx
34
* Montgomery Trotter
31
* Wellington Trotter
30
Melton Rat
29
Officer McKenzie
29
Nurse Nightly
28
Maisy Moo
also covers Marigold's lines in Scene One
26
Shep the Sheepdog
24
Daisy Moo
also covers Marigold's lines in Scenes Two and Eight
23
Rene the Rooster
22
Derek the Donkey
18
Roger Rabbit
also plays Butch Bison the Strongman
18
Larry Lamb
also covers Lotty's lines and also plays Phips (Ringmaster)
17
Rosy Rabbitvalso plays Bobo the Clown
15
Lenny Lamb
also covers Lavinia Lamb's lines and also plays Alfonso
12
Lulu Lamb
also covers Lofty Lamb's lines and also plays Alfredo
12
Fifi Henvalso covers Yvette's lines and also plays Dodo the Clown
7
Gabrielle Hen
also covers Suzette Hen's lines and plays Bernadette
6
Mimi Hen
also plays Mystic Molly
5
Please see the Production Notes in the script for further information on reducing the cast size.

Oink! (Primary Production)
"

Very entertaining story with opportunities for a large cast. Performed with a cast of Year 4 who enjoyed catchy songs and great humour.

"
ginny macpherson, Collaroy Plateau Public School, Sydney

Oink! (Primary Production)
"

I think this play is absolutely amazing and it's soo fun! We have just got our parts and already we're enjoying rehearsing our roles. I was lucky to get BB Wolf, one of the main parts! ?

"
Sazza ?, St. Mary's, Lea Town, Lea

Oink! (Primary Production)
"

Oink! is yet another amazing musical by Craig Hawes. He cleverly wove the story of the Three Little Pigs into a full act musical. Again, the script was hilarious. There is plenty of room to involve the entire elementary group in this musical. My students were singing the songs long past the performance date of our musical. I highly recommend this musical.

"
M. O'Neill, Nelson School, Miramichi NB Canada

Oink! (Primary Production)
"

The best performance ever by the children, parents and other schools thought it was so funny and the acting was brilliant, especially Rene the french rooster (based on hello, hello). The children were really sad to see it end. We performed in the Opera House in Hastings and was given a standing ovation not just by the audience but by the opera house as the best scipt, songs and performance ever by a school. It was awesome and so easy to do, can't wait to do it again in a few years time.

"
Mrs Geraldine Sumner, St. Joseph's School, Hastings, New Zealand.

Oink! (Primary Production)
"

i am in year 6 and our teacher has picked Oink for our end of year play! The first day we read though it I couldn't stop smiling! I did an audition and now I am Welly one of the Trotter brothers. I am looking forward to our proformance SO much; it will be one of the best days of my life!

"
Lucy Antell

Oink! (Primary Production)
"

One of the most enjoyable pieces I have ever directed! Kept us laughing right up until the dress rehearsal - RARE!

"
Clare-Louise Edwards, ACTIVATE Performing Arts

Oink! (Primary Production)
"

Performed this with 90 KS2 children ... superb and lots of fun!

"
Leslie Lacey, St James CE Primary School, Chorley

Oink! (Primary Production)
"

Best play ever for young people. Funny and great for a big crowd - you will laugh your heads off!

"
Esse , Member of Cast

Oink! (Primary Production)
"

I am currently in this musical and I think it is a very funny musical! The songs are fun to sing and cool! I totally recommend OINK!!!

"
Emma, Cast Member.